Sales Enablement - Calendar Sync with Google and Office 365
---
---
Calendar Sync lets you automatically pull events from other web calendars into Agile CRM. We currently offer Calendar Sync with Google and Microsoft Office 365, so you can set up syncing with Google Calendar (one or multiple calendars from your Google account) and/or Office 365 Calendar. Events from these other calendars then appear in your Agile calendar.
You can also pull your Agile Calendar into a mobile calendar app, Google Calendar or Outlook (2007 or later) using an iCal feed.
How to Set Up Calendar Sync
To integrate Agile CRM with Google Calendar or Office 365 Calendar, go to Preferences > Data Sync (open the Preferences menu from the user drop-down menu on the upper right, then select Data Sync).
Select either the Google tab or the Office 365 tab.
Click Enable under the appropriate calendar app.
Follow the on-screen instructions to complete the integration. For detailed instructions, see our setup guides to Google Calendar Integration and Office 365 Calendar Integration. Note that with Google Calendar Sync, you are able to choose which calendars from your Google account are synced with Agile CRM.
Adding Agile Events to Other Calendars
We recommend using Agile CRM for all of your sales and marketing needs. However, you can also push events from your Agile Calendar into other calendar apps you use, such as Google Calendar and Outlook.

Click on the calendar icon on your Agile Dashboard to open your Agile Calendar.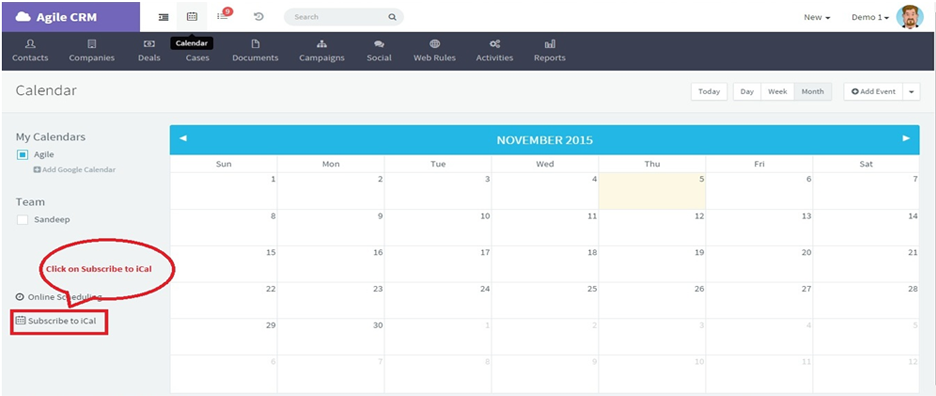 Click on Subscribe to iCal to see options for pulling events from your Agile Calendar and pushing them into other calendar apps.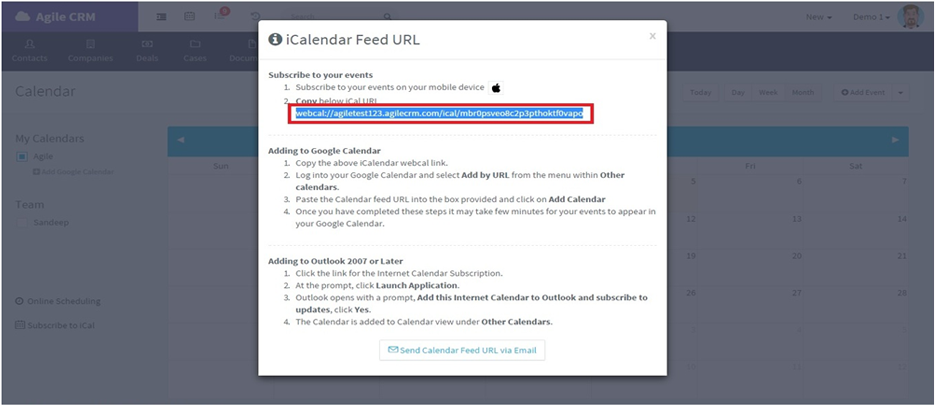 You will now see a popup with your iCalendar Feed URL. Follow the on-screen instructions to "subscribe" to events in your Agile Calendar with other apps. New events created in Agile CRM will then show up automatically in those other apps.
---