Social Suite
---
---
Agile's Social Suite provides complete Twitter integration for monitoring your industry, posting social updates, and interacting with customers and leads.
Let's learn how to set up your Social Suite.
Setting Up Social Suite
In order to set up your Social Suite, you'll need to authorize Twitter integration in Agile CRM. Then you can start adding Live Streams in your Agile account and interacting with leads on Twitter.

In your Agile Dashboard, go to Social and click on + Add Stream.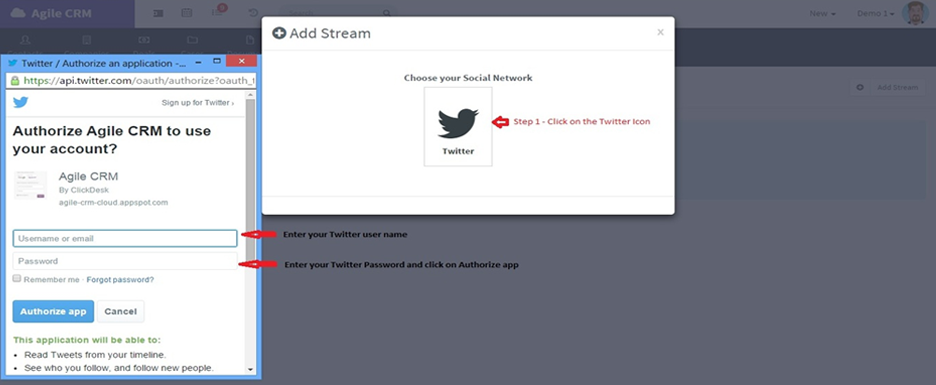 Click on Twitter in the popup window. If you are already logged into Twitter, you'll be prompted to Authorize app. Otherwise, you'll be prompted to login to Twitter first.

Select the Streams you would like to add to your Agile CRM account (don't worry, you can change these later). Available Streams include your Home feed, Sent Tweets, Mentions, and more.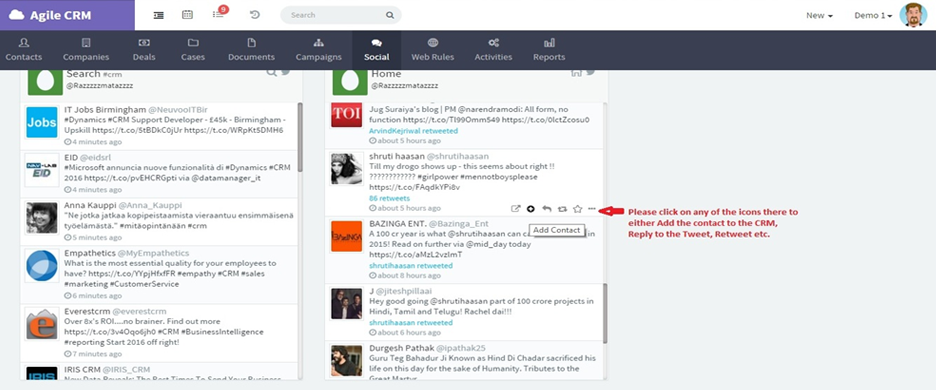 Now when you open the Social page, as above, you'll see all of your live social feeds.
Our Social Suite lets you perform numerous complex actions directly from Twitter feeds. On the bottom right of Tweets in your feeds, you'll find icons for actions and navigation, including Home, Retweet, Sent Tweets, Mentions, Direct Inbox Message, Direct Outbox Message, Favorite Tweets, and a Search feature that lets you search for a particular keyword. You can even add contacts to Agile directly from Twitter so that you never miss a lead!
Note that Adding a Contact directly from a Tweet will automatically pre-fill the new contact's Twitter handle/credentials, but otherwise you'll need to manually enter info such as name and email.
---