Sales Enablement - How to Use Tags
---
---
Tags are unique identifiers that can be added to Contacts and Companies in Agile CRM. Tagging lets you easily sort, filter, segment and target contacts with campaigns designed around their specific interests and actions. Tags can be added manually (by hand, to one contact or multiple contacts) or automatically (with the Tag Node in Campaigns; more on that later).
In this Getting Started Guide to Sales Enablement in Agile CRM, we look at how to add tags manually to a single contact (on a Contact Page) or multiple contacts (using Bulk Actions).
How to Tag a Single Contact
It's easy to add new or existing Tags to Contacts and Companies in Agile CRM. First, navigate to the desired Contact Page or Company Page.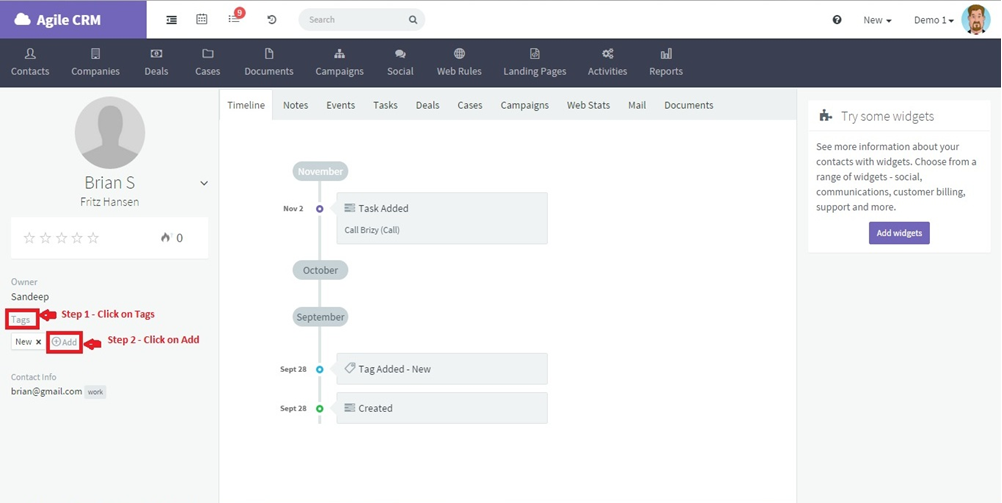 Underneath Tags you will see any Tags currently attached to the Contact/Company.
To add a Tag to the Contact/Company, click on + Add and start typing the desired Tag (eg. "New Customer" or "Shopify Contact").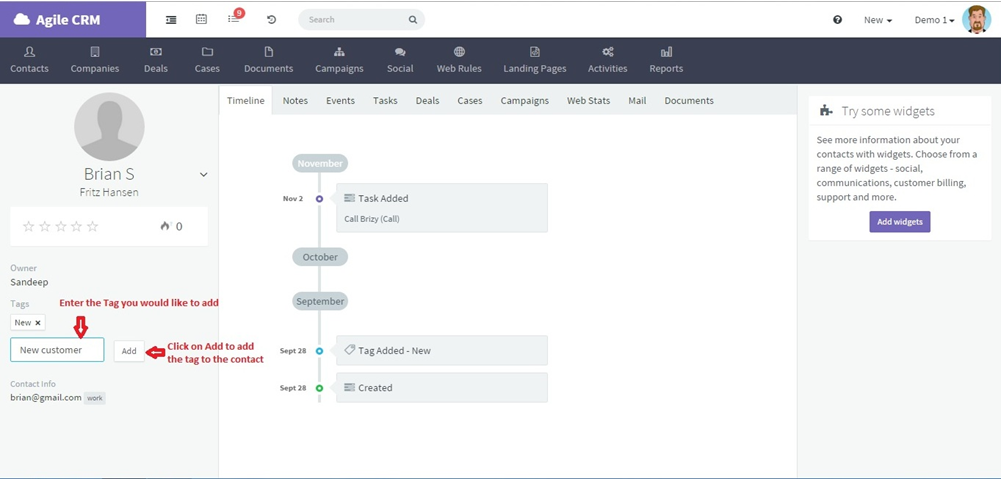 If the Tag already exists in your Agile CRM account, it will show up in a list and you can click on it; otherwise finish typing your new Tag.
Click Add to finish adding the Tag. (If you need to delete a Tag, just click on the "X" next to the Tag Name.)
When you add or delete a Tag, this action shows up on the Contact Timeline. Tags can also be used for reporting on specific lists of contacts or companies.
How to Tag Multiple Contacts at Once
You can use Bulk Actions to tag multiple Contacts or Companies at once. To add or remove a Tag manually for more than one Contact or Company, follow the steps for Bulk Actions and select either Add Tags or Remove Tags.
---