Customer Relationship Management or CRM is a software which helps in managing your brand's engagement with your current and future customers.
CRM software allows you to build, organise and present database of your customer information which you and your team can update as and when new information is discovered. It's a central repository of all your customer and prospect data which enables your team to be organised and more productive. It also facilitates better collaboration among teams and gives management deeper insights into individual performance and overall business growth.
Customer Relations Management Basics
Customer Relationship Management, also known as CRM, is a phrase that gets tossed around a lot, but what is CRM Software actually implemented for? Simply put, CRM is a term used to describe the various ways companies manage customer engagement with their business. Specifically, CRM is used to collect and analyze client data, plan and apply marketing strategies and improve relationships with customers. Ideally, it includes a variety of strategies that businesses can implement to handle their customers' needs, improve company efficiency and drive sales. Paying attention to effective CRM and making sure your company keeps up with new technologies and trends ensures positive interactions with your clients, which leads to customer retention, which in turn drives more sales.
Clearly, choosing the best CRM management software in the market CRM is critical to success for today's businesses, but unless you know how to effectively handle all of this collected information, it won't do your company any good. Thankfully, consumer relationship management has never been easier, thanks to modern CRM software.
The Old and Broken System
To fully appreciate how incredible, powerful, and vital modern CRM software is, you must first understand why it was created. The old way of CRM was inefficient, to put it mildly. It was all done by hand, painstakingly entered into a database, one by one. Between emails, spreadsheets, various documents and even handwritten Rolodex entries and notebooks, the amount of information spread across a business was staggering. Companies often needed several dedicated CRM team members to handle each point of contact and each point of contact usually had its own database or physical file system that had to be cross-referenced.
Points of contact between potential customers and businesses include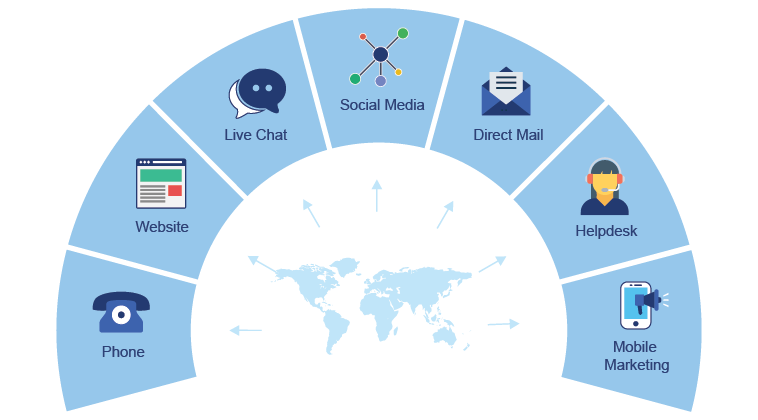 Juggling all those channels of customer contact was time-consuming and expensive and it left a lot of room for human error, misplaced files and damaged physical copies. Clients were frustrated with slow response times or incorrect information and businesses struggled to keep customers engaged and happy, leaving little time for marketing and growing their brand. It's no wonder so many companies failed early on or ended up buried under ridiculous piles of documents and customer complaints.
It's exhausting to think about, let alone actually deal with all that. But now there's a better way. let us gain some knowledge of what the Customer Relationship Management Software can actually bring to the desk with its multiple features. And also how crucial it has become to use the best CRM software available.
Modern Techniques for Impressive Results
Without reliable Customer Relations Management Software, it's easy to see how hard it used to be to keep a new business afloat or to grow an established brand. The first CRM management software was very simple—only used to store basic customer information—but as technology improved, so did the power of Customer Relations Management software. Adding real-time updates, logs of customer engagement, analytics from all points of contact and many other features helped to change the face of CRM. It's still evolving, too! Each new update brings exciting opportunities for truly understanding and connecting with your customers, all while improving efficiency and productivity for your brand.
Can a Business Succeed Without a CRM Software?
Of course. But at what expense and how badly are they crippling themselves? It is imperative to have a clear idea of what is CRM software primarily employed for. Your customers are the lifeblood of your company, so making sure your Customer Relationship Management is up to date is imperative to your brand's success and so is using the best CRM software with extensive features. Today's All-in-One CRM software takes care of the tedious data collection and compiles work automatically, reducing time, expense, manpower and mistakes. All of this results in improved efficiency for your company and higher customer satisfaction, as well as increased quality leads. It means you have more time to concentrate on growing your brand instead of wasting time on data management, handling multiple databases by hand, or correcting human error.