Sales Enablement - Adding Custom Fields
---
---
Custom Fields are any fields not already present in Agile CRM. Businesses use custom fields to track extra contact details and map additional fields from Web Forms or CSV files (when importing/exporting contacts or companies).
Note that only system administrators can add/modify custom fields in Agile CRM.
Adding Custom Fields
Login to your Agile Dashboard.
Go to Admin Settings > Custom Fields.
You can now add custom fields to Contacts, Companies, Deals and Cases (each needs to be added separately).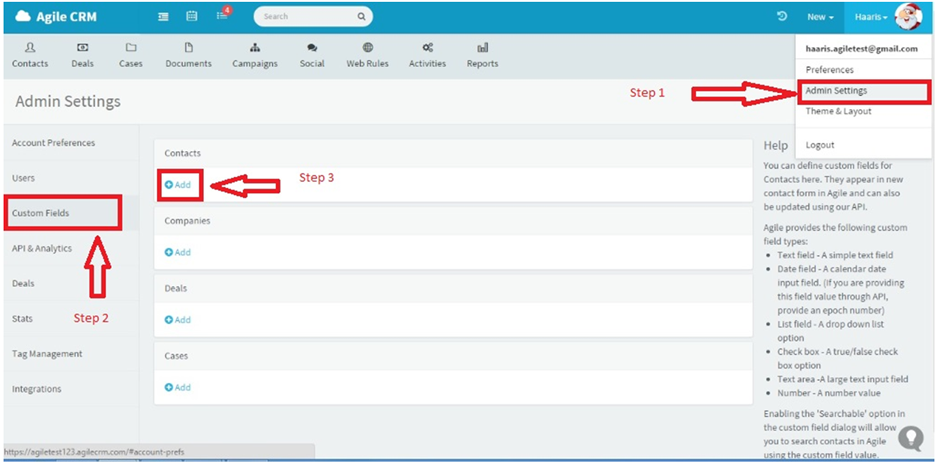 Click on + Add under Contacts, Companies, Deals or Cases.
You now need to fill in the following information about your new Custom Field:
Label - The title of the Custom Field.
Type - The type of field you would like to add. We currently allow the following types:

Text Field - A simple text field.
Text Area - A large text input field.
Date Field - A calendar date input field. (If you are providing this field value through API, provide an epoch number.)
List - A drop-down list option.
Checkbox - A true/false checkbox option.
Number - A number value.

Description - Describe the field you are creating.
Required - Check this box to make the new field required.
Searchable - Check this box to make the new field searchable within your Agile CRM account.

That's it! You've created a custom field. Remember to Save Changes before exiting.
Filling in Custom Fields
After you have added custom fields, you will be able to add values to these fields. You can fill them in for new Contacts, Companies, etc., as well as those that already exist in your Agile CRM account.
To fill in custom fields for an existing contact, first search for that contact. On the Contact Page, select Edit from the drop-down menu to the right of the contact's name.

Your custom fields will appear on the contact edit page. Just enter values in the custom fields and Save your changes.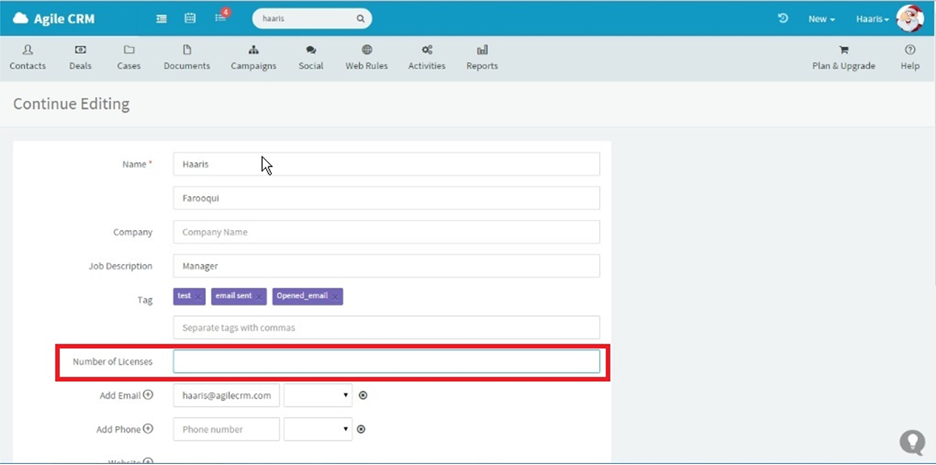 *** If you are importing contact or company data from CSV files, we highly recommend that you first create custom fields in Agile CRM to match any custom fields in the CSV files, such as fields from other CRMs or custom fields in an old database. This is to ensure that you can map the fields properly. ***
---