Skype - Agile CRM Telephony Integration

Make & receive phone calls directly from Agile CRM
Start with FREE account today!
FREE for 10 Users.
No credit card required.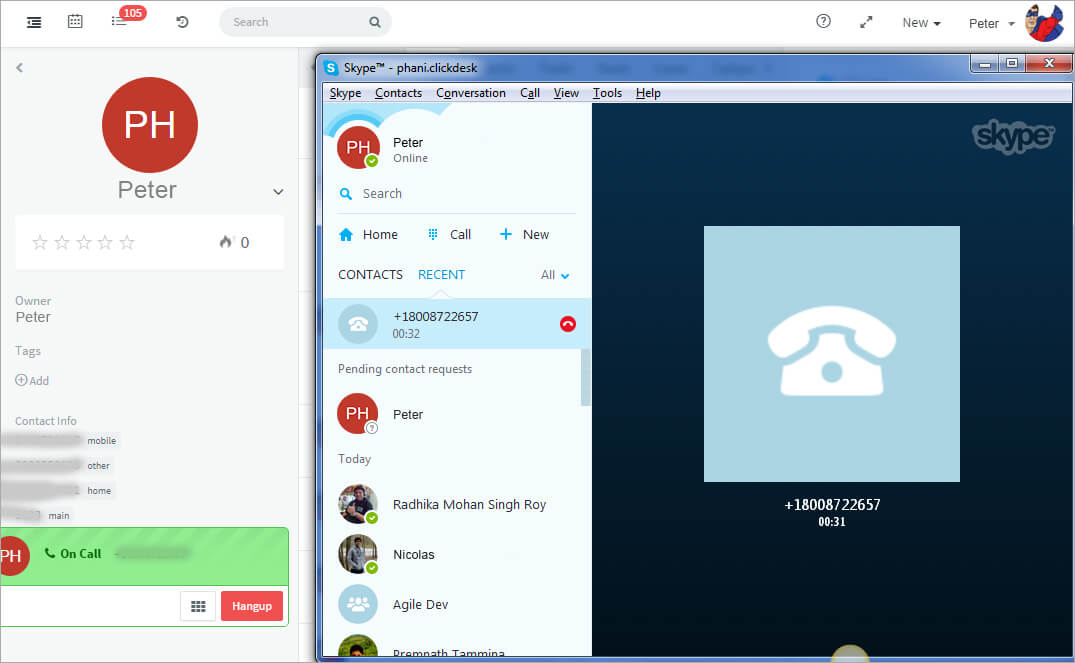 Call Directly From Agile
Make Skype phone calls to your contacts directly from Agile CRM with just a click.
Receive Inbound Calls
Receive inbound calls from your contacts directly in the App. Keep all important information related to your customers at your fingertips when you answer their calls.
Take Call Notes
Once you end the call, a note pop-up will appear and you can manually store notes for future reference. These remain attached to contacts in the CRM.
See Call Details
Call details are displayed as soon as a call is completed. For example, after reviewing the call details, you might want to add the lead to a particular campaign.
Call Tracking
Once you've enabled the integration, we automatically track calls with your Agile contacts.
---
Skype Widget Setup
1. Locate Skype Widget
Open your Agile dashboard. Go to Preferences → Widgets. Then select the Telephony tab, and click Add under Skype.
2. Add Skype
Click Add button on the Skype widget. Then just follow the on-screen instructions and you'll be making Skype calls in the CRM in no time!
---
About Skype
Skype provides video chat and voice call services. Users may exchange such digital documents as images, text, video and any others, and may transmit both text and video messages. Currently, their voice and text services are integrated with Agile.
---