RingCentral Integration - Agile CRM
Know exactly who's calling before answering a call. Turn your calls into deals with in-app & HTML5 notifications,
customer histories and caller-to-lead technology
Start with FREE account today!
FREE for 10 Users.
No credit card required.
---
RingCentral Features
In addition to conveniently facilitating direct customer calls from your Agile CRM account, integrating RingCentral will help you:

Make calls from your account through your computer's configured Softphone, thanks to the Ringout using Softphone feature.

Make calls from your account through a custom number, thanks to the Ringout using Custom Number feature.



Automatically generate detailed call logs.
Take and save notes while you're on a call with a customer.
Automatically generate comprehensive call reports.
---
Making Calls With RingCentral
Click to Call
To make a call through RingCentral, go to the Contacts tab positioned on the left of your screen. You'll find a RingCentral icon automatically embedded next to your customers' contact details. Clicking on it will launch a call popup.
Call Popup
RingCentral's Call Popup comes with wide range of active call controls to facilitate additional functionalities without having to hang up. The notes feature, for instance, allows you to take all the pointers raised a customer, for adequate follow up after the call.
Call Log
When a call is complete, the Call Log popup is displayed, where you can enter additional call details. Some of the details that would be particularly critical for subsequent customer follow up include; Subject, Description and Related To.
Call History
To view the call history and related details, go to the Timeline or Notes tab. Each contact's call details and notes are displayed chronologically.
Call Log from RingCentral
You can also view the call log from RingCentral at the far right corner of each contact's page.
RingOut to Softphone
If you previously selected RingOut to Softphone during widget setup, the configured Softphone is connected to a customer's phone number when you call from their Contact View pages.
Call Reports
To view comprehensive call reports, go to the Reports icon at the menu bar positioned on the left of your screen. You'll be able to scroll through and sort out past call reports by User, Average Call Duration, etc.
Call Activities
To view respective call activities, click on the User Activities icon at the menu bar positioned on the left of your screen. You'll be able to access comprehensive details of activities related to each phone call made from your account.
---
RingCentral Integration Setup
Step 1: Go To The Telephony Tab
Log into your Agile CRM dashboard and proceed to the Telephony tab. Choose Widgets to access the RingCentral Widget.
Step 2: Login To RingCentral
Click "Login to RingCentral" to access your RingCentral account.
Step 3: Enter Login Details
On the RingCentral popup, enter your login credentials and click Sign in.
Step 4: Authorize Access
For comprehensive integration, proceed to authorize RingCentral access to your Agile CRM information. You can now make and receive customer phone calls on Agile CRM using your RingCentral account.
Step 5: Saving
Save the Widget.
Step 6: Ringout To Softphone
Among the exciting features offered by RingCentral is Ringout to Softphone, which allows you to connect with your customers through the computer's configured Softphone.
Step 7: Ringout To Custom Number
Alternatively, you could also Ringout to a custom number first, before connecting with your customers. To enable this option, choose Custom Phone as the Output Number, and then enter specific details in the Customs Number field.
---
Check the RingCentral Setup Guide for more detailed instructions.
Note: Agile CRM doesn't support outbound calls from the browser window as the feature is not supported by RingCentral's API
---
About RingCentral
RingCentral is a business phone system provider which offers local and toll free numbers to subscribers. Choose from available 800 numbers or get your own area code for your business phone number.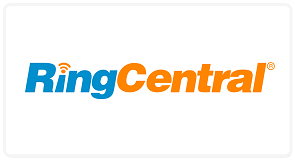 ---