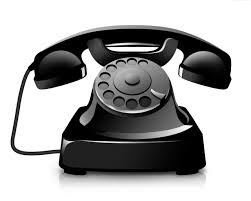 Agile CRM now offers VoIP (SIP) Telephony Integration, allowing you to make, receive, and analyze calls without ever leaving your Agile dashboard. Our SIP Telephony integration is now in beta, so this is a perfect time to try it out by adding the Telephony widget to your Agile CRM account.
We're no strangers to Telephony. When our team's first company was still called InVox, it was based on Telephony technology, and we won Best in Show at the IT Expo in LA. InVox soon evolved into ClickDesk, encompassing a wider range of interaction technologies such as video chat and text, but Telephony has always been close to our hearts and we're proud to offer the CRM industry's first bring-your-provider Telephony solution.
The biggest benefit of Telephony Integration might just be the most obvious: you can now handle – and track – calls directly from the CRM, and since Agile offers a full marketing automation suite as well, your sales, marketing and communications tasks will no longer experience data leaks or cross-channel miscommunication. That means no more lost leads or forgotten calls. And there are many other benefits as well that might not be immediately obvious. For starters, you'll now be able to increase productivity by analyzing time spent on each call, and to correlate this info with conversions and other sales data. You'll also be able to save new callers as new contacts in the CRM with just the click of a button. When you receive a call from a known contact, you'll immediately see their customer history so you'll know exactly what they've been through and what they might be looking for.
How to Add SIP Integration:
To enable seamless VoIP integration in Agile CRM, just go to widgets tab in your Preferences page and "Add" SIP widget under "Call".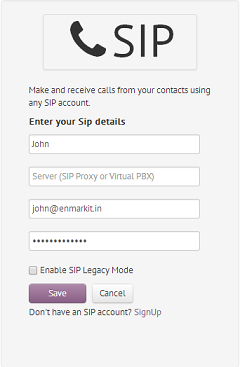 Agile integrates with most SIP providers, including legacy providers and (newer) WebRTC providers. Fill in your SIP proxy address, login details and if your account is with a legacy provider , make sure to click "Enable Legacy" before integrating your account. If your account is with a WebRTC provider, just add the widget and you're good to go!
Once you have enabled Telephony Integration, here's what you need to know:
Inbound Calls: You will now see real-time notifications for incoming calls. The Caller ID is matched against the contact in Agile, so you will be able to see the customer's name and history. Greeting customers by name – and knowing their history with your company – is a great way to build trust and increase productivity!

Callers without a match in Agile can be added as a new lead. The system will fetch a name from 411 and you'll be able to add a new contact with a click of a button. (Hint: if there's any confusion, you can always say to the customer, "excuse me, how do you spell your name again?")
BTW, if you're curious, SIP stands for Session Initiation Protocol. Unlike the traditional SS7 technology for telephone signaling, SIP keeps things simple by being a peer-to-peer protocol. Cut out the middleman and get to work.
Happy calling!
Try Agile CRM for FREE!
FREE for 10 Users. No credit card required.