It's a story as old as time: sales blames marketing for the lack of quality leads, while marketing blames sales for not acting on the leads at the right time. When nobody has real stats to back up their value judgements (or when the right leads are contacted at the wrong time), the arguments go on forever and nothing gets done.
Marketing Automation (MA) is the first suite of technologies to solve these age-old issues from both perspectives, closing the communication gap and allowing sales and marketing teams to create automated campaigns that respond to actionable, real-time data. MA allows you to score leads based on real data, and to create customized, automated, responsive campaigns based on user behavior. With the best MA, leads are scored clearly and effectively, so marketing can see when the leads are hot enough to be passed on the sales, and sales can see why they've received the leads and if it's time to close them.
But that's only half the story. Before we launched Agile CRM, marketing automation was too expensive and too complex for small businesses; MA has given huge companies an advantage, while small businesses have too often been left in the cold. We set out to change the playing field, creating Agile CRM to let small businesses sell like the Fortune 500. And guess what? It's working.
Agile is the holy grail of smart entrepreneurship, the world's first fully integrated sales and marketing suite. From the "simplest" MA technology (a newsletter with tracking and autoresponders) to the most complex (website abandonment campaigns and multi-step, multi-channel email and social media campaigns), Agile CRM provides a complete, out-of-the-box, advanced Marketing Automation system that integrates automatically with our powerful sales tools (we have everything you'd find in a traditional Customer Relationship Management suite, and then some) so that you can focus on your customers and contacts instead of arbitrating debates between sales and marketing or chasing down empty leads. With Agile CRM, your SMB, SME or startup can take full advantage of the power of MA without needing to subscribe to other sales and marketing services and without the difficult-to-justify high costs of outside consultants. It's the best value on the market. If you're a small business seeking to integrate marketing automation into your sales process, Agile CRM offers all of the benefits but none of the costs or confusions.
We believe in streamlined design. Agile CRM is inexpensive and remarkably easy to use. Our drag-and-drop visual designer makes marketing automation as simple as posting to Facebook or texting a friend. We offer a range of features and plugins which let you automate campaigns and run a successful business without ever leaving your Agile dashboard. Market research shows that to onboard a new customer, you need to ping them an average of at least six times. Agile CRM's integrated MA tools make this easy by letting you email, tweet or even show popups and web grabbers to a particular user in a personalized way – and Agile automatically keeps track of every detail about every communication with every customer, so you can build a customer base smartly. Sales and marketing will both want to take responsibility for instant notifications that let you call leads when they are hottest, and sophisticated drip marketing campaigns that are based on user behavior, not on debatable theory.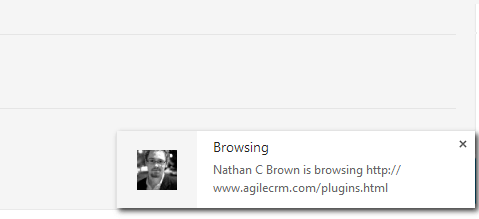 Try Agile CRM today for free and start using marketing automation to take your small business to the next level. MA is the future, and the future is here.
Try Agile CRM for FREE!
FREE for 10 Users. No credit card required.