Agile CRM - FullContact Integration
FullContact integration with Agile CRM - You can know your customers better to grow your business with ease.
This integration helps you transform partial identities into complete profiles to connect with prospects, capture audience insights, and enhance customer experiences.
Here are the instructions and functionality of FullContact on Agile CRM:
Account access
1. Login to your Agile CRM account with login credentials. Click on the Avatar from top-right side of the screen and click on 'Widgets'.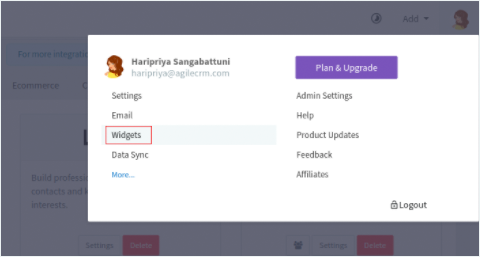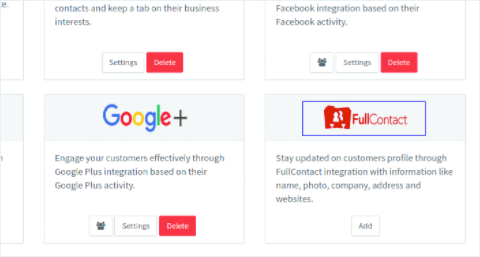 Widget
2. Select FullContact under social widgets as shown.
Enabling FullContact
3. Click on 'Add' in order to enable FullContact as shown.
i) Enter API key and click on 'Save' button.
ii) In between API key and 'Save' button, there is one checkbox named 'Auto Profiling'. If you check that box, new data will automatically be added to your contact.
iii) If you uncheck that box, it will ask you whether to update the contact info with new data.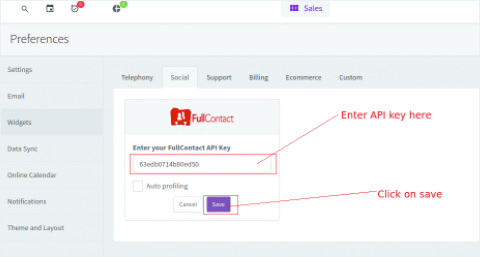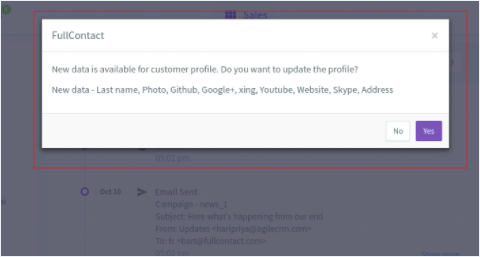 Auto Profiling
4. Here for example we didn't check 'Auto Profiling', and therefore, it asks for new data's availability - Do you want to update?
If clicked yes, new data will be updated to your contact as shown below.
Explore
5. Now after clicking 'Yes', new data will be updated with your contact. Go to 'Contact' and check the info; there you will find the newly added data as shown below.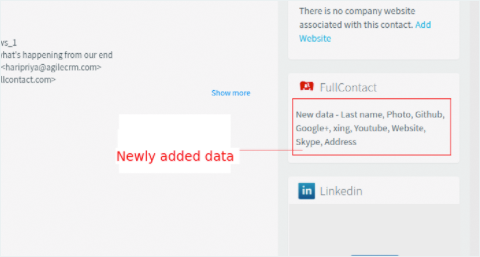 If you've any further questions, please find below contact details for your reference purpose:
FullContact Customer Support: support@fullcontact.com | www.fullcontact.com | Agile CRM Customer Support: care@agilecrm.com | www.agilecrm.com