Why do 8% of sales people get 80% of the sales? Because they're Jedi warriors. Despite a range of sales processes, practices and techniques, all those sales pros have one thing in common: they never miss a lead.
Think that those winners are spending most of their time scanning emails, web forms and social channels for leads? Think again.
Successful sales warriors actually spend most of their time building relationships, having real conversations with prospects and customers. How do they find the time? By automating repetitive tasks.
The most effective sales teams automate the lead capture process by sealing their sales funnels completely, something that's easy to do when you combine Zapier with Agile CRM.
Strap into a Streamlined Sales Funnel
Is your sales team working with the software equivalent of a wind-up helicopter when you could be flying a laser-fast A-Wing?
While advanced sales automation technology used to be available only to larger enterprises with gargantuan budgets, it's now widely available to SMBs. The question isn't whether or not to take advantage of automated sales enablement, but how to implement it in a useful way.
Agile CRM's Zapier integration lets businesses of any size seal their sales funnels with customized sales automation workflows that connect practically any other app with Agile's contact management and marketing automation features. It's the easiest, most cost-effective way to make sure that you never miss another lead again — and by "lead" I mean current customers, too, such as customers who might have been free users of your app for the past year and are now showing signs of converting to a paid plan.
Thread Skywalker
Smart sales automation means letting humans do what humans do best and letting machines do what machines do best. When you combine Zapier's automation toolbox with Agile CRM, the possibilities for custom automations are limitless, but email is the place to start if you want to plug your sales funnel.
Let's use Gmail as an example. A lot of sales teams rely on Gmail as their "communications dashboard." By connecting Gmail to Agile CRM with Zapier, you can set up custom zaps (connections between apps) that automatically create new contacts in the CRM, tag those contacts for segmentation and engagement, and perform a range of other actions, all in response to triggers in Gmail.

Depending on their sales process, some Agile CRM users choose general triggers, such as when a new thread starts in Gmail, to begin plugging their sales funnels. Others focus on more specific triggers, such as when an email is labeled.
Here are the most popular Gmail triggers for Agile zaps:
New Thread: Triggers whenever a new thread starts in the chosen Gmail account. This is most useful if you use a specific Gmail address for sales emails or a particular type of sales email, such as a "signup here" email on a landing page about one of your upcoming webinars.
New Email: Triggers when you receive any new email message in the selected Gmail account. Especially useful if you want to create a direct sales funnel from Gmail into Agile CRM, such as where every new email creates or updates a contact in the CRM.
New Labeled Email: Triggers whenever an email receives a particular label in Gmail, either manually (when you label it by hand) or automatically (via another zap). Remember that you can "nest" labels under other labels in Gmail, which is a useful way to keep your labeled emails organized for particular projects or sales campaigns — just use that main/top label as the trigger.
New Starred Email: This trigger lets you push contacts from Gmail into Agile CRM whenever an email is starred. Starring an email in Gmail is an efficient way to keep track of important emails (and only you can see if you've starred an email).
So what do you do with all those triggers? Create some zaps!
Use your chosen triggers to create contacts in Agile CRM automatically, so that you never miss a lead. You can also choose to modify existing contacts if a duplicate is found, which is a great way to keep your contacts' email addresses up to date.
You might also want to run marketing automation campaigns on those new contacts. There are a number of different ways to add these new contacts from Gmail to campaigns in Agile CRM. You can create zaps that add a contact from a particular email account to a specific sales or marketing campaign, using one of the triggers we've just described, or you can add tags to new contacts as a part of a zap such as the one above, where we're creating a new contact every time there's a new thread in a particular Gmail account.
For example, the Agile CRM team uses tags to keep track of where leads originally came from (tags such as "gmail" and "social") as well as to run campaigns on those leads and customers (tags such as "welcome", "prospect" and "onboarding"). Let's say I want to add one tag from each of those categories to every new contact pulled into Agile CRM using the sample zap above. I can simply add those tags in the Edit Template section of the zap, without needing to create a new zap.
Hint: Tagging is immensely powerful. As you add new Zaps that include tags, remember that tags can be used for more than just triggering campaigns. For example, the Agile CRM team uses those tags such as "gmail" and "social" not only for tracking lead gen sources, but also for segmenting contacts for future campaigns of particular relevance, such as a social media contest or a new feature that has something to do with Gmail or Google Apps integration in Agile CRM. Learn more about tags in Agile CRM.
Parse Vader
Beyond basic zaps and triggers is the "parser" approach to sealing the email side of your sales funnel. Parsing lets you automatically extract essential data from emails. Here's how to parse incoming emails for data and push that data into Agile CRM.
Set up an account with Zapier's email parser.
Choose which parts of emails to extract by highlighting and naming the desired sections.
All emails sent to the mailbox will now be parsed and extracted data will be saved and accessible in your dashboard.
Now you can use that extracted information to create or update info in Agile CRM, such as creating new contacts or deals from emails parsed by Zapier.
Parsing isn't only useful for pulling email data and pushing it into new contacts or deals, it's also a powerful way to extend your sales funnel to include the entire customer lifecycle. For SaaS companies and other subscription-based businesses, parsing transactional emails is a concise way to make sure that new customers don't escape your up-selling or retention sales funnels. It can also help you track data for analysis, such as pulling info out of an email about a won deal and storing it in a sales database or spreadsheet.
For more info on parsing emails with Zapier, I recommend checking out Knack's blog post on how they parse emails and map the fields into their database (and they should know since they make awesome online database software!). Notice how they parse useful information such as referral source, not just basic information like name and email address.
The Form Awakens
Many Agile users take advantage of the built-in tools for web engagement, including web forms, surveys and popups. These web forms can be triggered by visitor activity, such as browsing a particular page on your site, and you can then automatically capture leads from those forms and run campaigns on them.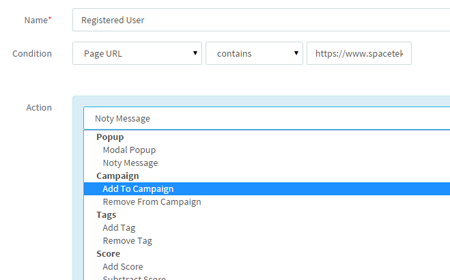 However, some users take advantage of a range of apps for web forms, such as Gravity Forms and Wufoo, in addition to Agile's built-in forms. In addition to integrations with those apps, you can create advanced automations between form data and Agile CRM using Zapier.
From the most basic zaps, such as creating a new contact in Agile CRM whenever a new Gravity Form is submitted, to more complex zaps, such as updating Agile CRM contacts from Typeform entries and tagging those contacts, don't forget to consider every entry point where a lead might jump on board your company jet.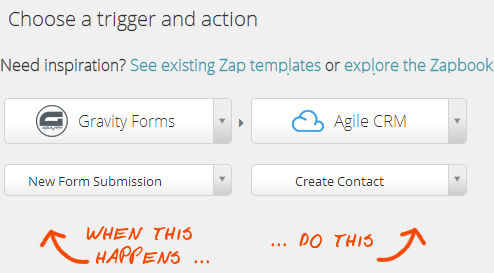 I hope that this blog post encourages you to create custom automations in Zapier. Email and web forms are just the beginning, but they're a strong beginning and the cool thing is that you can start using Zapier and Agile together immediately. Zaps only take a few minutes to setup and start running automatically. How are you using Zapier and Agile CRM to make sure your sales team never misses a lead?
This is the first in a series of posts over the coming months about how to get the most out of Zapier and Agile CRM.
Try Agile CRM for FREE!
FREE for 10 Users. No credit card required.