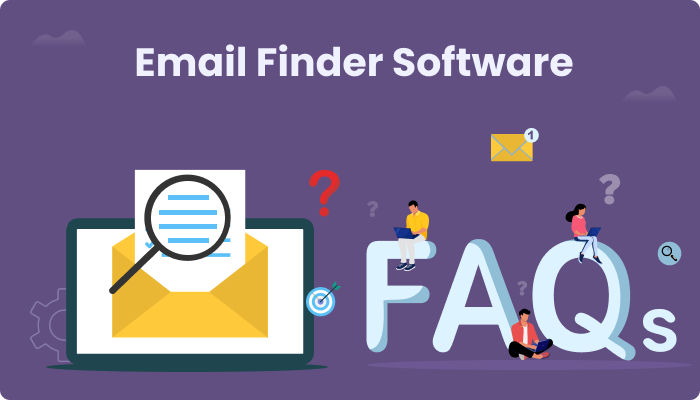 The software is designed to search the web for email addresses and can be used to target specific individuals or groups. It is a great tool for anyone looking to expand their reach and find new leads. Some of the most common questions about email finder software are listed as follows.
What is Email Finder Software and how do they work?
Email Finder tools are software programs designed to help users locate contact information for individuals and organizations. These tools are used to collect email addresses from websites, social media, or other sources. They work by crawling through web pages, social media accounts, or other sources to locate contact information for a particular person or organization. Once collected the data is then organized and presented to the user in a readable format. Email Finder Software can save users time and energy by providing a quick and easy way to locate contact information.
How can I find the email by name?
You can find someone's email address by using a reverse email search. This type of search is used to search for an email address associated with a name or username. To perform a reverse email search you can use a website such as Pipl.com or Spokeo.com. You can also search for an email address using popular search engines such as Google, Yahoo & Bing.
What is a valid email format?
A valid email address follows the format: [username]@[domain].[extension], where:
Username: This is the first part of the email address. Generally, it is the name of the person or organization that owns the email address.
Domain: This is the second part of the email address and it is the name of the email provider.
Extension: This is the last part of the email address and it is the type of organization or email provider. Common extensions include .com, .net, .org, .edu, etc.
What symbols are allowed in email addresses?
In an email address, you can use the following characters:
Letters (a-z, A-Z)
Numbers (0-9)
Period ( . )
Underscore ( _ )
Hyphen ( – )
Plus sign ( + )
Is it possible to trace an email address?
Yes, it is possible to trace an email address. Depending on the type of email address, different methods can be used to trace it. For example, if the email was sent through an email provider, such as Gmail, Yahoo, or Outlook, then the provider can provide information about the sender's IP address. Additionally, if the email was sent through a company server, the company can use its own logs to trace the source of the email. Tracing an Email Senders Location Through Reverse Email Checker Tools.
Can Email Finder Software guarantee the accuracy of the email addresses they provide?
No, It cannot guarantee the accuracy of the email addresses they provide. The accuracy of the results depends on the quality of the data sources used by the tool, as well as the algorithms used to match the data. Additionally, the accuracy of the results may vary depending on the type of email address being looked for.
Is it legal to use Email Finder Software?
In most cases, it is legal to use these tools. However, it is important to be aware of the local laws and regulations regarding data privacy and spamming. Depending on the country different rules and regulations may apply. Additionally, most email finder tools require users to adhere to their terms and conditions, which may include a clause prohibiting the use of their service for spamming or other illegal activities.
How does email finder Software help a sales team?
An email finder tool can help a sales team by quickly and accurately locating the email addresses of potential customers. By using email finder Software, a sales team can easily access contact information without having to manually search through online directories or guess at the correct email address. This can save them time and effort and help them to focus their efforts on reaching out to more potential prospects. An email finder tool is an app, web browser, or browser extension that finds and collects email addresses that sales teams can then use for outreach. Additionally, the tool can help ensure that the contact information is up-to-date and accurate. which is essential for successful sales outreach.
How do I choose the best Email Finder Software for my needs?
When choosing an email finder tool, it's important to consider the features and capabilities of the tool. Look for tools that offer advanced search capabilities, the ability to prioritize results and the ability to filter out any irrelevant results. Additionally, look for tools that offer integrations with other tools and services such as CRMs and databases. Finally, make sure that the tool offers a good customer support system. so you can quickly get help when needed.
What are the benefits of email finder tools?
1. Save Time: It can help you quickly identify and locate the email addresses of potential contacts. This saves you time from manually searching for the email address or manually entering it into a database.
2. Accurate Results: It uses several data sources to locate the most accurate email addresses. This ensures that you are sending your emails to the correct recipients.
3. Improve Response Rates: These tools ensure that you are sending your emails to the right people. This can improve your response rate and help you make better connections with potential customers or partners.
4. Streamline Processes: It can help you streamline processes such as customer onboarding or outreach campaigns. This can save you time and resources in the long run.
5. Cost-Effective: These tools are typically offered at an affordable price and can help you save money in the long run.
Lastly
Email finder Software is an invaluable resource that can help organizations and individuals alike quickly and easily locate the contact information of the people they need to reach. Overall, Finder.io from 500apps is one of the best email finder Software available. It is affordable at the cost of $14.99 and provides 49 other apps from various suites like sales, marketing, and productivity. With the help of Finder.io, users can easily find any email address they need and access the right contacts quickly. This makes it an ideal choice for businesses that need to stay connected with their customers and partners.
Try Agile CRM for FREE!
FREE for 10 Users. No credit card required.