Best email finder tool are essential tools for any business owner or salesperson. They allow you to collect email addresses that you can use to send out emails, making it easier to generate leads and make sales.
An email finder tool is a software, web browser, or browser extension solution that finds and collects email addresses. Often used for lead generation and sales, email finder tools allow users to use a name, company, or domain to find an email address that allows them to reach out for sales or business development.
Email lists are a great way for businesses to grow their customer base and increase revenue. Since most people don't always know what they want or need in life, it's important for companies like yours to find ways of getting in touch with your customers so that they can hear about your products and services first-hand from someone who already knows them well enough so that they won't have any questions about whether this product is right for them or not!
The Benefits of Using Our Email Finder Tool
Business Growth
You can save time and money by using our email finder tool. You can quickly find, organize and analyze your email database to find new contacts, qualified leads and more that can help grow your business. 
Save Time
Our email finder tool allows you to save time by not having to manually search through massive amounts of emails in order to find the right contact information for your company or organization. You can also locate people who have previously purchased from you or are interested in purchasing a product or service that you offer. 
Save Money
By using our email finder tool, you will be able to save money on wasted resources such as staff members who spend hours searching through user databases trying to locate leads that could have been easily found with this program's automated technology; this helps keep productivity levels up and costs low at all times!
Bulk Leads
The ability to create your own email address list. You can choose from one of our pre-defined lists or create your own. You can add as many addresses as you want, and then use them for sending your email campaigns. The list can be segmented by any number of criteria, such as location, interest groups, etc.
Quick Access & Integrated API
We know how busy you are—so we've made it easy for you to access our API in order to create your own email lists quickly and easily. Our API is integrated directly into your website or app so that you don't have to worry about integrating another tool into your workflow.
List of 15 Best Email Finder Tools
 Finder.io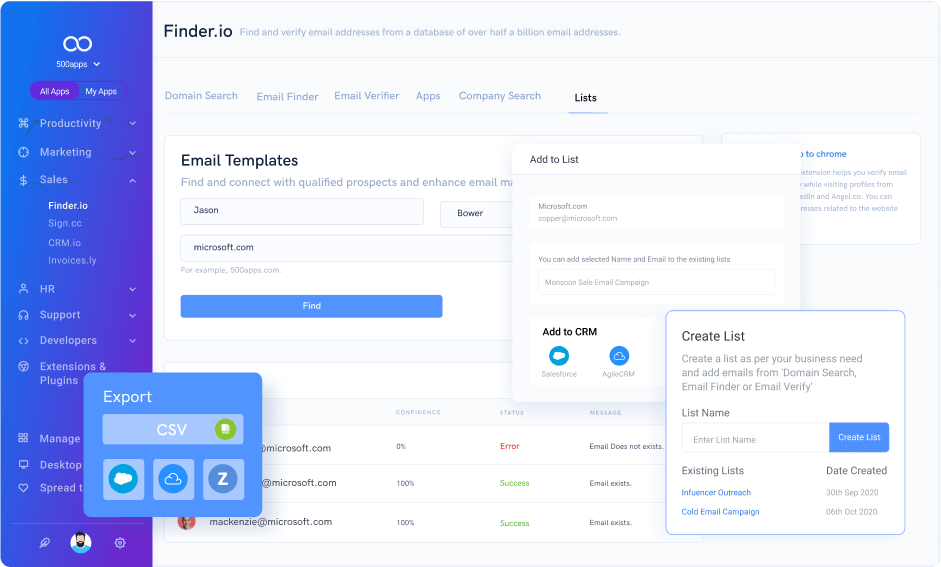 Find and verify leads from a database of over 430 million emails updated monthly. Export generated leads to a list and launch outreach campaigns.
With Finder.io, you can find and verify leads from a database of over a million's emails updated monthly. Use our powerful search tool to find prospects based on specific keywords or interests, then track their progress from clicking your email address until they respond with interest. Export generated leads to a list so you can send them directly to sales, marketing, and other departments for follow-up!
Features of Finder.io:
Email Finder
Reach out to key decision-makers by searching and authenticating their emails using Email Finder software.

Chrome Extension
With Email Finder, you can find email addresses as you browse through the links using a Chrome extension.
Email Verifier
Email verification software can help you validate prospects' emails before you contact them or launch your marketing campaign. As a result of confirming email(s), you will receive a confidence score and status that can assist you in reducing bounce rates and closing more sales.

Domain Search
Reach out to key people of your target company by using the domain names of the companies. Using bots, you can gain insight into top profiles and companies.
Company Search
Smart filters help you find accurate information about companies with Finder's advanced company search.
CRM Integration
CRM integration allows you to save leads from finder.io directly into your favorite CRM software.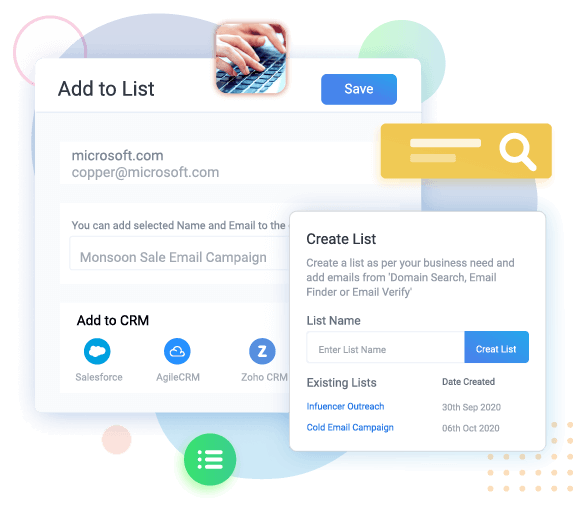 A software that allows you to extract emails and verify them for you, so you can have an accurate list of emails of your clients or customers. You do not need to manually go through each email one by one, but just click, and hunters will take care of the rest by verifying them.
Features
Email Verifier – Find out who has access to your email accounts

Email Finder – Find out who has access to your email accounts

Email Search Tool – Find out who has access to your email accounts

Bulk Email Finder – Find out who has access to your email accounts

AtomPark is a platform that lets you extract the contact details of your prospects. We do this by typing in keywords related to your business, industry, or product and getting back a list of verified prospects.
Features
Extract emails:- A company that helps you extract emails from any source.

Atomic Verifier online:- It is the fastest way to verify an email address, allowing you to verify thousands of addresses within minutes.

Email Hunter:- Email Hunter is a powerful tool that enables you to quickly scan and analyze your email lists.

List Manager:- That's why we made it our mission to help you clear up any duplicate email addresses from your mailing list.
The features offered by this software are LinkedIn email finder, organizing contacts in CRM software, launching email campaigns, and Integrating with other tools to analyze data.
Features
Email Finder by Name:- Use our Email Finder to find all of your contacts that have emails with the name you entered. This will make it much easier to use those emails in your copy!

Email Finder by Domain:- Use our Email Finder to find all of your contacts that have emails with the domain you entered. This will make it much easier to use those domains in your copy!

Bulk Email Finder:- Use our Bulk Email Finder to find all of your contacts that have emails with a specific domain.

Bulk Email Verifier:- Bulk Email Verifier allows you to verify your customers' email addresses in seconds and start working with them immediately. 
Orbit is a robust email extractor that can help you find social media profiles as well as emails of your target customers or prospects. It's a great way to get a pulse on what's going on in your industry and give you a sense of the people who are most likely to buy from you.
Features
Email Address Extraction:- Extract email addresses from any website, including social media sites like Facebook and Twitter, as well as from blogs, forums and other websites.

Enrich your data via API:-

Enrich your data via API integration with external services such as Amazon, Google, Microsoft, and others for richer customer profiles and more accurate analytics.

Share Data:-

Share data with internal teams or partners to create a unified view of customer information within the company.

Phone Number Extraction:- Extract phone numbers from any website including social media sites like Facebook and Twitter.
EmailDrop is an email address finder tool for web pages. This utility is a browser extension and it only offers a list of accurate emails.
Features
No Setup Needed:- You can start using our mail dropper right now! All you need to do is sign up for a free account and download the app. No setup or configuration is required, just download and go!

Public API:- Our API is fully accessible to everyone and allows you to integrate your own software with ours in whatever way you choose. We offer full control over what information is shared between your application and ours, as well as how that information is presented to the user, so you're in total control of what data goes where.

Complete Control:- With our public API, there's no limit on how much information you can send us—you can send as much or as little as you want, whenever you want! And if there's something specific that you'd like to see from us, we're happy to work with you on creating custom functionality that fits your needs perfectly.

Download Attachments:- Just click on the arrow next to the attachment, then select "Save As". You'll be prompted to select a destination for the file, and you'll be able to choose a folder within your account.
An email-finding tool that makes it simple and hassle-free for all of its customers to create email lists, freeing them up to concentrate on other important business tasks.
Features
Linkedin Email Finder:- Linkedin Email Finder is a simple yet highly effective tool that helps you to find out all the emails of your competitors on Linkedin.

Email Extractor:- Email Extractor is a powerful tool that helps you to find out the emails of your competitors on LinkedIn.

Email Verifier:- You don't have to worry about false positives because this tool has been developed by experts who have been working in this field for many years now.

Email Finder API:- The Aeroleads API provides programmatic access to find emails of your prospects using only their names and company website.
Voilanopart has an excellent database of over 1 million new e-mail addresses. It also offers various functions such as email verification, domain search, domain availability check, whois lookup and more.
Features
Bulk Domain Search:- Send you a list of all the domains that match your keywords, so you can start building your email lists right away

Lead Enrichment:- Get a list of domains, and also send you an email with a link to a page to our site where you can enter those domains and lead enrichment tool and get personalized information about them, like how many people have already signed up for your services from that domain.

Email Tracker:- keep track of emails that are sent from your IP address and automatically add them to our database of emails.

Verify Emails:- Verify emails in real-time to ensure delivery to real recipients and the safety of your sender score.
Anymail finder is a cloud-based email verifier and email lookup application that helps discover the real email addresses of anyone at any company. Users can receive a list of email addresses based on job titles.
Features
Bulk Email Verification:- You can also find out if the recipients of your email have been verified as trustworthy. 

Domain Check:- You should also know about any other websites or IP addresses that may be associated with your domain name.

Catch-all Server Detection:- It is important to know whether or not your catch-all server has been blacklisted so that you know whether or not it will work properly on all computers in your network.

Single Email Verification:-  Verify emails in real-time to guarantee that they are sent to actual recipients and that your sender score is secure.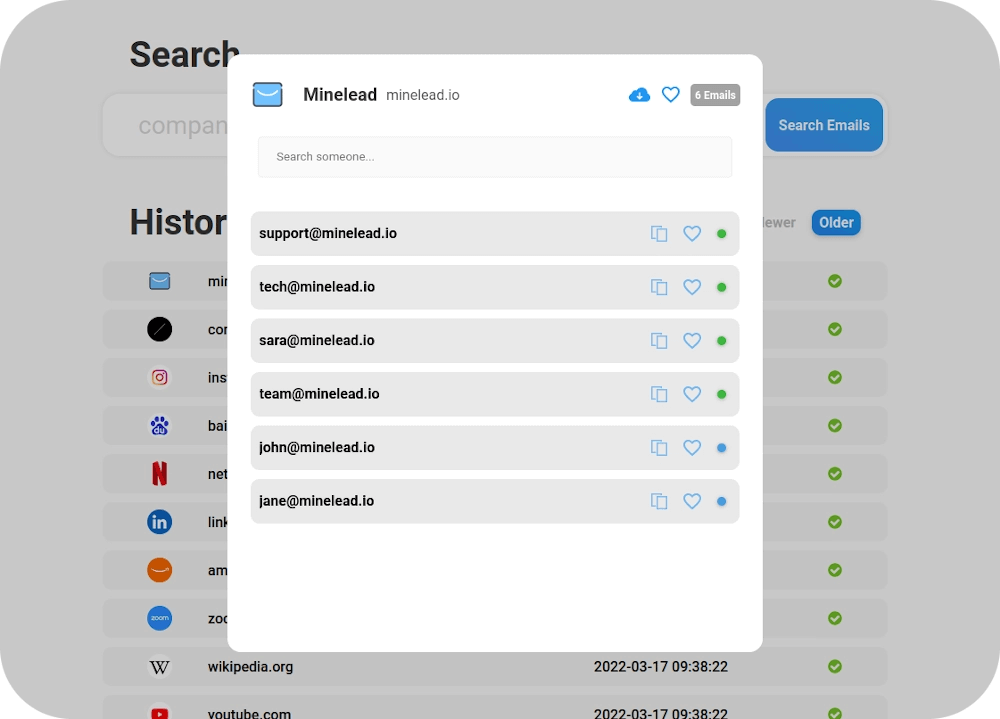 Minelead helps businesses find and verify email addresses with a simple, intuitive interface that provides an easy way to manage, organize, and gather data from all of your B2B customers.
Features 
Data Segmentation:- Our data segmentation process helps you identify your ideal audience and scope out their needs. 

Email Tracker:-  We'll help you create an email tracker that matches up with the information we've gathered about your audience's needs and interests.

Lead Enrichment:- You'll be able to enrich your lead data with additional information from social media accounts, web pages, or other sources—allowing us to provide more relevant leads for your business!

Domain Search:- When you're ready for more sophisticated search functionality than what our basic domain searches can offer
RocketReach is a web-based tool that lets users find email addresses, phone, social links for over 250 million professionals, across 6 million companies, worldwide. It's easy to use: just enter a keyword or job title and get back a list of professionals with matching skills. The site also includes a searchable database of 6 million company profiles and over 3 billion professional profiles on LinkedIn.
Features
Lead Builder:- Our lead builder gives you the tools to make contact with potential customers, based on their data.

Prospecting Tools:- With our prospecting tools, you can reach out to your contacts and send them emails or texts.

Contact Database:- Our contact database allows you to search for leads based on criteria such as company name, job title, industry type and more.

Batch Processing:- You can process multiple leads at once using our batch processing tool.
Lusha is a product that provides high-quality, unique premium data where you need it most: On social networks, the web, Salesforce or directly on your product.
Features
Lead Management:- Lead management is the process of managing and nurturing leads into opportunities. A lead is a person expressing interest in your product or service.

Prospecting Tools:- Prospecting tools provide information on your prospects, such as their needs, buying behaviors, and other relevant information

Contact Management:- allows you to track leads through various stages in the sales cycle, including when they're first contacted, how they're contacted, which stage they're in in the sales cycle, and their actions once they've reached out.

Integrations:- They allow you to connect disparate pieces of data and business systems together, often so that you can use one system to do a job that would be more difficult or time-consuming to accomplish otherwise
Email hunter tool, you can easily fill your funnel with high-quality sales leads, automate lead generation and boost sales even faster than before!
Features 
Email Finder:- You can view the results by email address, name, or phone number. You can also sort by relevance and recency to see which leads have been contacted recently.

Email Verifier:-  The Email Verifier app allows you to verify whether an email address is valid or not.

Prospect Finder:- The Prospect Finder app allows you to search for leads based on various criteria including job title, company name, industry type, etc.

Integrations:- This means that you can access your data from any device, anywhere, anytime!
You can start by verifying the email address of anyone in your list, or you can export the verified email addresses as a CSV file for future use.
Features
Bulk Email Verification:- To identify legitimate email addresses, upload your incomplete data files containing "First Name," "Last Name," and "Company Name."

Lead Builder:-  It is then used to create a targeted list of leads that you can use to further target your campaigns and sales efforts.

Data Cleaning:- If you have data, we have the tools to clean it up. Our data cleansing process helps you find any duplicate or incorrect information in your existing database so that you can ensure that every record is accurate and complete.

Data Segmentation:- Our analytics team will analyze your data and look at how customers are engaging with your product or service based on their behavior patterns through the purchase cycle.
 NeverBounce
NeverBounce is an email verification solution that enables enterprises, startups, and non-profit organizations to remove duplicate emails, detect threats and verify email lists.
Features
Bulk Email Verification:-  Service that safely verifies the validity of emails. We can verify virtually any email address, and we do it in less than a minute.

API:-  Allows you to integrate with your existing systems and processes.

Data Verification:- This is one of our most exciting new features, because it allows anyone who has an account on neverbounce to see exactly what's going on with their account at all times

Integrations:- With all major platforms, so you can get your data in and out of the system quickly.
What comes next?
Sales apps can help you reach more people and get your message across. A suite of sales apps can help you track your results and see which ones work best for your business. A finder.io email finder tool, which is part of a sales suite, can help you manage all your sales activities in one place, just like 500apps. Keeping organized can save you time and money.
Conclusion
There are many email finder software out there and it can be hard to choose the best one. However, we believe that the best email finder software is the one that is user-friendly and allows you to search millions of verified emails quickly and easily. Additionally, the best email finder software should have a wide range of features to choose from so that you can search for emails that are verifier and perfect for your needs.
We believe that Finder.io by 500apps is the best email finder software because it is user-friendly and has a wide range of features. Additionally, the support team is always available to help you if you need it. If you're looking for the best email finder software, then you should definitely check out Finder.io email finder software by 500apps. It comes with 49 other apps at USD15 per user
Visit 500apps today to find out more about our Email Finder Software, which offers 50 apps for just $14.99 per user.
Try Agile CRM for FREE!
FREE for 10 Users. No credit card required.