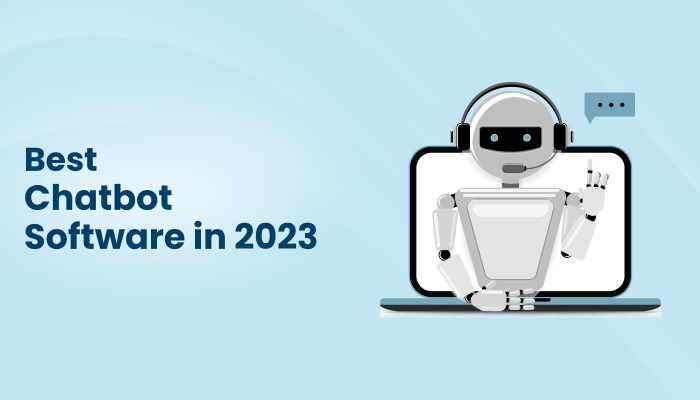 The evolution of chatbot software has been a rapid and exciting one. Over the last few years, chatbots have become increasingly sophisticated and are now being used by businesses in a variety of industries to improve customer service, automate routine tasks, and improve overall efficiency. One of the key drivers of the growth of chatbot technology has been the explosion of messaging apps. With the widespread adoption of platforms like Facebook Messenger, WhatsApp, and WeChat, businesses have been able to reach a much wider audience and offer their customers a more convenient way to interact with them.
Another factor contributing to the growth of chatbots has been the advancement of artificial intelligence and natural language processing technologies. These technologies have enabled chatbots to understand and respond to customer inquiries in a more human-like manner, making the customer experience more natural and seamless. As a result of these trends, the global market for chatbot software is expected to grow at a significant rate over the coming years. According to some estimates, the market could be worth as much as $9.4 billion by 2025, up from just $190 million in 2016.
One of the key beneficiaries of this growth will be businesses of all sizes, which will be able to use chatbots to improve their customer service, reduce their costs, and increase their efficiency. For customers, the proliferation of chatbots will mean more convenient and personalized interactions with the businesses they engage with. Overall, the evolution of chatbot software has been a positive development that has the potential to benefit both businesses and customers alike. As technology continues to advance, we can expect to see even more exciting developments in this space in the future.
Advantages of Chatbot software
There are several advantages to using chatbot software. Some of these include:
Improved customer service

: Chatbots can provide instant responses to customer inquiries, 24 hours a day, seven days a week. This can help improve customer satisfaction and make it easier for businesses to handle a high volume of customer interactions.

Reduced costs

: Chatbots can handle a large number of customer interactions without the need for additional staff. This can help businesses save on labor costs and reduce their overall operational expenses.

Better data collection and analysis

: Chatbots can collect and analyze customer data in real time, providing businesses with valuable insights into customer preferences and behavior. This can help businesses improve their products and services and make more informed decisions.

Personalization

: Chatbots can use artificial intelligence and natural language processing to provide personalized experiences for each customer. This can help businesses build stronger relationships with their customers and improve the overall customer experience.

 Increased efficiency

: Chatbots can automate routine tasks and processes, freeing up staff to focus on more important work. This can help businesses increase their overall efficiency and productivity.
List of Top 14 Best Chatbot Software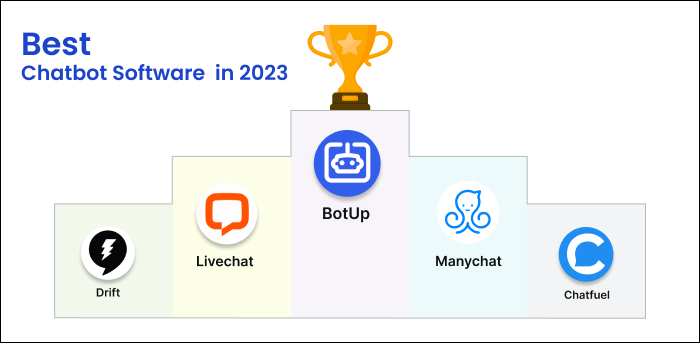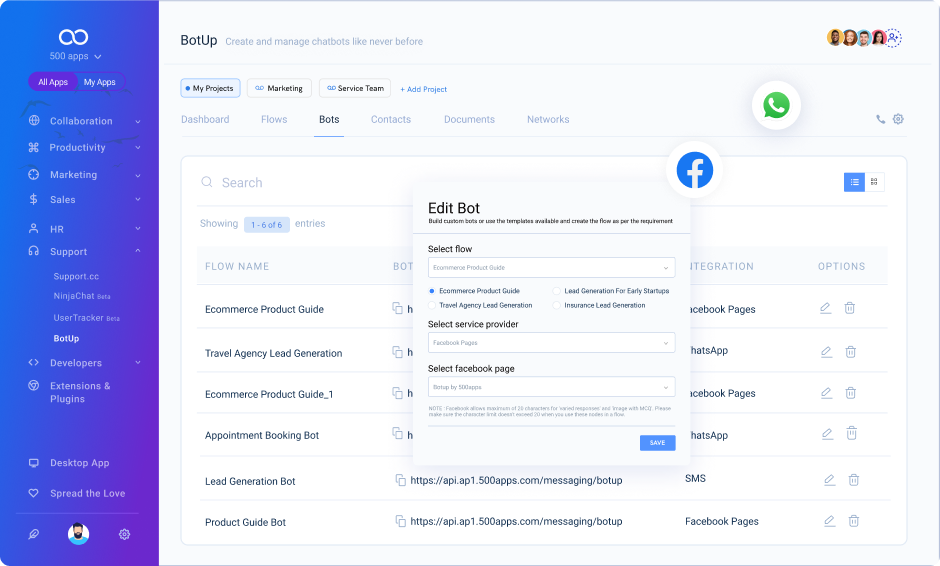 An all-encompassing platform, BotUp is an AI chatbot that may be used to install applications on websites, SMS, Facebook, WhatsApp, and Instagram. Your customer support team can communicate with customers more effectively because of its integration with CRM, LiveChat, Helpdesk, and other platforms.
Features of BotUp:
Visual Flow Builder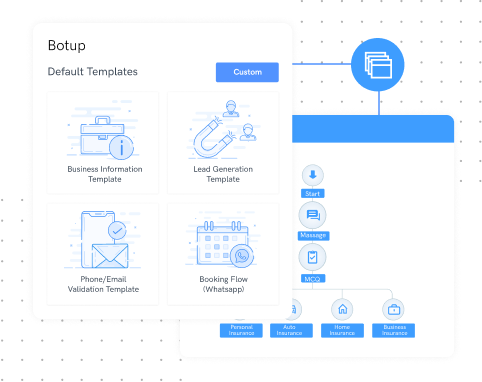 Simplify your flow creation with a visual interface by dragging and dropping nodes to connect conversations.
Visual Designer

Drag-and-Drop

Custom Flows
WhatsApp Chatbot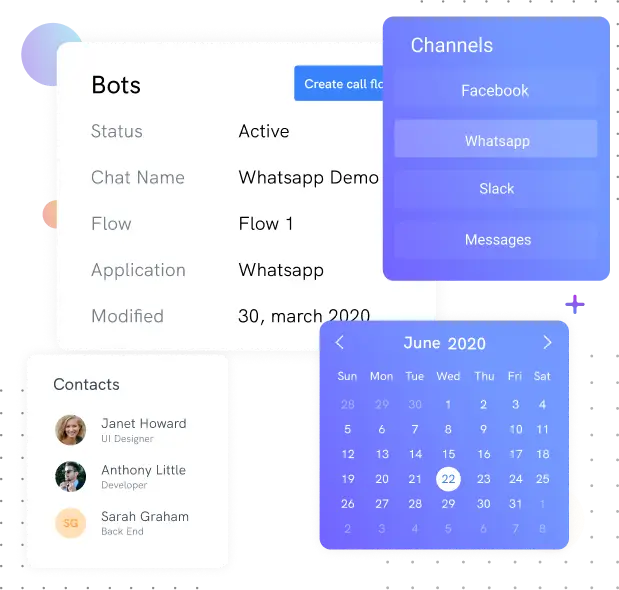 Leverage the power of WhatsApp to reach customers wherever they are and deliver experiences that build loyalty and drive revenue.
Automated Messaging

Multi-channel Supportive

Payment Processing

Live Chat Options
Website Chatbot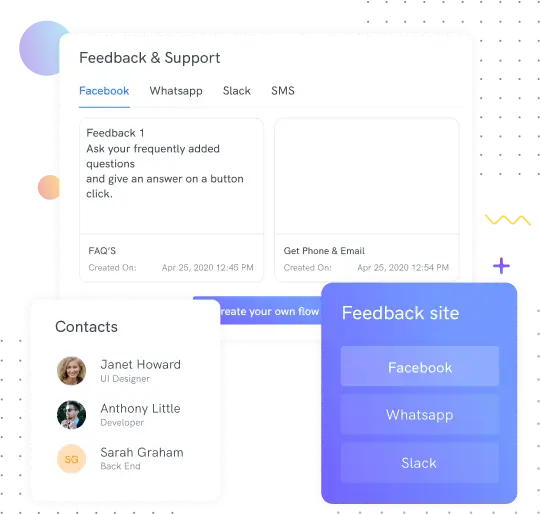 Create a chatbot for your website to improve customer communication and re-direct visitors to the most relevant pages.
Lead Generation

Support & Feedback

Anytime Human Takeover

NLP Functionality

Support for CRM Solutions
Facebook Chatbot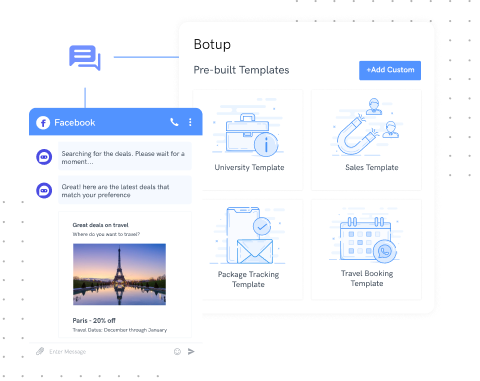 Create a Facebook Messenger chatbot with context and image carousels. Automate sales and support 24/7 to save time and generate leads while you sleep.
Personalized Experience

Automated Replies

Payments

Welcome Messages
REST API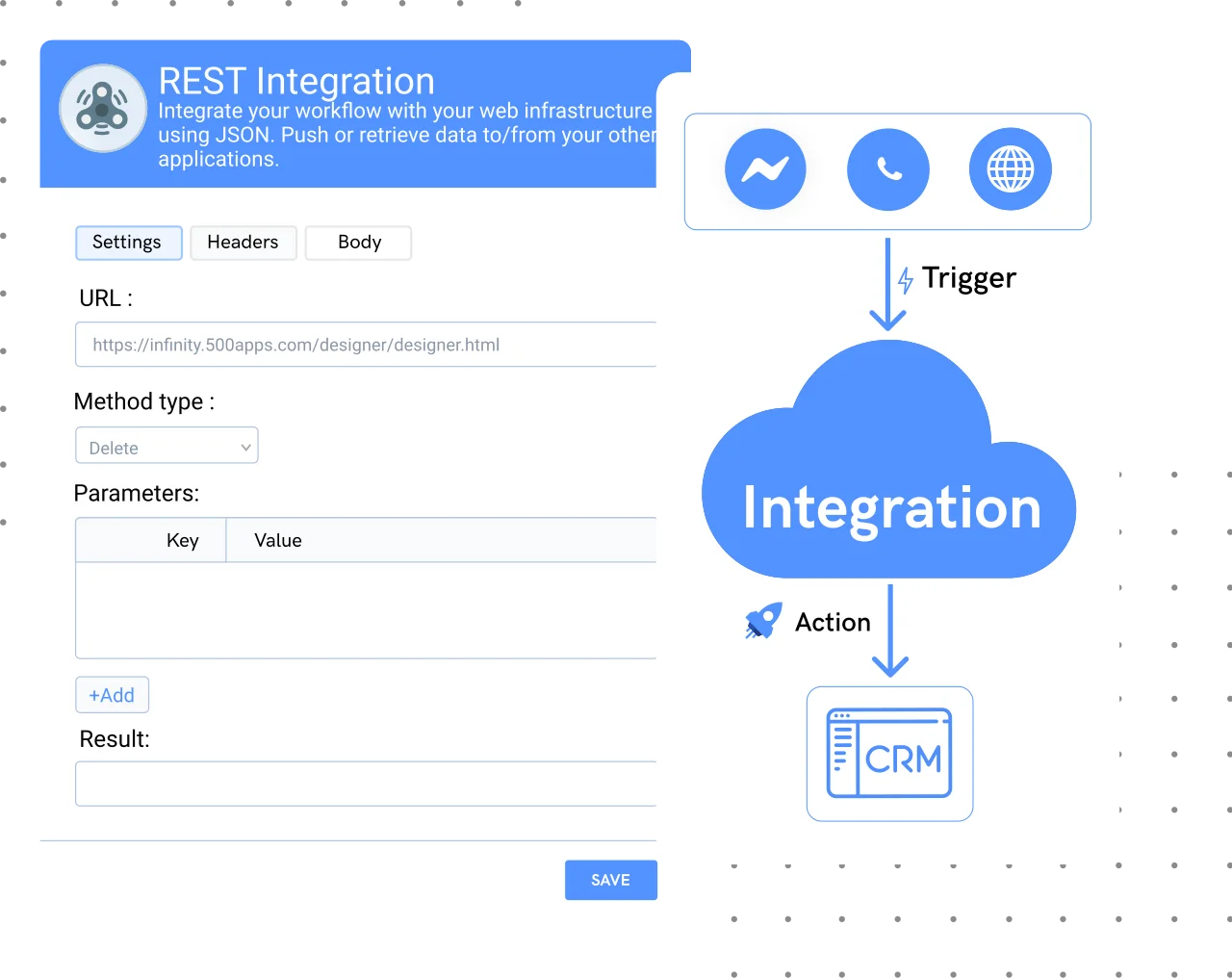 Process tons of data efficiently whenever a new interaction takes place. Organizing the user data flow and streamlining it to the appropriate departments are key components of handling customer communications with chatbots using API.
More Efficiency

Improves User Experience

Boosts Employee Productivity
Zap Technology
Say no to slow bots. BotUp executes all rules on the user side giving super-fast response rates.
Quick Responses

Multiple Messaging Channels

Multilingual
LiveChat is a live chat and helpdesk software. It is used by businesses to communicate with customers, get more sales and leads, and increase their website traffic and brand awareness. It can also be used by companies to manage customer service issues on your website or mobile app.
Features of Livechat:
Chat Interface: Agents can talk with visitors and receive notifications in the LiveChat Chats section. The left column displays open and recently closed conversations; the center column displays the chat that an agent is now responding to, and the right column displays visitor information
Chat Widge

t: There are several other ways to customize the LiveChat widget, including white labeling, moving the widget around on the page, and selecting between a streamlined or contemporary style.

Ticketing

: As a customer support tool, a ticketing system enables your staff to track down, handle, and address consumer concerns. With LiveChat, agents can manually generate support cases, update the status of existing issues, and send pre-written responses or files.

Dashboard

: The dashboard for LiveChat shows both a representation of site metrics and a broad overview of your company's key performance indicators (KPIs). The Team, Business, and Enterprise plans contain the dashboard.
It is incredibly easy to set up, and it helps amplify your sales by booking appointments, generating leads, and offering continual support to your customers. You can quickly automate the entire process by combining Manychat with your preferred tools like Hubspot, Zapier, PayPal, Shopify, etc.
Features ManyChat:
You can link ManyChat to Facebook Ads so that your customers can message you on Messenger, resulting in the development of a fruitful dialogue that qualifies them as leads and results in conversions.

ManyChat can automatically answer all the comments on your Facebook postings. It can initiate your clients to sign-up for newsletters, advocate your products/services, and convert them into potent leads.

You can generate a messenger link by using ManyChat's URL Growth Tool to access your customers across all channels.
Drift is a chatbot marketing automation suite that helps you automate interactions with your customers. It integrates with many popular tools and has a visual builder that makes it easy to create a chatbot. Drift also has an AI engine that learns from your customers, making Drift one of the most sophisticated software platforms on this list.
Features of Drift:
Integrated Marketing Automation (IMA)

– This feature allows you to send emails, texts, and emails automatically based on certain conditions such as when someone signs up for an account or purchases something in-store through an app like Amazon Alexa or Google Assistant; this can be done either manually by typing out each command yourself or automatically by using an algorithm within the software itself which then sends out messages accordingly depending on what type of action has been completed at which point in time during any given day/week, etc.

Real-Time Messaging Platforms

– This allows users access via mobile devices like iPhones & Android phones which means no need for laptops anymore since everything happens instantaneously without having anything plugged into any ports! It also works well with laptops too though because there aren't many apps nowadays so most people don't use those anymore either…
You can quickly design and deploy chatbots for Facebook Messenger, Telegram, SMS, and Slack using the chatbot platform Chatfuel. Using our drag-and-drop visual interface, you can design bots without any programming knowledge. Additionally, it provides a dashboard for bot analytics so you can monitor the effectiveness of your bot.
Features of Chatfuel:
Without any coding or programming experience, users can easily add, update, and build chatbots using Chatfuel's user-friendly editor.

Users can simply sync their bot with well-known programs using Chatfuel's capability for integration with a variety of services, such as Facebook, Twitter, and Evernote.

Users may efficiently gather and view useful data about chatbot performance and subscriptions with the help of analytics features.

To ensure that the chatbot comprehends and effectively responds to user requests, users can specify the conversational rules using the Chatfuel dashboard.
Hubspot Chatbot Builder is a chatbot marketing tool that allows you to create, deploy and manage your own chatbots. It provides you with an AUTOMATED solution for building effective customer-centric experiences on Facebook Messenger, Slack, and other popular messaging platforms.
Features of Hubspot Chatbot builder:
The chatbot from Hubspot allows you to create support requests, easily transfer the conversation to your team members, and efficiently manage your workflows by adding people to your list.

Because all the data is connected with Hubspot CRM, which allows you to expand your sales/marketing pipeline, your chatbots may send highly tailored messages to your customers.

You can also include multiple-choice options in your queries to keep users interested. Additionally, Hubspot offers prefabricated bot templates so you can deploy and get going right away.
Mobile Monkey is a chatbot builder for Facebook Messenger. It has a drag-and-drop interface, which allows users to create bots using visual elements. Users can also access an editor that contains features like messaging rules and templates, as well as a training mode that teaches users how to use their new bot.
Features Mobile monkey:
MobileMonkey extends its Omni chat technology to mobile platforms. You can easily chat with your customers via messaging apps as it supports both android and iOS devices.

MobileMonkey's Omnichat chatbot provides templates for numerous categories including E-Commerce, lead generation, and much more.

It also offers flexible interfaces with trusted applications like CRM, email marketing tools, Asana, Typeform, etc
Botsify is a chatbot platform that helps you create, train and deploy chatbots. It offers a free plan for small businesses, with additional plans starting at $19 per month. Botsify has a variety of features, including analytics and integrations with other apps. The user interface is sleek and easy to use; it also integrates with most major languages such as Java Script/PHP/Python so you can easily get started creating your own bots without having to learn any new languages at all!
Features Botsify:
Botsify chat widget:

Botsify's chatbot window is solid and allows you to converse via voice or text. Additionally, you can add attachments as the visitor, and media such as emojis as the backend user.

Human takeover:

Botsify's live chat capabilities allow you to switch discussions to a human agent at any stage in the chatbot-to-human dialogue by email or push alerts in a browser or mobile.

Conversational AI:

Artificially intelligent chatbots from Botsify recognize common terms and phrases in user questions and utilize these to determine the best response from their knowledge base

Checkbox plugin:

Botsify provides a checkbox plugin that is compatible with any website. When someone uses this plugin, you can immediately greet them by using Facebook Messenger.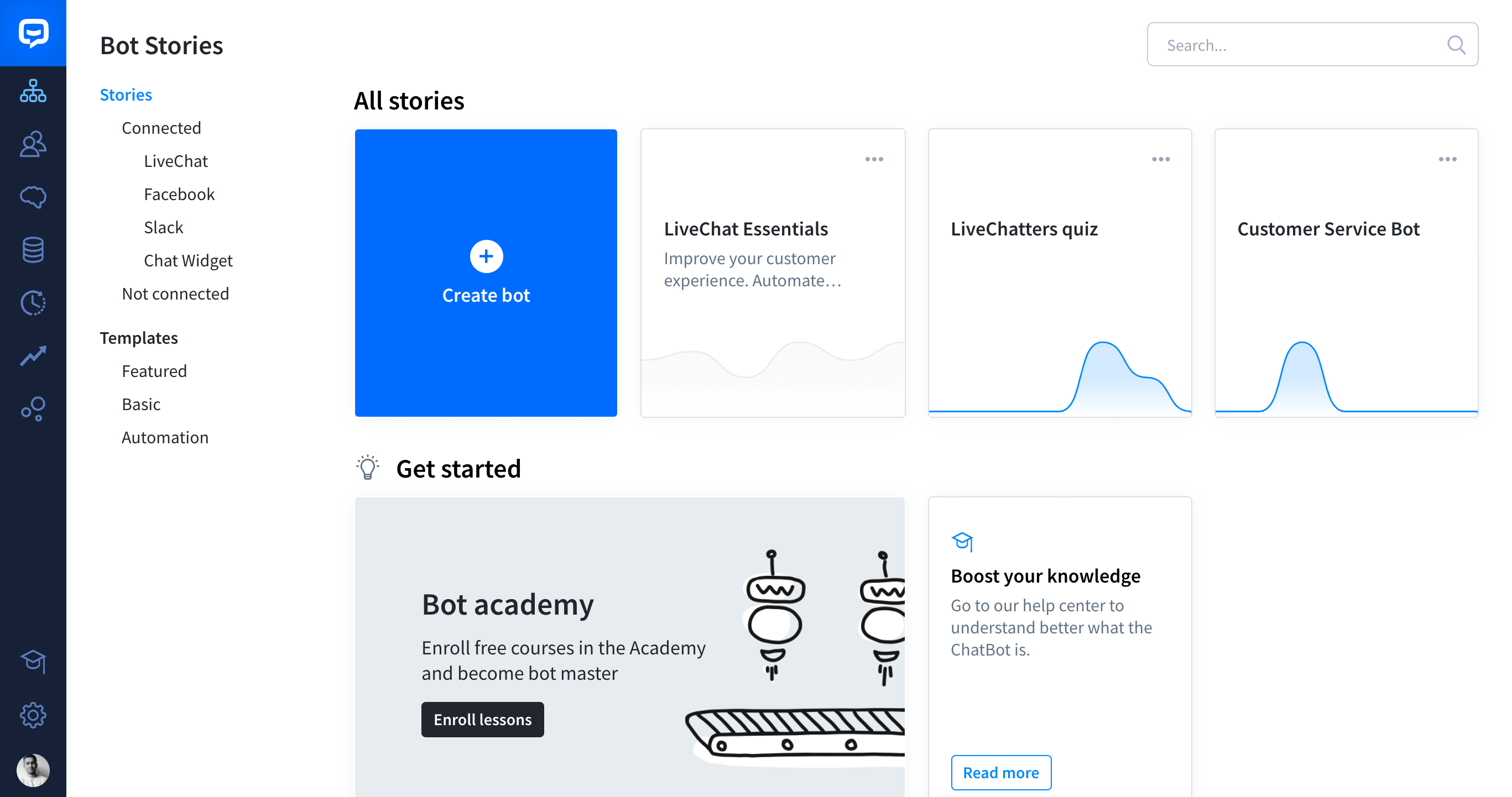 One of the most potent conversation automation solutions, ChatBot is appropriate for both huge corporations and businesses in the growth stage. It includes an exceptional drag-and-drop builder with which you can create your gorgeous templates.
Features ChatBot:
Visual builder: 

With the help of a drag-and-drop interface, easily create chatbots. Create the desired chatbot Story by quickly arranging the conversation flow.

ChatBot templates: 

Launch your first chatbot in minutes with task-specific templates built by pros. Freely personalize the dialogue scenario, so it's matched to your business goals.

Entities: 

User-defined entities allow the extraction of any dynamic values, with users able to set synonyms for any reference value.

AI-powered chatbots: 

ChatBot leverages AI to help you better support, engage, and sell across channels. In the background, AI systems tailor chatbots to customer needs. Inputs are appropriately interpreted by ChatBot using natural language processing (NLP), and performance is regularly assessed using machine learning methods.
One of the most reliable chatbot platforms is Intercom, which provides fantastic features for both live chat and chatbots to improve your customers' experiences. You can quickly modify your chatbots without writing any code and connect them to your tech stack using Intercom's bespoke chatbots, which instantly respond with the correct answer that exactly suits your customer's inquiry
Features of Intercom:
Custom Chatbots engage solely with those high-potential leads utilizing advanced targeting choices.

Additionally, the intercom interfaces with third-party programs like CRM, Slack, and other email marketing tools. You can prioritize your chats for later reference.
Olark is a live chat application built on the cloud that lets companies communicate with customers directly from their websites. Olark's key features include team management, real-time reporting, searchable transcripts, automated communications, and more. The technology also delivers targeted chat, chat monitoring, and analytics within a suite.
Features of Olark:
Live Talk
Live chat enables businesses to converse with website users and offer assistance in real-time. The live chat function on Olark is easy to use and provides the majority of essential features, including chat routing, conversation tags, and file attachments.
Chat Page for Agents
Each customer care representative has a dedicated chat page that they'll utilize to connect with visitors. Team members will be directed to their chat pages after selecting the "Launch Chat" option on the dashboard, where they can change their status to "Accepting Chats."
Chat Widget
The Olark chat widget, located in a website's bottom left or bottom right corner, allows users to communicate with agents. Olark clients can lightly personalize the widget with multiple colors, button styles, and sizes.
Chat Ratings
Visitors can assess their live chat experiences with your business by enabling chat ratings. These evaluations might assist your business in determining whether you are offering your guests outstanding support.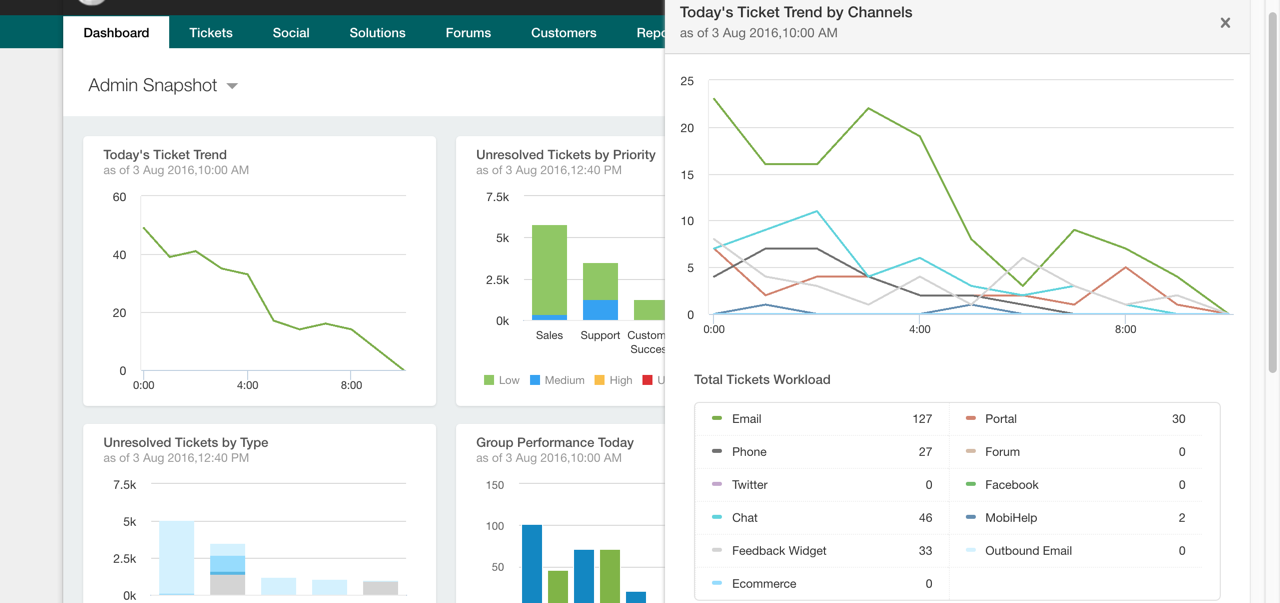 Freshdesk is an online, cloud-based customer service platform that offers help desk support with all the clever automation needed to complete tasks more quickly. It continues to be a popular option for companies looking to boost customer interaction and manage clients as they grow.
Features Freshdesk:
Intuitive UI –

Thanks to Freshdesk's slick and simple-to-use user interface, creating an account and becoming familiar with the product is a breeze.

Omnichannel capabilities –

Manage requests received by email, online, phone, chat, and social media from a single spot, and have requests from various channels automatically sent to the appropriate agents.

Increased productivity –

Freshdesk has been created to support agents in maintaining their highest levels of productivity and includes strong automation that eliminates repetitive chores.

Expanded functionality

– Integrate products from the Freshdesk marketplace, which has over 500 apps, including Salesforce, Jira, WordPress, and Shopify, to do more with Freshdesk.

Round-the-clock support

-Help available 24/7 – Freshdesk provides email, phone, and chat support.
Zendesk is a platform for the entire customer experience that includes live chat and chatbot features. It provides a vast array of solutions, including software for sales, employee engagement, customer interaction, email marketing, live chat, and help desks.
Features of Zendesk:
The quickest route to excellent customer service. rapid deployment and setup.

Boost and enhance the effectiveness of client interactions.

Support your customers across all available channels of communication, including social media, email, chat, and the web.

Increase the output and spirit of the support crew. Our clients adore us!

20+ ready-to-use reports and dashboards are included in the powerful reporting and advanced analytics.
SendPulse is essentially a marketing automation platform that brings several marketing channels together to better facilitate business/customer communication. Marketing emails, SMS notifications, and chatbot marketing allow marketers to mix and match these channels to suit their customers' needs. The no-code chatbot builder itself is very capable as users can easily create a chatbot for their preferred platform be it Facebook, Instagram, WhatsApp, Telegram, or VIber.
SendPulse chatbot features:
Create engaging message flows and auto-replies
React to subscribers' stories that mention your brand with the help of an Instagram chatbot
Access WhatsApp business API without additional fees
Power your chatbot with ChatGPT using SendPulse's integration with Open AI
Use chatbot subscription widgets for your website
Integrate a secure payment system to receive payments via chatbot
Manage chatbots on the go with a handy smartphone app
With the help of live chat software called Pure Chat, SMBs may interact with website visitors in real-time. Pure Chat strives to provide a useful customer support solution by including unlimited operators, unlimited chats, full transcript history, and total widget customization.
Features of Pure Chat:
Use live chat to interact with leads immediately and respond to any queries or issues.

Visitors to the website can communicate with users via Twitter, Google Maps, email, and phone.

Utilize visitor metrics in Pure Chat to find promising leads.

Tag conversations and transcripts for quick retrieval.

Automate sales workflow by integrating with HubSpot, Google Analytics, Zapier, and other services
What's Next?
Businesses would be able to more easily manage their customer support and customer engagement in one location if various support apps were included in a suite. This would make it easier to monitor the progress and outcomes as well as the success of the support campaign as a whole.
Having a variety of business suites, such as those for sales, human resources, customer support, marketing, and other departments, will help you get the most out of your technology investments and make sure that your company is operating as efficiently and successfully by using 500apps.
Conclusion
When choosing Chatbot software, it is important to consider your specific needs and requirements. Some Chatbot software options offer more features and functionality than others. Some are more user-friendly than others. And some may be more affordable than others. Ultimately, the best Chatbot software for you is BotUp from 500apps which engages your website, and visitors.
Come check out 500apps today to learn more about our All-in-one  Software which provides 50 apps for just $14.99 per user.
Try Agile CRM for FREE!
FREE for 10 Users. No credit card required.