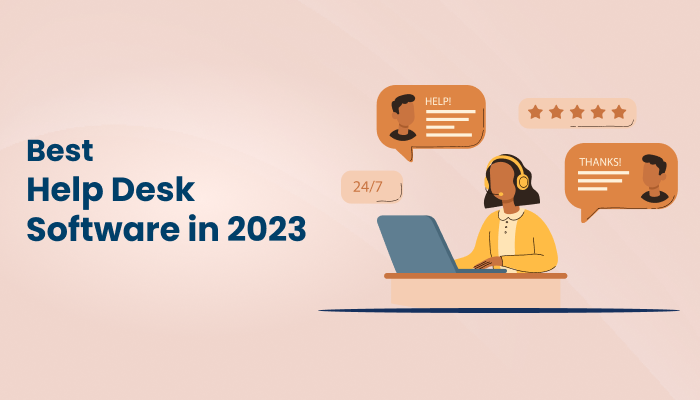 The evolution of help desk software can be traced back to the early days of computing when customer service and technical support teams relied on basic tools like email and phone to communicate with customers and resolve their issues. As technology advanced and the need for more efficient and effective customer support grew, so did the development of help desk software. One of the key innovations in the history of help desk software was the introduction of ticketing systems, which allowed customer service teams to track and manage customer inquiries and issues in a more organized and efficient manner. This made it possible for teams to prioritize and respond to customer requests more quickly and effectively.
In the following years, help desk software continued to evolve, incorporating new features and capabilities such as knowledge bases, chatbots, and self-service portals. These tools made it easier for customers to find answers to their questions and resolve issues on their own, reducing the workload on customer service teams and improving the overall customer experience. Today, the global market for help desk software is highly competitive and dynamic, with many different vendors offering a wide range of products and services. The market is expected to continue growing as more and more companies recognize the importance of providing high-quality customer support. According to some estimates, the global market for help desk software is expected to reach a value of over $10 billion by 2024.
Overall, the evolution of help desk software has been driven by the need for more efficient and effective customer support, as well as the continuous advancements in technology and the growing importance of customer experience. As the market continues to evolve and grow, we can expect to see even more innovations and developments in the field of help desk software.
Advantages of  Help Desk Software

Help desk software can provide a number of advantages to businesses and organizations that use it. Some of the main benefits include:
Improved customer service

: Help desk software can help businesses and organizations provide more efficient and effective support to their customers, leading to better customer satisfaction and loyalty.

Streamlined communication

: Help desk software can help businesses and organizations manage and track customer inquiries and requests more efficiently, which can improve communication and collaboration among support teams.

Increased productivity

: Help desk software can automate many routine tasks, such as routing customer inquiries to the appropriate support team, freeing up support staff to focus on more important tasks. This can help improve productivity and efficiency.

Better organization and tracking

: Help desk software can help businesses and organizations keep better track of customer inquiries and requests, making it easier to prioritize and resolve issues in a timely manner. This can help improve the overall quality of support provided to customers.

Enhanced security:

Help desk software can include security features, such as encrypted communication channels, to help protect sensitive customer information and prevent unauthorized access

.
List of Top 11 Best Help Desk Software 
The best customer experiences are produced using help desk software Support.cc. Its customer interaction and support solutions are strong and adaptable, so they can scale to meet the needs of any organization. For tracking customer communications, it is a straightforward ticketing system.
Features
Ticket management 
This feature makes it simple to examine, follow, update, control, and handle user requests and IT situations.
Knowledge Base 
A knowledge base is a published repository of material that includes frequently asked questions, how-to instructions, and troubleshooting advice. It is designed to make it simple for people to find solutions to their problems without needing help.
Help desk Automation
Automating administrative processes like allocating tickets to the appropriate parties and making sure all requests are tracked, enables you to provide better customer care. Customer service can be elevated to a new level by using it to automate the ticketing process and customer updates.
Advanced Reports 
For gathering data to enhance customer service. A summary of the customer support team's activities, including key performance indicators including ticket volume, issues resolved, and average ticket resolution time.
Contact Management 
Monitoring and managing contacts with clients, partners, and other significant individuals. It facilitates the organization of contact-related data, including contact lists, email distribution lists, publication calendars, contact history logs, etc.
Task management
It aids in task organization and planning. Projects are broken down into smaller tasks, progress is tracked, and alarms are sent when deadlines are approaching or tasks are not completed. It allows you to make a list of chores and then go through the list to track your progress rather than concentrating on one activity at a time.
ProProfs Help Desk Software is a customer support tool that helps businesses and organizations manage and resolve customer issues. Ticket tracking: Allows support teams to track and manage customer issues as they are received and resolved.
Features
Knowledge base:

Provides a searchable database of information and solutions that can be used to help resolve customer issues.

Collaboration tools

: Allows support teams to communicate and coordinate with each other to resolve customer issues more efficiently.

Automated responses

: Automatically sends responses to common customer questions or issues, which can help reduce the workload of the support team.

Customer self-service:

Provides customers with access to a web-based portal where they can view and update their own information, as well as submit and track their own support tickets.

Reporting and analytics

Provide detailed reports and metrics on support team performance, which can be used to improve support processes over time.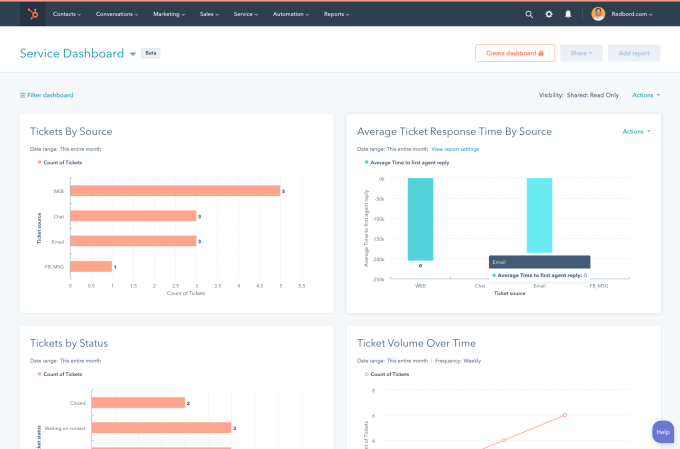 The cloud-based customer service platform HubSpot Service Hub is made for companies of all sizes and is intended to streamline the procedures for handling client inquiries and enhancing customer engagement.
Features
Use communication technologies to conduct conversational, contextual conversations that turn customers become brand ambassadors.

Promote teamwork by providing all team members with a contextual perspective of a customer's history and prior encounters through the Conversations mailbox.

To enable end-to-end customer service, convert conversations and emails into actionable tickets that can be prioritized, categorized, and monitored.

By developing a personalized Help desk and knowledge base that clients can access online, you can assist customers with self-service remedies.

 Make use of the advocacy and feedback tools provided by HubSpot Service Hub to learn more about customer sentiment and pinpoint areas for development.
Zendesk is a user-friendly customer care tool that is both powerful enough to handle challenging requirements and straightforward enough to enable quick setup and operation. By bringing all conversations from the web, mobile, and social channels together in one unified agent workspace, Zendesk makes it simple for desk agents to monitor, prioritize, and respond to customers.
Features
Unified Workspace

: A digital contextual interface will give you a consistent workspace experience. When agents work in shifts, they receive benefits. Tickets and work orders are circulated among the team members.

Omnichannel Support

: Support provided via different channels, bridging customer service and support teams. Receive integrated omnichannel support within the workspace that keeps context. Regardless of the channel, carry on interactions with clients and address problems without losing context.

Better Support From Anywhere

: Provide round-the-clock assistance using chatbots powered by AI to help clients resolve common issues without the assistance of an employee.

Tidio is a flexible customer experience platform that boosts sales for companies all around the world. Agents can respond to inquiries effectively thanks to the chat widget's simple interface and customizability. When necessary, it offers real-time chat help so that users can converse.
Features
Shared Inbox:

Manage chats from several websites and cooperate using a centralized channel with a shared inbox. View comprehensive details for future use, such as client contact information, location, past interactions, and websites viewed.

Chatbots:

Create and operate a variety of sales chatbots to collect leads using various templates. With the drag-and-drop visual editor, you may customize codeless chatbots.

Visitors List:

Use the available sidebar to track and keep an eye on website visitor information in real time. There's no need to elicit specifics while striking up a conversation. Send greetings based on the customer's location to personalize discussions.

Live chat:

Add as many chatbots as you like for marketing automation, and customize it. getting alerts even when not connected. Show live chat on particular web pages.

Integration:

Easy interaction with well-known websites, CRMs, analytics tools, and eCommerce platforms.
A SaaS-based customer support platform called Freshdesk provides organizations with all the tools they need to provide excellent customer care, including omnichannel capabilities, automatic ticket routing, detailed reporting, self-service choices, SLA management, and much more.
Features
Intuitive UI

– Thanks to Freshdesk's slick and simple-to-use user interface, creating an account and becoming familiar with the product is a breeze.

Omnichannel capabilities

– Manage requests received by email, online, phone, chat, and social media from a single spot, and have requests from various channels automatically sent to the appropriate agents.

Increased productivity

– Freshdesk has been created to support agents in maintaining their highest levels of productivity and includes strong automation that eliminates repetitive chores.

Expanded functionality

– Integrate products from the Freshdesk marketplace, which has over 500 apps, including Salesforce, Jira, WordPress, and Shopify, to do more with Freshdesk.

Help available 24/7

– Freshdesk provides email, phone, and chat support.
A cloud-based help desk software called Zoho Desk was created to assist companies of all sizes in managing customer assistance. Customer support tickets, a customer support portal, contract administration, and report creation are important aspects.
Features
Dashboard:

The dashboard serves as the interface's primary section. In addition to showing your live traffic, agents, and other information, it also shows incoming and outgoing bandwidth from various channels.

Ticketing:

Zoho Desk's primary feature is ticketing. Your clients can send you tickets about problems they are experiencing with this feature, and your team will be able to both reply to incoming tickets and send proactive outbound tickets.

Chat live

: Your website's live chat function enables you to have real-time conversations with your visitors. You can communicate with consumers using targeted messages, attach Help Center articles so they can assist themselves, or just send messages back and forth.
A support desk application for companies of all sizes is AzureDesk. The application integrates support emails, support tickets, and client email inquiries while centralizing all information pertaining to consumers.
Features
Allow consumers to use the self-service customer portal's rapid search feature to look up answers to their own support questions first.

Use AzureDesk to automatically turn incoming support emails into tickets.

Manage inquiries, issues, tasks, and service requests from beginning to end, keeping the client informed all the while.

With AzureDesk's integrated JIRA integration, support requests can be quickly converted into JIRA problems.

Using the administration site for AzureDesk, add clients, businesses, and agents.
A cloud-based help desk system from Spiceworks can quickly help you handle IT problems and duties. You don't have to bother about server acquisition, backups, or even maintenance because your support desk is stored in the cloud.
Features
Automated ticket distribution to agents with progress monitoring

To speed up problem resolution, share support tickets with other team members.

Create reports and quickly access team performance information.

Keep track of new tickets and determine how quickly you respond.

Allow users to ask and answer questions in the Spiceworks community forum.
Unquestionably one of the greatest help desk software with a feature-rich shared inbox is Help Scout. For various teams, email accounts, and brands, you can quickly create multiple shared inboxes to keep everyone informed.
Features
Adding text, pictures, links, videos, and tables to assist articles is simple.

With prompted messaging, onboard new clients and provide proactive assistance.

Create reports on the overall number of discussions, the busiest times, and performance metrics.

Utilize the agent collision detection tool to prevent redundant chats.

Track the number of tickets by phone, email, or live chat.
Another outstanding product that belongs on this list of help desk software is Vision Helpdesk. Your customer care professionals can receive, process, and deal with problems and service requests thanks to the technology. You can centralize all of your support discussions that take place over chat, phone, Facebook, Twitter, email, or a web portal thanks to its multi-channel features.
Features
By creating agent quests and accomplishment levels, you may make your process more fun.

Give your employees the option to log the time they spend resolving a particular problem.

Make a bilingual client site and help clients from all around the world.

automatically recommend customers' knowledge base articles.

To increase search engine visibility, create help articles that are SEO-optimized.
What's Next?
Businesses would be able to more easily manage their customer support and customer engagement in one location if various support apps were included in a suite. This would make it easier to monitor the progress and outcomes as well as the success of the support campaign as a whole.
Having a variety of business suites, such as those for sales, human resources, customer support, marketing, and other departments, will help you get the most out of your technology investments and make sure that your company is operating as efficiently and successfully by using 500apps.
Conclusion
When choosing Help desk software, it is important to consider your specific needs and requirements. Some Help desk software options offer more features and functionality than others. Some are more user-friendly than others. And some may be more affordable than others. Ultimately, the best Help desk software for you is Support.cc from 500apps which engages your website, and visitors.
Come check out 500apps today to learn more about our All-in-one  Software which provides 50 apps for just $14.99 per user.
Try Agile CRM for FREE!
FREE for 10 Users. No credit card required.