As small businesses grow, email deliverability becomes an even higher priority. If managed correctly, email marketing and transactional email automation can take your business to the next level. With that in mind, we couldn't be more pleased to announce a new SendGrid integration in Agile CRM. SendGrid is a leading cloud-based solution for companies looking to make email deliverability a top priority. Combining SendGrid with Agile CRM's marketing automation and customer retention campaigns, it's easy to engage massive amounts of customers and leads with consistent, automated personalization.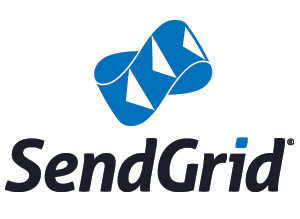 SendGrid currently sends over 19 billion emails per month! Whether you're using the service to send a few thousand emails or a million, Agile CRM's combined sales and marketing email platform gives you the tools you need to automate success. Run sophisticated email campaigns and extend them to include social and mobile responses, run A/B tests and benefit from smart email analytics, all from the home base of your Agile dashboard.
To setup the integration, login to your Agile dashboard. From the user drop down, select Admin Settings > Integrations. You'll find SendGrid under Email Gateways. Just add your SendGrid username and password and the integration will be up and running.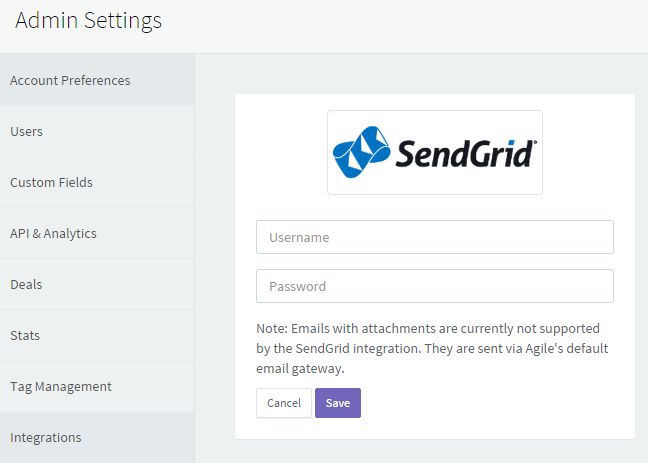 It's a great match. In addition to sharing our mission of making it easy for SMBs to engage larger and larger audiences, SendGrid shares our devotion to open APIs that make it easy for you to customize everything. Ready to build a custom marketing automation email trick? Learn more about the SendGrid Email API, Agile's CRM API and Components API, and drop us a line anytime to share your recent successes.
Note that our SendGrid CRM integration currently doesn't support attachments (we're working on this). For now, emails with attachments will be sent via Agile's default email gateway.
Try Agile CRM for FREE!
FREE for 10 Users. No credit card required.