We're happy to share the news that the best appointment scheduling software is now even better! Since we launched the scheduling tool, Agile users have loved putting their calendars online so that customers and leads can book appointments with just a few clicks. No back-and-forth emails, no phone tag, just pre-scheduled appointments with your hottest leads. As with any new feature, there have been a lot of ideas for improvements. The Agile CRM dev team has responded quickly and enhanced the scheduling tool over the past few months.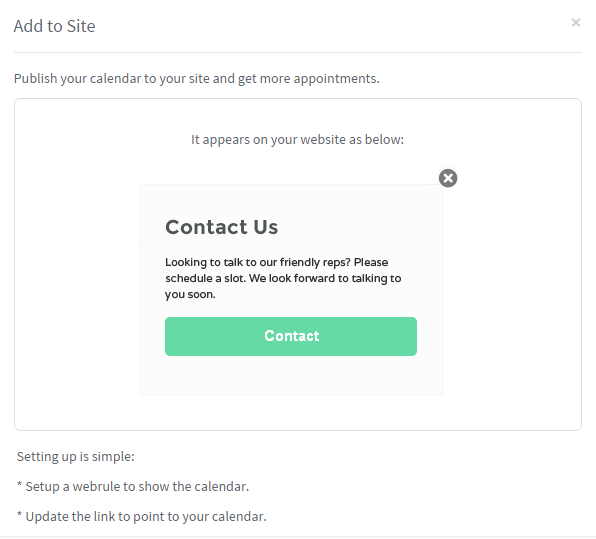 Here are just a few of the ways that the scheduling process is now even more seamless:
"Add to Site" Button: Use the "Add to Site" button to easily publish your online appointment calendar to your website, app or blog. Just customize the popup and calendar link. Then get ready for more appointments from your hottest leads!
Buffer Times: Avoid surprise appointments by adding a buffer time to your online calendar. Buffer times can be set in hours or minutes. Your calendar will display time slots during that buffer time as unavailable.
Cancellation Notes: Your contacts have been able to cancel or reschedule appointments. When they do this, both parties (you and the contact) receive an email with the changes. They can also now include a note when they cancel an appointment to explain why they are cancelling. You can add a note, too, if you need to reschedule a booked appointment with a customer.
Calendar Dashlets: Eager to stay on top of your busy schedule? Add the new calendar dashlets to your custom Agile dashboard. The Calendar Dashlet shows your full monthly calendar, and you can alter events from a popup. The Mini Calendar Dashlet ("Events") shows events for the current day or for a custom time range. Both calendar dashlets include Google calendar events.
While we're talking about appointment scheduling, remember to add your calendar URL in appropriate emails, either manually or automatically using the "Calendar URL" merge field. And as your sales team grows, don't forget to take advantage of group appointment scheduling, which lets you share the calendars of multiple CRM users with a single link.
We are proud to offer you a complete online appointment scheduling software package, available directly in the CRM. Thanks for helping us make Agile CRM the even-more-all-in-one sales and marketing CRM for smarter automation. It feels good knowing that your CRM helps you get back to business, rather than making things more complicated, doesn't it?
Try Agile CRM for FREE!
FREE for 10 Users. No credit card required.