Successful companies around the world are gamifying their sales process for increased growth, accountability and motivation. Are you? Agile CRM provides a ton of tools for sales gamification. We've released a new Leaderboard dashlet for your personalized CRM dashboards. A perfect compliment to our customizable email reports, the new dashlet displays Revenue, Deals, Calls and Tasks for selected users. Step up your sales process by adding the new dashlet to your customized CRM homepage.
Think of the Agile CRM Leaderboard dashlet as a digital whiteboard in your personal sales meeting room. You can check in anytime and find actionable insights. It's clear, concise, all-seeing (or at least seeing-of-what-you-ask-it-to-see), and automatically up-to-date. And just like all of the dashlets (formerly called portlets) on your customized dashboard, you can change the sales leaderboard's size and placement, and find the most useful custom display by modifying settings such as board elements, which users to display, and the set duration.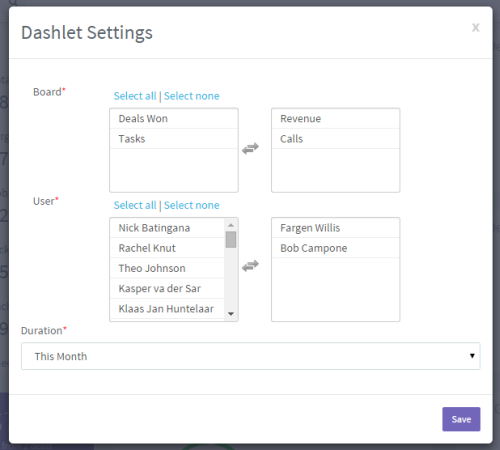 Some companies think that they don't need to gamify sales (just like some SaaS startups still think that they don't need a CRM, despite evidence to the contrary in reports such as this recent CRM success story by the folks over at Sleek, who use Agile CRM to power their sales and marketing). Yet sales gamification is longer just a buzz word.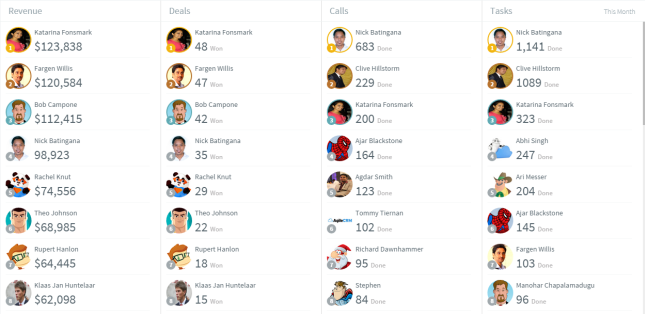 As Bob Marsh reported over at Inc. earlier this year, major players such as Comcast and PayPal are now tapping into the power of sales gamification to produce real business results. Marsh highlights 4 key benefits to gamifying sales. Those benefits worth repeating here because as an integrated sales and marketing CRM we seek to provide those same benefits to all of our users, should your sales team agree to accept the challenge:
Amp up competition
Encourage collaboration
Open mentorship
Create an engaging workspace
It's all about keeping the human element at the heart of sales automation and integrated sales processes, just like with the most effective marketing automation. Let's keep that competition and collaboration going strong throughout the summer heat!
Try Agile CRM for FREE!
FREE for 10 Users. No credit card required.