Mobile marketing is the latest marketing automation trend, and for good reason: it gets results. Since we introduced our SMS integration, which lets you include personalized texts in automated campaigns, our users have been engaging their customers with perfectly times discounts, updates and welcome messages, all over mobile phones. We're excited to announce that Agile users with a Plivo account can now run behavior-based mobile campaigns using our new Plivo SMS integration.
Plivo is a popular voice and SMS API for businesses of every shape and size. By using Plivo as your SMS gateway, Agile is able to text your contacts as a part of automated campaigns, just like when you automatically send them an email. Modern companies use mobile campaigns to engage contacts for new subscriptions, updates, billing and discounts.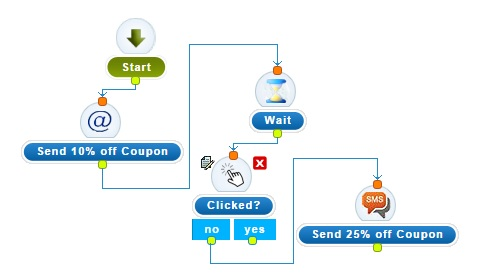 Plivo SMS Integration
Extensive Campaigns: Use mobile messaging for drip campaigns, nurturing, lifecycle marketing and behavior-based targeting
Auto-Responders: Let Agile take care of responding to new signups, sending confirmation texts, and so much more
Personalization: Include known contact info (name, location, interests) in messages to increase effectiveness
Message Scheduling: Easily program Agile to send a text at a later date and time
Dynamic Sender ID: Send from multiple numbers
For more information and setup instructions, check out our Plivo SMS integration page. Don't have an Agile CRM account yet? Sign up today.
Try Agile CRM for FREE!
FREE for 10 Users. No credit card required.