Keeping track of your sales and marketing team's activities can seem like an overwhelming task. With so many calls, emails, deals and prospects, knowing what each of your agents has accomplished is essential. That's why we've introduced two new monitoring features in Agile CRM: user activity reports, and an enhanced real-time activity log. Keep on top of changes in deal status, emails exchanged, documents created, calls made, and more.
Checking in on recent user activities is a great way to start your workday. To see what your Agile CRM account users have been up to, just click the 'Activities' button on your Agile dashboard.

You can then choose which user's activities to view (if you have access to all users), as well as the types of activities to view. We recommend checking out all activity types before filtering for a specific type, to make sure you aren't missing anything in the pipeline. In addition to All Activities, the current choices are Tasks, Deals, Events, Contacts, Documents and Calls (for users taking advantage of our free telephony integration).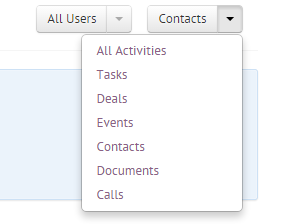 For more regular updates, sales and marketing teams will love our new Activity Reports. Customize these new reports by going to Reports > Email Reports > Activity Reports. Then pick the activity categories to be included in your email digest, and decide how often you'd like us to email you with this data – daily, weekly or monthly.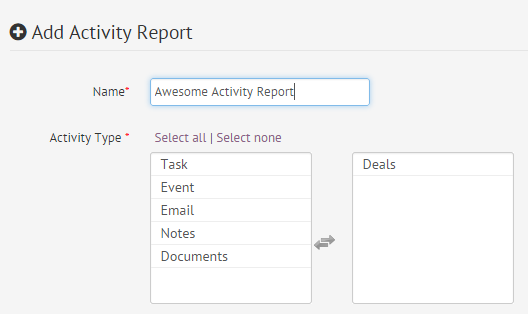 Again, we recommend including all activity types in the report. If a team member hasn't had any activity in a particular area (ie. hasn't exchanged any emails with Agile contacts in the time period selected), then the category doesn't show up in the report. Of course, if closely monitoring a particular user's success with email, for example, then don't hesitate to set up a daily report about email in particular.
Here's how a sample activity report looks. In this case we're just looking at one user's Deals activity. Notice how Deals are broken into four categories: Won, Lost, New and Milestone Changes.
If you have any questions about this or any of our other awesome reporting features, don't hesitate to get in touch. Since our periodic email reports are totally customizable, the sky's the limit when it comes to staying on top of exactly what matters most to you and your business. Thanks for using Agile to sell and market like the Fortune 500!
Try Agile CRM for FREE!
FREE for 10 Users. No credit card required.