Are emails getting lost in the shuffle when they're sent to your sales email address? Our new email event trigger lets you automate actions based on the receipt of an email. The options are extensive, and can be easily customized to fit your business. You can automatically create a new contact, add relevant tags based on keywords in the subject line or message body, assign a contact to the right rep, and so much more!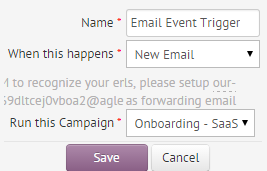 What are triggers?
Triggers are pre-defined conditions set up by you. If the condition is satisfied, you can choose an action to follow using workflow automation.  First you set the triggers, then you add them to campaigns in the CRM. In other words, you use triggers to build a marketing automation workflow.
How is this trigger new?
Previously Agile CRM's email triggers were for customer interactions with emails (email opened, link clicked) or the sending of emails (wait for a specific amount of time, wait until they visit a page on your site, etc.). This new trigger lets you set actions based on the receipt of an email.
Best uses for the new inbound email trigger
Email event triggers are a powerful tool for automation and organization. Uses run from the basic:
Create a new contact when an email is received from an unknown address
Add relevant tags based on email subject
Add sender to a particular campaign
To the advanced:
Forward to the right person at your company based on a keyword scan of email subject or message body
Assign to a particular team or rep based on email timezone
Change a lead score and/or send a real-time alert to a specific Agile user
Where to set up triggers in Agile CRM
Triggers are managed from the Campaigns tab on your Agile Dashboard. Sign in to your Agile account, then go to Campaigns > Manage Triggers > Add Trigger. The direct link is yourcompany.agilecrm.com/#trigger-add
Don't have an Agile CRM account yet? Sign up today.
Try Agile CRM for FREE!
FREE for 10 Users. No credit card required.