Are you using a customer relationship management (CRM) solution? What about a marketing automation solution to drive your lead generation and nurturing? Do you have an effective way to provide customer support to your clients? Are you under the impression that CRM implementation is a monumental challenge? 
If you are using a variety of those solutions, are you tired of switching between various systems to access your customer and prospect data? Are you losing efficiency through data inconsistency across your various platforms? Are you frustrated at seeing your teams working in silos, with different, disconnected data sets? Is it a problem that one team doesn't have a view into the interactions their colleagues on other teams are having with your customers?  
If so, we've got a solution for you: Agile CRM, the all-in-one CRM that integrates sales, marketing, and customer service solution for growing businesses. Below, we dig into what Agile CRM implementation entails, and how it prepares you for success.
Getting started with Agile CRM implementation

Dedicated customer success manager
You have decided to move away from various, disjointed systems to a single platform that does it all. Great! Our first step is to reach out and provide you with a dedicated customer success manager (CSM). The CSM will stick with you through the entire onboarding and CRM implementation process. They will be your single point of contact from the start.
Kicking off the process
Your CSM will speak with you at length to understand your specific needs. Then, plan your onboarding and free training experience to match your specific use case. This is to ensure you are as successful as possible using Agile CRM. Following your initial call with them, they will send you a series of resources—such as introduction videos and user guides to get you started learning about some core features of the solution that will be most beneficial to you. This will help you set up some basic settings and configurations in Agile CRM.
 Training webinars
Your second session with your customer success manager will involve a live, online training webinar. During the webinar, they will walk you through how to use those core features: sales enablement, marketing automation, and customer service. They will answer any questions you have to ensure you gain a comprehensive understanding of the material covered.
This will be followed by a series of additional training webinars that will dig deeper into each of those core feature areas. You'll learn more advanced processes, such as how to use the landing page builder, utilize your 360-degree contact views, leverage your email marketing features, effectively create and automate new deals, and so on. Your CSM will specifically tailor these sessions to train you on the features that you will be using the most, based on your specific use case.
Migrating your data
To use Agile CRM, you need customer and prospect data, which you probably already have stored somewhere. If this is your first CRM solution, you likely are using spreadsheets. You can easily import that spreadsheet data into Agile CRM. Your CSM will be there to help you along the way.
Does your data live in another SaaS application? If so, it's simple and quick to import that data. With a few clicks, you can select the application where your data lives, and sync your data with Agile CRM. The sync will only take a few minutes. Once it's done, your data will be available so you can jump in headfirst and start using Agile CRM.
Post-onboarding check-ins
Initial post-onboarding check-in
We want to be sure that you're effectively using Agile CRM once you have your data in place. That's why your customer success manager will call you a few weeks after your last training webinar to check-in and see how things are going. Your CSM will devote as much time as needed to answer any questions you have about the system or any particular feature.
In the meantime
We won't just call you, answer your questions, and leave it at that. Your dedicated CSM will spend significant time researching your use of the system and analyzing any customer support cases you submit. This is to ensure they fully understand your progress and can identify and proactively help resolve any issues that arise. The goal is your customer success manager will know your requirements in and out, with a comprehensive understanding of your needs goals, and system usage.
Continuing periodic check-ins
We won't leave you hanging during your CRM implementation, that's for sure. We will continue to call you periodically for the first three months of your subscription. Each time, we will answer any new questions that arise and continue to teach you new things that you wish to learn. This will allow us to build on our existing knowledge of how you use the system. For example, your CSM may realize that you have a need for a feature that you're not currently using. If so, s/he will proactively send you a video tutorial on how to leverage that feature. In short, we've got your back through the entire process.
Your CSM is always available
After those first three months, you should be entirely equipped to make full use of Agile CRM and all its components. If you ever have an issue, our customer support team is always there for you, with 24-hour availability. However, if there is something you feel more comfortable discussing with your dedicated customer success manager. They will always be available to you and eager to help. Essentially, they are your advocate at Agile CRM, and you can turn to them anytime you want.
Don't just take our word for it
We could tell you all day how effective our customer success team is at onboarding and training you to ensure that your CRM implementation goes smoothly and that you are successful in utilizing Agile CRM to its fullest. However, hearing it from our customers will certainly be more impactful and genuine. Here is what one of our satisfied customers had to say:
"Ashley [one of our dedicated CSMs] did a great job of helping me to learn how to get more out of Agile CRM. She was able to show me the most important things I wanted to learn from the session, and she was very considerate to see if I was really grasping the instructions along the way. Sometimes people just shove things down your throat because of time constraints, and I appreciate that she took her time to make sure I was getting the maximum value. You are awesome Ashley!"

–   Brent Acajabon
    Fieldpiece Instruments, Inc.
The bottom line
The most important thing to us is that you are able to achieve success using Agile CRM. Not just that you are able to use the system properly, but that by using the system, you are able to see improved business results and a positive impact on your bottom line. Our solution is only as good as the results you achieve by using it, and we take that very seriously. According to Strikedeck, 48% of consumers say the most critical time to gain their loyalty is when they make their first purchase. We realize that and go the extra mile to ensure your satisfaction from day one.
We don't just want you as a customer. We want to form a mutually beneficial partnership that elevates us both in spectacular ways. That's why we put so much emphasis on taking all the right steps from the beginning, to ensure that during your Agile CRM implementation, you receive all the necessary training and support you need to be an Agile CRM rockstar. If you're not happy, we're not happy, and that's the motto we live by.
Getting in touch with us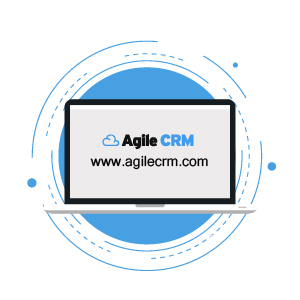 Would you like to schedule a time to speak with our CSM team about the onboarding and CRM implementation process? You can do so by clicking the CSM team's calendar link and selecting the time slot that works best for you.
If you have any questions or are interested in moving to Agile CRM, reach out to us at sales@agilecrm.com or call us at any of the following numbers:
US: +1-800-980-0729
UK: +44 14428 00729
AUS: +61 285990729
IN: +91 99850 00259
We look forward to providing you with the world-class experience that you deserve from a CRM provider!
Try Agile CRM for FREE!
FREE for 10 Users. No credit card required.