We just got back from SaaStr Annual 2018, held last week in San Francisco. Thousands of attendees piled into the Hilton Union Square to gain new insights into the direction of the SaaS space. They learned new trends and innovative ideas that are driving the industry forward and made connections that will help take their SaaS companies to the next level.
As a Gold Sponsor of the event, Agile CRM had a unique opportunity to connect, share insights with, and learn from attendees representing companies of all shapes, sizes, backgrounds, and focus areas. As we place a great emphasis on ensuring the success of our clients, Agile CRM couldn't afford to miss the event. As William Pollard once said, "Without change, there is no innovation, creativity, or incentive for improvement. Those who initiate change will have a better opportunity to manage the change that is inevitable."
SaaStr Annual 2018 provided an invaluable opportunity to interact with and learn from those that initiate change.
An Abundance of Learning
There were over 100 sessions to choose from, covering a vast range of topics. Companies in attendance represented an array of different types of solutions, including SaaS analytics, CRM, marketing automation, user engagement, telephony, eCommerce, project management, customer experience improvement, online billing, and the list goes on.
An abundance of prominent speakers graced the event and shared highly impactful insight that will help attendees return to their jobs armed with the tools needed to drive their businesses forward. Those speakers included Stewart Butterfield, CEO of Slack; Jason Fried, CEO of Basecamp; Sarah Bird, CEO of Moz; Aaron Levie, CEO of Box; Ajay Agarwal, Managing Director of Bain Capital Ventures; and Mike Cannon-Brookes, CEO of Atlassian, just to name a few. And, of course, we heard from Jason Lemkin, founder of SaaStr.
Key Players from the G2 Crowd Grid
Some big players sponsored the event this year. G2 Crowd mapped them out in a grid that ranked them according to the market presence and customer satisfaction. The grid was broken down into four categories: High Performers, Leaders, Niche, and Contenders. We were pleased to be ranked on that grid alongside some of the major players in the SaaS industry. Here is a chart listing out all of those companies that made it onto the grid, along with the category they fell into:
Tons of Added Value
In addition to the immense amount of learning available at SaaStr Annual, there is a wealth of added value attendees receive at the event. It's an excellent opportunity to grow your network and make connections that will help drive your success in the future. SaaStr Annual provides dedicated networking events, and you can simply make new contacts by strolling through the expo hall. Plus, it's an opportune time to speak with and learn from your competition.
This year, they introduced "Mentoring Braindates," which allowed users of the SaaStr Annual 2018 app to propose a topical discussion along with a time and place. Other app users could join the discussion at will, bringing like-minded folks together to discuss relevant topics, as well as gain insight and new ideas from their peers.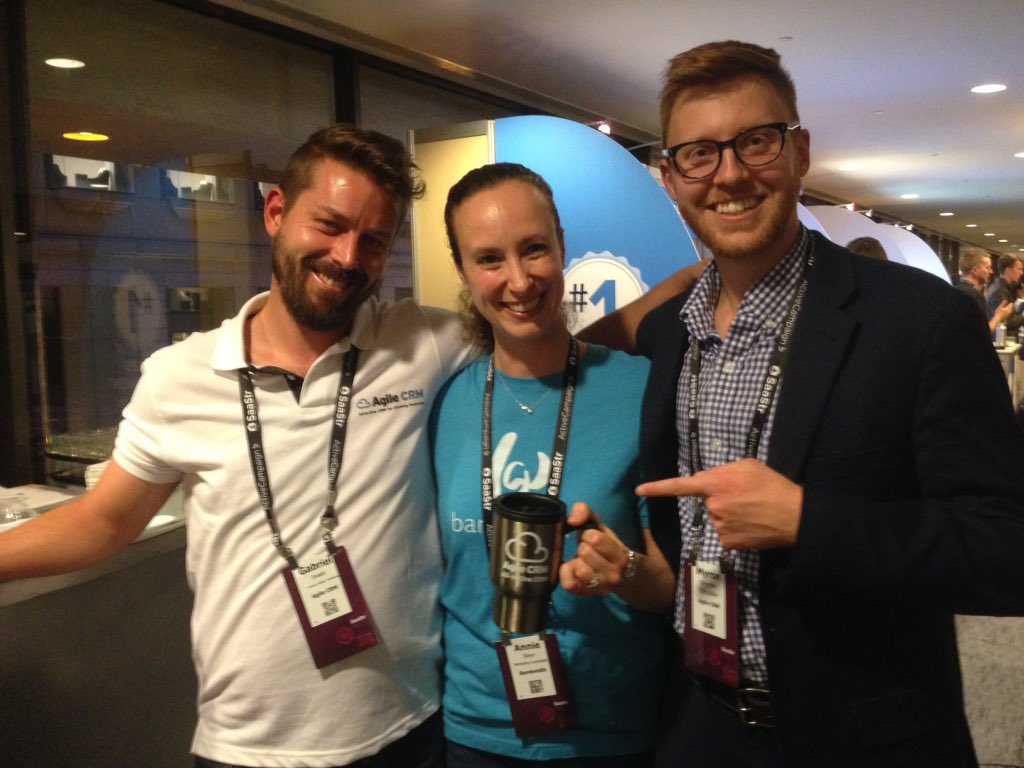 The networking opportunities were great this year!
Key Takeaways
The convergence of customer experience and customer success. You've heard about the rising importance of the customer experience in maintaining satisfied customers and reducing churn. According to Walker Info, by 2020, customer experience will overtake product and price as the key brand differentiator. However, a smooth experience while using your product and interacting with your company is one thing, while your customers' ability to be more successful in their business as a direct result of using your product is another. Expect to see these two topics converge over the next year.
The importance of building a positive company culture. Companies are increasingly finding that having a great product is only part of the game. It's also imperative to build a positive company culture that allows employees to feel like they are part of a team, rather than a faceless cog in a larger machine. Happier employees will deliver a better customer experience, so this takeaway can't be overlooked.
During his session on day one, Dharmesh Shah, CTO, and Founder of HubSpot said, "Culture is the operating system for your company. Culture is to recruiting as product is to marketing." So, create a positive work culture of inclusion. Ask for employee feedback and actually put into action. Perhaps engage employees in group volunteer activities or some other employee engagement initiative. Doing so has been proven to make employees happier at work, more committed to their jobs, and less likely quit, according to the University of Wisconsin-Madison.
Pay closer attention to usage. Companies tend to get so tied up in hitting revenue goals that they lose their long-range view of company health. They lose focus on things that actually drive revenue, like product usage. After all, if someone buys your product but doesn't use it, you'll lose that customer before long. This was heavily reinforced by Karen Peacock, COO at Intercom, during her session around the ins and outs of growing and scaling a SaaS business. The bottom line here is that if you focus on ensuring high levels of usage and supporting your clients so they achieve that, revenue will naturally follow.
Go after it, don't be shy. Events like SaaStr Annual can be overwhelming to many attendees—particularly those that don't like being around thousands of people in tight spaces. However, if you make the trip to attend, show up with your game face so that you can make the very most of your time there. Stop by as many booths as possible—regardless of whether you are a competitor, sponsor, or a regular attendee. Ask questions. Learn what each company does. Gain a bigger picture view of what's going on in the SaaS space, because that is knowledge that needs to be used today. We'll see new emerging trends over the next year, so attendees' objective was to learn as much as possible now, take it home, and put it to action.
Don't forget SaaStr Annual 2019. We'll be there! This year was so fully packed with learnings, opportunities to partner with like-minded companies, networking opportunities, and insights from the most prominent thought leaders in the SaaS space, that we've already decided to attend next year. Do your homework, see if you can swing it, and we hope to see you there.
The Agile CRM Experience
We arrived at the event pumped and ready to go, after being named a leader among SaaStr sponsors by G2 Crowd.
We saw a high volume of steady traffic at our exhibitor booth. We had a chance to engage with a variety of clients, prospects, investors, and potential partners with solutions that could possibly integrate with Agile CRM to further enhance the user experience.
Many of those that stopped by were taken aback by the fact that Agile CRM offers CRM, sales enablement, marketing automation, and customer service—all in one solution. We gave loads of demos and many left impressed by the intuitive drag-and-drop interface, the extensive breadth of business operations that can be managed from our single platform, and the over 50 integrations that we support.
Attendees are taken aback when they realize that Agile CRM offers CRM, sales, marketing and service in a single solution.
We enjoyed chatting with clients and those who have used the Agile CRM solution in the past. "We love the [Agile CRM] product because it's everything in one. We like that it's service, CRM, sales, and marketing all in one," said Debra Mignola, Founder, and CEO of Intake123. "I stopped by the booth, had a great time, met some of the guys at the booth, and we're very happy!" Check out all of Debra's comments in this video.
I even ran into one of the many international attendees, Anderson Palma, Head of Growth at PJBank, a Superlógica Tecnologias company, which operates out of Brazil. "I love your product, it's really awesome," said Anderson. "We're here at SaaStr, enjoying the event, gaining knowledge about other solutions and new things that are happening in the market. But again, I just want to say, I really love Agile CRM."
We were very pleased with the enthusiasm of those with whom we spoke. At the event, we spoke with customers of a variety of other CRM vendors. Many of them were surprised by the fact that Agile CRM offers a full suite of capabilities in an all-in-one solution, and some of those who received demos were ready to migrate to Agile CRM and inquired about the steps involved in doing so. So, we left confident and empowered to continue improving our solution to meet the evolving needs of our clients.
Try Agile CRM for FREE!
FREE for 10 Users. No credit card required.