Transform your mundane email marketing activities into exciting and interactive prospect sessions and discover their interests. You don't have to integrate with 3rd party systems to send emails anymore, thanks to SendGrid and Agile CRM integration – you can deliver customer delight from a dingle desk now. The emails sent via SendGrid are transformed into actionable insights by Agile CRM empowering you to plan the right nurturing process.
Email has proven to be the most influential source of information for B2B audiences. Sameer Dholakia, the CEO of SendGrid says, "I think email will outlive us all. It is an extraordinarily efficient channel of communication. I deeply believe it remains the center of gravity for digital communication. For many of us, we change home addresses more frequently than our personal email address." SendGrid's API allows scaling your email efforts without interruptions. Complete email integration lets you send and receive emails from Agile CRM, without leaving the application.
Today, we need a CRM solution that can bring all – sales, marketing and customer support together on to a single platform. Agile CRM offers this all-in-one solution, built for small and medium businesses.
How does SendGrid's email integration benefit you?
Let's look through a few benefits coming from this integration.
Integration improves email deliverability
People won't read your emails and will mark you as a spammer, unless you pay proper attention to email deliverability. it  Agile CRM's integration with SendGrid improves email deliverability within the 'marketing campaigns' feature.
Keep your account safe with SendGrid's proactive ISP monitoring and outreach

Secure your email marketing process with dedicated IPs and custom domain

Avail SendGrid's partnership with top ISPs  
Integration improves interactions
The process of scoring and tagging your audience allows you to analyze their preferences and interests. Knowing your audience will enable you to create perfectly customized email workflows for theaudience and will result in better conversions. Additionally, Agile CRM's robust lead scoring feature allows you to track and record customer actions, score them based on these actions, assign the score based on the value of action.
Tagging can be based on demography or actions. Demography – based on location, industry, designation, company size, gender-specific, etc. Actions – Email open rate, click through rate, web visitor analytics, and more. Agile CRM provides a way to assign or remove tags based on the customer actions, segment them or even create automation workflows.
Agile CRM automatically tracks – the email open rate, click through rates, time spent on reading the email, the number of undelivered emails, and those marked as spam. It sends real-time alerts for these actions.
Test drafts – email split testing
A/B Testing is a wonderful way to identify that right content that resonates well with the segmented audience. Automating this process can have a huge impact on the responsiveness of email marketing. Agile CRM – SendGrid integration can help you to automate delivery of each element (email content, CTA, backlinks etc) to a segment of recipient list, and the system will select the best response generating option before it is distributed to the entire list.
Agile CRM's A/B testing can be optimized for better subject lines, email content, images, placement and size of CTAs, and more. Multi-variate testing (testing more than one element at a time) can be more complex than A/B testing, where you need to run more tests to have enough results to come to a conclusion.
Autoresponders
Autoresponders are generated as a response to an action of email recipient. Agile CRM's autoresponders can give you the ability send a pre-written email to the customer, as a response to his action of 'click on subscriber list', 'create an account' or make a purchase. It enables better lead nurturing, lead scoring,  onboarding and sales.
How can you do that?
Autoresponders enable smarter nurturing, onboarding, lead scoring and sales. Send automatic email responses and follow-up messages based on time or contact actions, all of this through automation software.
It's as simple as ….. Follow these three simple steps:
Login to the Agile CRM account. Goto Admin settings > Integrations
    2. Click on 'Enable' to kick-start the process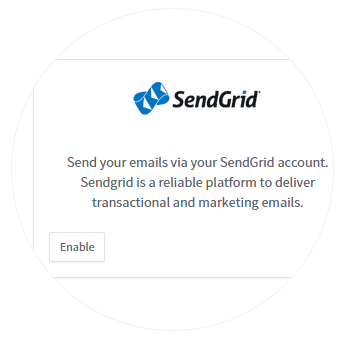 3.Enter SendGrid credentials and save
About Agile CRM
Agile CRM is an all-in-one CRM solution for marketing, sales, and customer support, launched by Manohar Chapalamadugu in 2014 and serving over 9182 businesses across the globe. It was built as an alternative to the super sophisticated, expensive and complex CRM solutions but at a very affordable price. It offers a free perpetual subscription to first 10 users and then charges $8.99 per user per month. It comes with robust features and out-of-the-box integrations. It's the most competitive next-generation CRM available in the market and provides excellent 24X5 customer support.
About SendGrid
SendGrid is a cloud-based email service, founded in 2009, serves over 58000 paying customers and sends 35 billion emails every month. Its customers include Spotify, Uber, Airbnb, eBay, MeetUp and many more. 91% of surveyed SendGrid users agree that they have experienced stronger email deliverability with it. It is a superior email delivery platform with highly scalable features, whether it is 100 emails or a billion emails per month.
Try Agile CRM for FREE!
FREE for 10 Users. No credit card required.