An email newsletter is a very effective method of keeping customers informed, as well as generating new leads. You can leverage newsletters to share valuable content, provide updates on new product or service offerings, communicate important industry trends, and relay any other kind of pertinent information to your constituents.
I suggest using a marketing automation solution to coordinate and send your newsletter. It streamlines the process, allows you to import HTML email newsletter templates from external sources, and tracks the results of your send.
These days, you can find free solutions to help you manage and automate the process, so there's no reason not to use marketing automation. Moreover, there is a vast assortment of free email templates available, which you can download from a variety of sites. You simply download the HTML, paste it into your solution's email editor, then insert your newsletter copy and images.
Every business is different, with unique needs and a distinct customer base. It's important to consider various templates to find the one that best suits your company's needs. Do you need a template that is mobile responsive? Do you need the ability to customize the template with your own branding, look and feel? There are many nuances involved in selecting a newsletter template that will suit your needs. Here, we discuss our favorite templates, in order to help in your decision-making process.
Agile CRM's email newsletter template has all the elements that companies need to create attractive, professional newsletters. The content is broken up into sections that allow the reader to quickly skim and identify the pieces that are relevant to them. The copy is embedded in segments that are separated by hard breaks, which allow the reader to easily discern where each section ends, and the next begins. Solid, bold headers make it clear what each section covers, so that the reader can scroll through and quickly identify the parts that are relevant to them.
The template allows you to customize your email with images and other graphics, including the ability to add your own branding and color scheme. Call-to-action (CTA) buttons allow you to share a sample of each item you want to communicate and let the reader click through to the ones they wish to read. And because Agile CRM is free to use, you can also use the system to manage the distribution and tracking of your newsletter.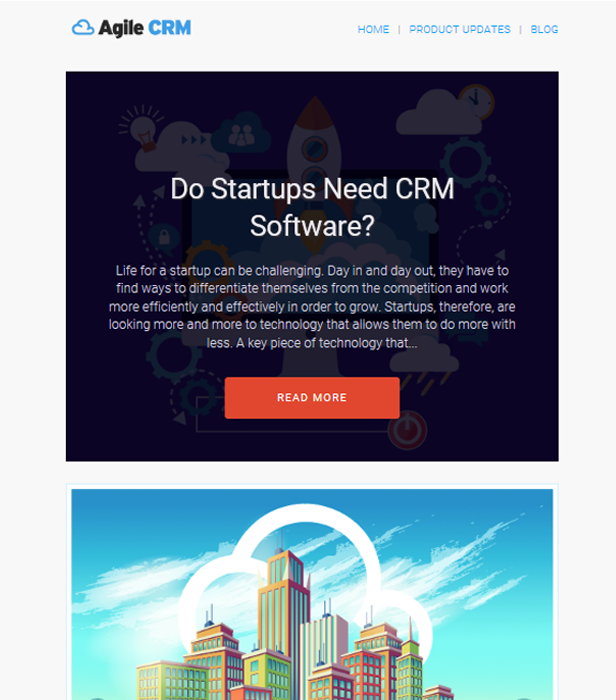 The Skyline High Classroom template was originally designed for use by educational institutions, as a student-focused newsletter. However, the layout it provides makes this a useful newsletter template for any business context.
It follows the three-column format, which means that your content can be broken up into two or three columns. You can use three columns. Or, you can combine two of the columns into one larger one, giving you one small and one large column.
This is a highly effective design format, as it lets you determine which is your most important content, and give that content more space so that the reader's eye is naturally drawn to it. You can customize the font, colors, and other design elements. You can also include any image you want, making this a template well-suited for any occasion.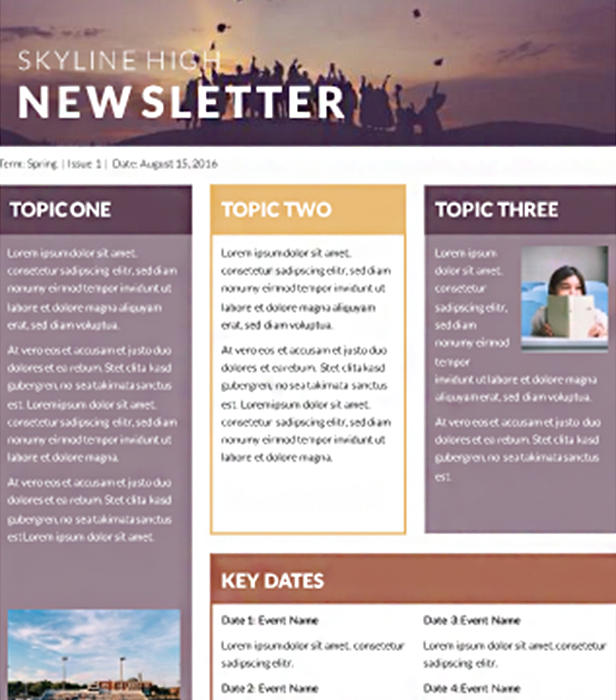 Mooza is a nice, clean template with a minimalist design that works well for those that prefer that look and feel. The amount of white space on the page allows readers to easily zero in on the information they want to read.
Sections that alternate alignment from left to right help break up the flow of the content and is easy on the eyes. Social share buttons allow readers to share your content with colleagues and acquaintances, which helps you extend the reach of your brand. Because there is so much white space, your CTA buttons jump off the page, leaving little doubt as to where to click.
You can alter the font if you wish, but the default font tends to work very well with the rest of the layout. Very slight line breaks help to organize the content into sections without affecting the minimalist presentation the template provides.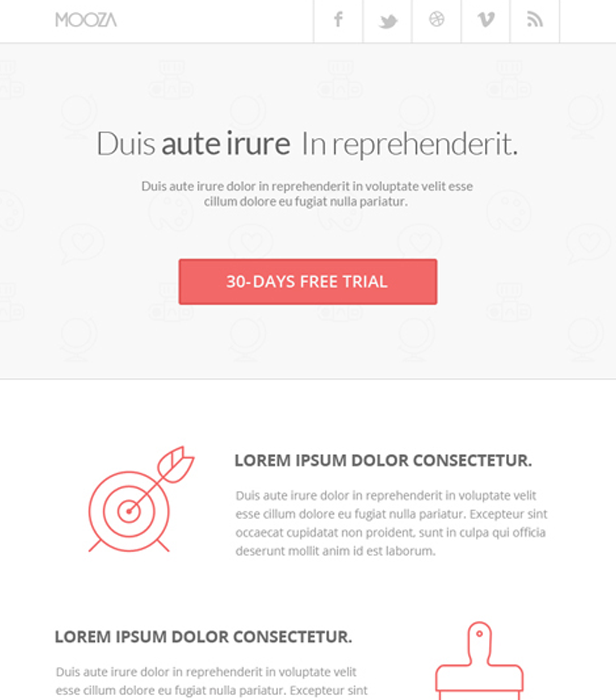 Pook: Newsletter is a good option for those who publish many blog articles. This is because it is formatted in a way that lets you present an intro or another sample of an article, then link to the entire post with a CTA button. Or, if you don't have a particularly robust blog presence, you can use the sections in this template to convey other bits of information, and link to a destination where the reader can learn more.
And, ultimately, that is how you should approach creating your newsletter. Rather than providing all the information in one, extremely long email, it's better to boil each piece down into an overview, then link to the entire piece. This helps readers quickly scan your content and easily navigate to the pieces they find most interesting.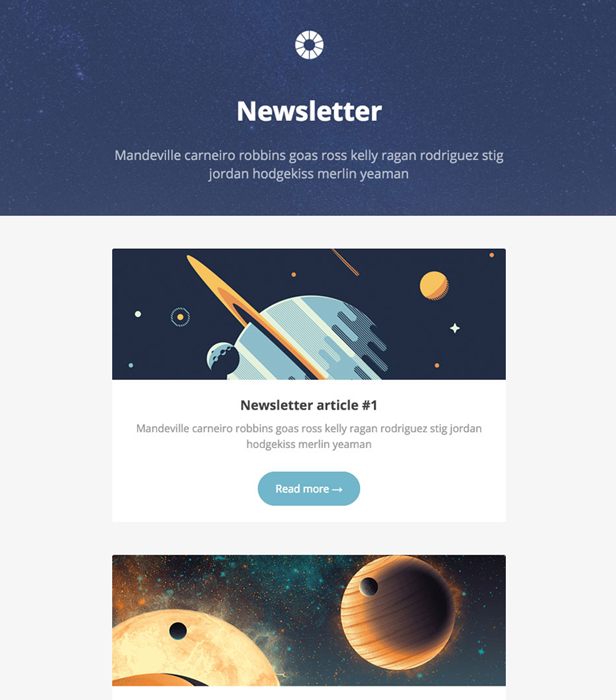 Email newsletters are a highly effective tool for real estate agencies, particularly when used in conjunction with a real estate CRM. It's a great way to communicate new properties that are available while including images so that the reader can quickly get an idea of what kind of property you're presenting. Green and White Real Estate Template is clean, well-organized, and allows you to present large images of your properties. There are many real estate newsletters available for free download, but this is our favourite.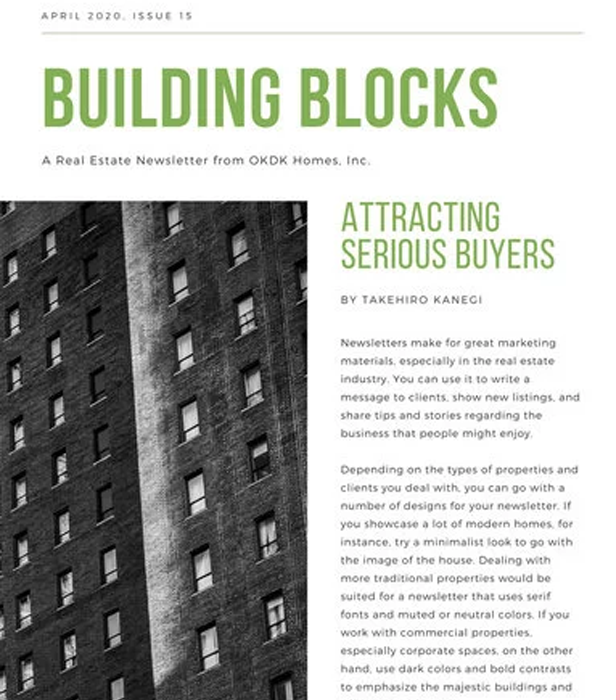 Behance's template is a favorite of many businesses, and for good reason. The design lends itself well to presenting bite-sized blurbs about each topic you are communicating, without cluttering up the aesthetic of the newsletter.
Its customizable sections allow you to include customer testimonials, new products or services, helpful tips, and anything else you want to include. Its hero image section is perfect for communicating via images. And it's mobile responsive, making it a great option for a variety of contexts and business models.
Coffee is an effective template for showcasing your products in a visual way, making it a great choice for businesses that offer a wide variety of physical products. It doesn't offer the ability to alter the colour scheme, but its default scheme is classy, professional, and allows you to focus the reader's attention on your products. Don't let the name fool you, it can be used for any type of product, not just coffee!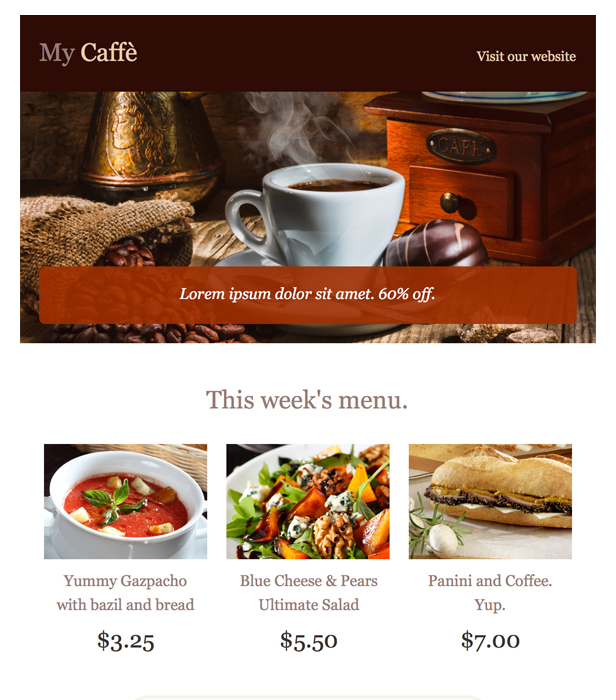 Regardless of which template you choose for your normal, recurring newsletter, it's never a bad idea to shake things up a little bit around the holidays. Christmas is a fun template to use around the holidays or any other holiday for that matter.
The large hero image gives you the ability to be playful in the holiday season, and you can complement the image with a fun newsletter title. You don't necessarily need to use it for a newsletter; you can easily turn it into a holiday card to thank your customers for their continued partnership with you. Let them know that you are thinking about them in the holiday season.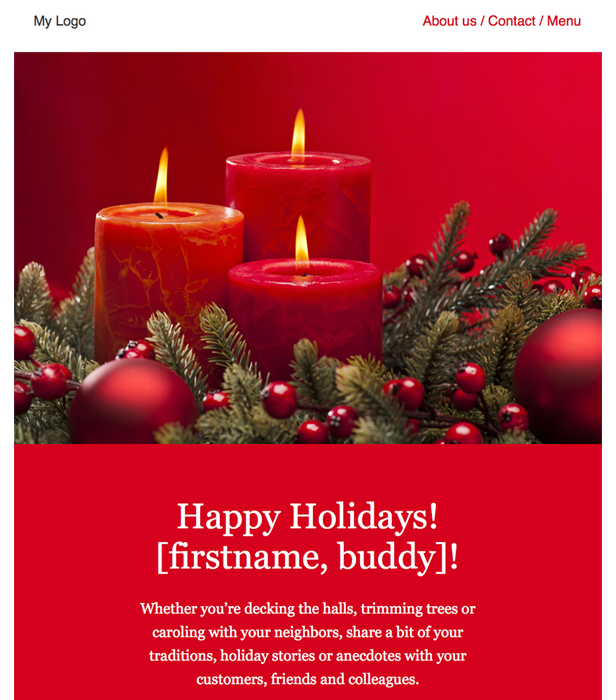 Tech is an appropriate template for software, hardware, and other technology companies. It provides a section that can be used as an image gallery, which allows you to share screenshots or other images of your technology product. Its sections are separated well, making it easy to relay your product's benefits. And, of course, it's mobile responsive—it would be difficult to call it "Tech" if it was not.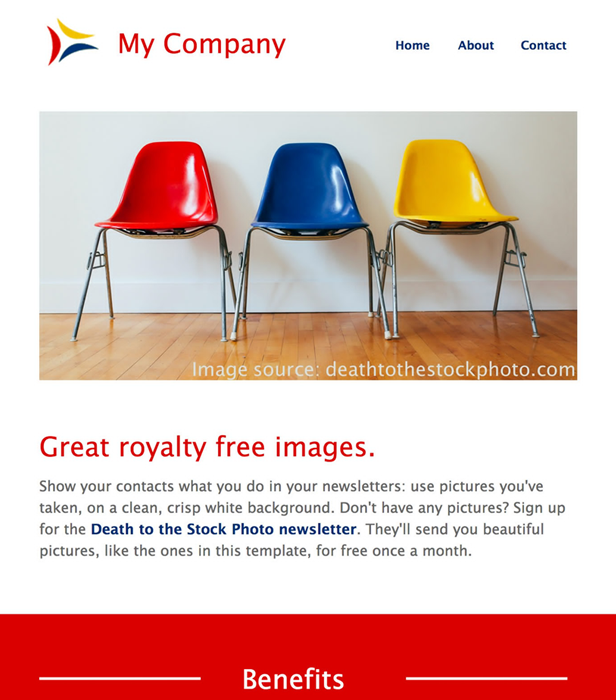 Rounding out our list is Classy, which is the perfect template for those that need to visually highlight their products. It's full of space for images, with a large hero image, an image gallery, and large images above each section of your newsletter.
Indeed, real estate agencies may consider using this template to showcase their available properties. Virtually any type of business that has attractive products that rely on visual appeal should consider using Classy. And, in addition to all that, its design is quite classy!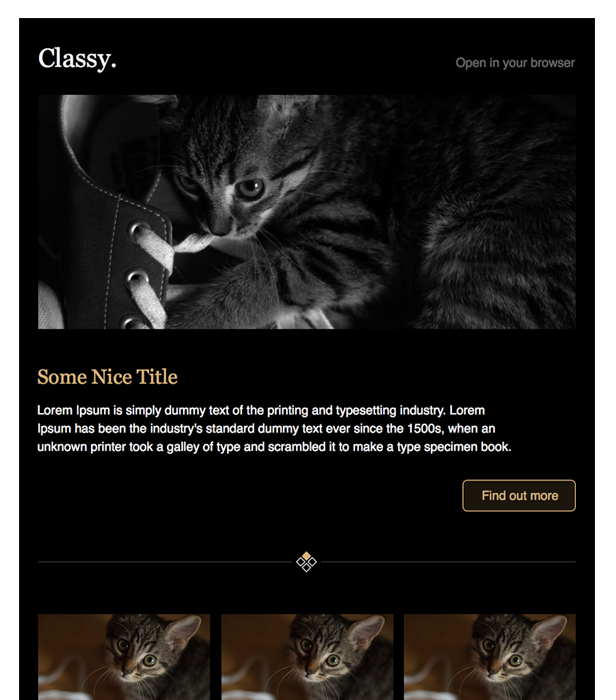 The bottom line
As you can see, there is a wide variety of newsletter templates available, with varying designs and personalities. When selecting your template, take the time to weigh the options available to you. Think about what will resonate best with your customers.
If you run a marketing agency, you probably want to steer clear of templates dominated by images. If you own a pizzeria, you likely want the ability to present large images of your delicious offerings. Regardless of what you need to communicate, and how you would like to communicate it, there is a free newsletter template for you.
Which template are you using? Have any helpful tips about effectively leveraging email newsletters? Let us know in the comments section below!
Try Agile CRM for FREE!
FREE for 10 Users. No credit card required.