In a crowded email inbox filled with marketing messages, it can be tough for your business to stand out. One of the leading trends for rising above the clutter is video email, as we have noted on this blog in the past.
Video engages people in a way that words cannot, so including video in your email marketing messages can be a slick way to get the attention of your audience. Since many businesses are just now catching on to the trend, there's also an engagement bonus right now from the novelty factor of video in email messages.
By segmenting your email campaigns and making specific videos for specific segments, you also can make your email marketing messages more precise and personal. For more on this, see our article, Personalized Video Email Cuts Through the Clutter.
Because video is an important trend in email marketing, Agile CRM makes including video in your email campaigns extremely easy.
Let's take a look at how to send video email from within Agile CRM.
Step 1: Create a Video Template
The first step in creating a video email is to set up an email template. Start by clicking Email Templates from within the Marketing section.
On the Email Templates page, choose from a pre-existing template or build your own from our template editor by clicking the Custom button in the upper Right. You're then presented with the template editor, which allows you to add blocks to the email.
While there are many blocks you can choose from, the important block for our purposes is the Video block.
Drag the video block to the spot in your template where you want the video to appear. You can add one or more video blocks to a template.
Step 2: Make or Choose Your Video
Click on the video block in your email template. You're then presented with some options for the video block, most importantly the option to record a video or upload one you already have created outside Agile CRM.
If you want to upload a preexisting video, click the Select button to the right of the Link to Video URL box. A file browser window will then open where you can select and upload your video.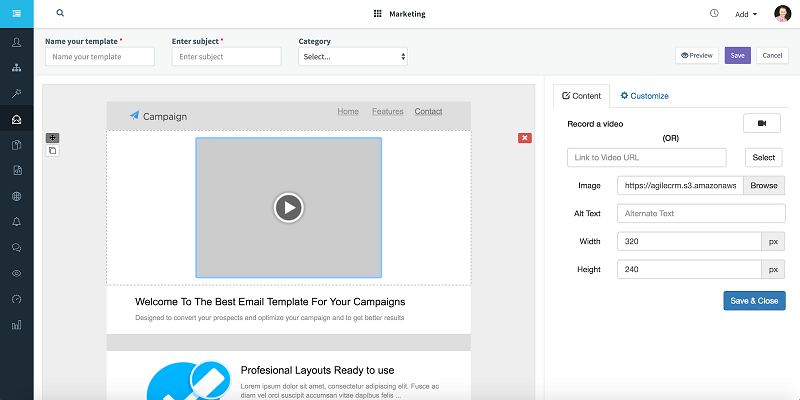 In case your video already is online elsewhere, such as on YouTube, you can just paste in the URL in the Link to Video URL box to have Agile CRM grab the YouTube video for the email.
Alternately, you can record a new video for the email right from within the Email Template page. Click the video icon to the right of the Record a Video text to record a new video.
Once you click the video icon, a window pops up where you name the video you are about to create and make the recording. Your computer also asks if it can access the video camera on your laptop or computer. You say yes, of course.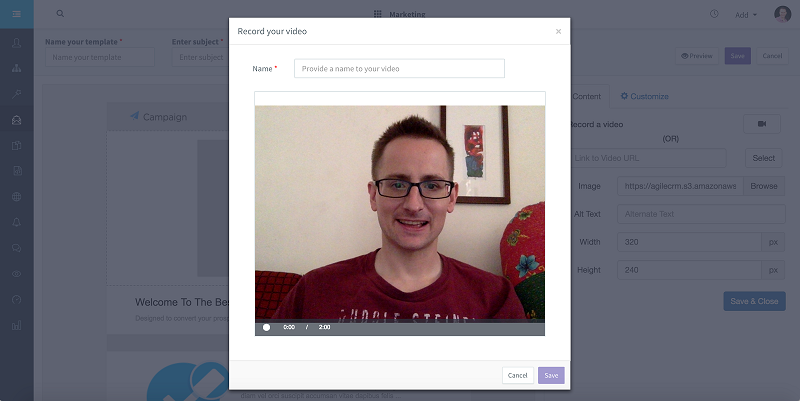 From this window, you can quickly and easily record short video messages by clicking on the circle in the lower left of the video box. You can review your video here and re-record if necessary, too. Your video can be up to 2 minutes in length.
An image of the video you have created or uploaded will appear in the video block within your template. When you are satisfied with the design and words on the template, give your template a name and hit save to store in on your Agile CRM account.
Step 3: Use the Template for Your Campaign
Once you have a video template saved, you can easily select it when mailing to a contact or creating an email campaign from within Agile CRM.
Since Agile CRM can automate email sending, don't forget that you can create several video emails for each step in the customer journey and have them automatically send when a customer visits a specific page on your website, clicks on a link in a previous mailing, or is tagged as having interest in a product.
The power of video email is great, and you should be able to come up with plenty of ways it can help your business. By using the video email functionality and automation capabilities of Agile CRM, you can make this power even stronger and easier to use. Every business can send video email easily from within Agile CRM. Even single-member firms.
Try Agile CRM for FREE!
FREE for 10 Users. No credit card required.