There are 450 million LinkedIn users and more than 40 percent of users check LinkedIn daily. In one of his "need-to-know-stats," marketing expert Kyle Lacy states that LinkedIn is the perfect social platform to find ideal B2B customers as it generates more leads when compared to Facebook and Twitter.
LinkedIn has emerged as the professional social media platform, and businesses/professionals are certain to have profiles. Using this platform to identify and generate leads is a marketing strategy known to many, but used by very few marketers. In one of his LinkedIn marketing strategy pieces, Neil Patel says that if you are selling business products, LinkedIn is the social network you should focus on.
Here's how you can find new leads from LinkedIn:
1. Analyze "People Also Viewed" Profiles
When you are using LinkedIn to understand your existing leads, the platform offers you a chance to explore additional leads that will match your target audience through its "People Also Viewed" tab.
Using this tab, you can find other lead options that match your target lead your criteria. Visit any of your top-class customers or existing leads and scroll down to find the "People Also Viewed" tab on the right-hand side. This tab normally provides at least six to seven profiles that match your business criteria (usually the same company), designation (a CEO or head of sales), industry or country/city.
2. Use LinkedIn Groups
As a business, it is imperative to follow groups and discussions that fall in line with your business criteria and industry. Being active in groups can help you identify new leads.
Using group discussions, you can explore users who are interested in a product or service similar to yours and add these leads to your lead generation list. Group discussions make the intention of the user clear and allow you to scrutinize the user's objective for joining a discussion. If the user's pain point and your product/service is a match, your next step should be to connect with them and start a conversation about a solution to their problem.
LinkedIn is the perfect social platform to find ideal B2B customers
Click To Tweet
3. Follow Competition's Networks
Many of us forget to learn more about the competitors and comb through their networks to find leads in need. Often, their leads or connections are looking for or using similar products. Your goal is to prove why your solution is better than your competition.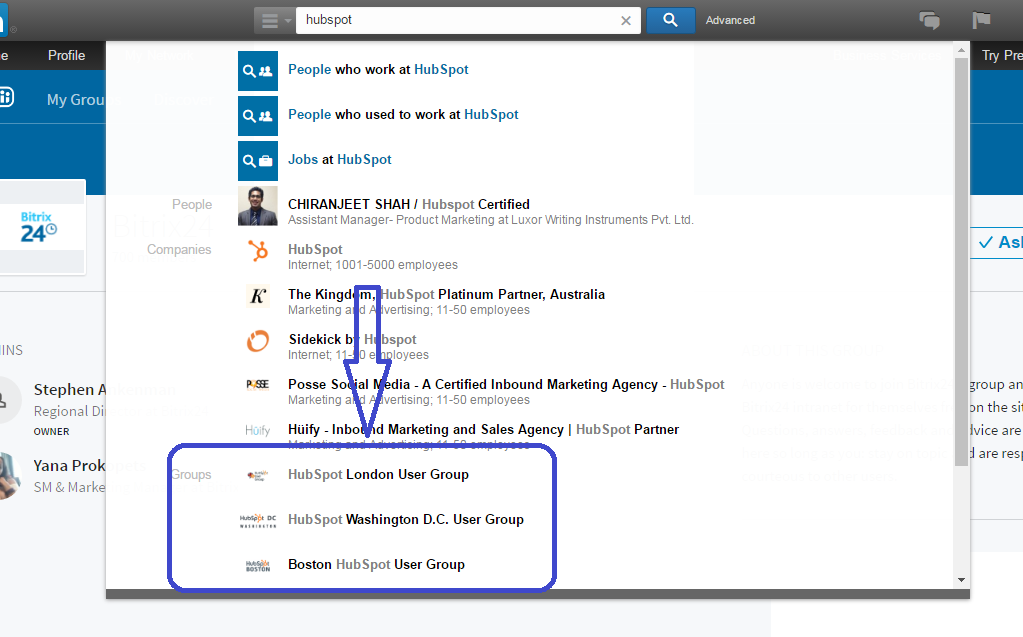 You can use a competitor's user groups to understand their customer base, explore sales rep profiles or discussions they are active on to identify their leads or customers. The connections and their profiles on LinkedIn are searchable, so it is easier for you to get information on them and their business requirements.
4. Use Pulse Articles to Identify Leads
Users on LinkedIn use Pulse articles to exhibit their knowledge and expertise in their fields and connect with like-minded users. However, these Pulse articles can also be used to identify more leads and understand if they will be interested in your solutions.
Marketers can analyze followers who are actively liking, sharing and participating on the Pulse articles and learn if they are looking for products similar to yours.
5. Use the Alumni Tab to Find More Connections
Even after researching LinkedIn profiles and groups, there is still another way to explore possible leads: LinkedIn Alumni. Type www.linkedin.com/alumni in your browser tab and you will land on profiles that were from your alma mater.
Distinguish between profiles who can be your leads or profiles who will help you connect with leads that fall under your target audience. Those who match your criteria go into your lead list and those who don't, well it's good to connect with old acquaintances.
6. Check "People Viewed Your Profile"
This is one notification we receive from LinkedIn regularly, but tend to ignore. Notifications about profile views is a good tactic for sales reps and marketers. When you get this alert, don't ignore it. Find out who viewed your profile and if they match your lead criteria.
Getting leads from LinkedIn requires patience and research, but if done correctly, can be fruitful for finding sales-ready leads. Pitching to them is a little easier and you can use your social connection to get more insights.
Try Agile CRM for FREE!
FREE for 10 Users. No credit card required.