Customer feedback is essential to growing a business, and it's essential to hear from current and potential customers while they're actually engaged with your site or app. We're excited to announce that we've extended our customizable web grabbers to include popups specifically designed for feedback, questionnaires and online surveys. Our new feedback web engagement popups are a powerful marketing automation tool for websites. They have everything you need to ask questions, receive feedback, analyze answers and trigger actions in the CRM.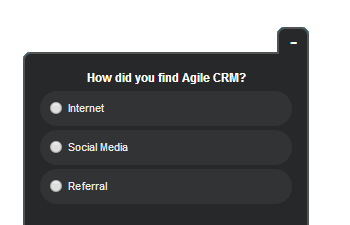 It's up to you. Your surveys can be simple or complex, and you can always choose which visitors will see them. The new feature lets you ask for basic information such as how a web visitor found their way to your site, but you can also ask specific questions aimed at known customers to help improve your  web interface or product features. Ask essential questions and get essential answers.
Here's how it works.
Set your question. Use our in-built html editor to create a feedback popup with a particular question and specific options/answers.
Choose your audience. Set rules to define who will see the popup.
Add tags automatically. Our feedback web grabbers automatically push customer answers to contact profiles as tags. Tags are an awesome way to segment users, trigger actions and run targeted campaigns.
Trigger actions. Use tags as triggers to automatically reach relevant audiences for new campaigns, such as prospects engaged with social media, free users who might be ready to upgrade, current customers who want to learn more about one of your specific features, customers who run an online store, etc.
Analyze and improve. Use Agile CRM's sophisticated reporting tools to get a clearer sense of what's working best and what can be improved. For example, many Agile customers use tags from feedback questions to create cohort graphs comparing two different answers, or growth graphs showing how users are answering over a period of time. (Did you know that you can arrange to have daily, weekly or monthly reports sent directly to your inbox?)
Don't have an Agile CRM account yet? Sign up today for the new generation of combined sales and marketing apps. We're all about user engagement here at Agile. We can't wait to help you reach the next level of business success.
Try Agile CRM for FREE!
FREE for 10 Users. No credit card required.