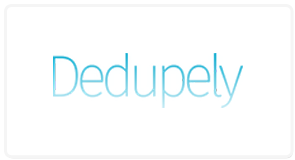 So many contacts, so much time! That's not usually how the saying goes ("So much work, so little time" is a bit more common), but at Agile CRM we're anything but ordinary. Our app makes sales and marketing easier and more effective.
Dedupely shares our dedication to clarity in the sales process. We're happy to announce that Dedupely has built a seamless integration with Agile. With the integration, their app makes it easy to eliminate duplicate contacts and clean up contact data.

Smarter Contact Management
Importing, exporting, merging, data deduplication. Without the right tools, just understanding what needs to be done to sort through your data can take up all of your time, let alone actually undertaking those complex technical tasks. But when you do have the right tools, sales and marketing work like a well-oiled machine. That way, you can spend time actually connecting with your customers.
With a drag-and-drop visual interface and features that span across, sales, marketing, web and social, Agile CRM simplifies the contact management process. Perhaps the greatest benefit of using one app for sales and marketing is the holistic view you get of contacts, leads and customers. Complete contact views are at the center of our 5 Core Benefits infographic, and once you get started with contact management in Agile, they'll be at the center of your sales process, too.
(If you're new to Agile, start with this setup guide to contact management).
How to Dedupe Contacts
To start deduping your CRM contacts, you'll need an Agile account and a Dedupely account. Then just follow the instructions on Dedupely's guide to de-duplicating and cleansing contacts. Duplicates are matched based on a combination of fields, including emails, social profiles, addresses, phone numbers and contact names. By merging duplicate contacts, Dedupely helps to ensure that your sales and marketing reps always have the full contact data in one place.
Dedupely also recently launched a Junk Contacts feature, which we think is super-useful. It automatically finds contacts that are "virtually worthless or low value," such as those with only no-reply email addresses. Try it out and let us know your thoughts here in the comments section.
Note: Dedupely currently only works for deduping Contacts, not Companies, in Agile CRM. However, they tell us that they are working on a Companies feature too!
Try Agile CRM for FREE!
FREE for 10 Users. No credit card required.