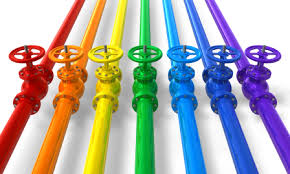 Your sales process isn't a one-trick pony, and it shouldn't be treated like one. Our new deal tracks feature lets you create multiple sales pipelines, each with their own set of milestones. Our goal with tracks is to make opening, closing and winning deals as easy – and as repeatable – as possible.
A track is a pipeline through which deals move. Once you've created various deal tracks with specific milestones, you can assign deals to a particular track, or edit a deal and move it between tracks. Our drag-and-drop workflow editor makes it easy to adjust milestones once you've assigned deals to a track. You need to have at least one track before you can create a deal, but there's no requirement beyond that; create as many or as few tracks as you need. The Default track contains four basic milestones: Open, Stage 1, Won, Lost. Another track such as Enterprise Deals might contain these milestones, as in the example below: New, Prospect, Proposal, Won, Lost.
Where are Tracks in Agile CRM? You'll find Tracks in the Deals section (also known as Opportunities) of your Agile dashboard. The tracks feature is new, but don't worry – you can still add notes and contacts to deals, adjust values, etc., just like you're already used to doing. If you have any questions, don't hesitate to reach out to our support team.
Don't have a CRM account with us yet? Sign up today!
Try Agile CRM for FREE!
FREE for 10 Users. No credit card required.