You've probably heard the term content marketing tossed around during marketing meetings. But do you fully understand what it is and what it entails to succeed at it?
Let's start with the basics: what is content marketing? According to Content Marketing Institute:
"Content marketing is a strategic marketing approach focused on creating and distributing valuable, relevant, and consistent content to attract and retain a clearly defined audience — and, ultimately, to drive profitable customer action."
Simply put, content marketing involves creating helpful, engaging content that is meant to educate, not overtly sell your product. In fact, it is incredibly effective at creating and expanding brand awareness, and ultimately converting leads. According to Content Marketing Institute, content marketing results in conversion rates six times higher than other marketing tactics.
But how do you master the art of content marketing? 
Here are 15 tips that will turn you into a brilliant content marketer.
1.  Form your strategy

Forming a content marketing strategy is an essential part of a powerful content marketing presence. There are a lot of steps involved, but those who define their strategy from the beginning are typically far more successful at content marketing than those that do not.
What should your strategy include? How should you go about creating it? This is a topic that is beyond the scope of this article, simply due to the extensive nature of the information involved. To really dig into strategy creation, I recommend this super helpful guide and checklist that can lead you through the process.
2. Define your unique value prop and create content that supports it
Every marketing team should define their company's unique value proposition (UVP). It is a statement about why your particular product or service provides unique value to the consumer that your competitors don't.
While you create your content marketing strategy, you will likely create your value proposition. Once you have that in hand, use it to guide the content creation process. Create content that speaks to the pain points that your value prop solves for. You don't have to mention your company or product—that can happen down the road. But you do want to make sure your content aligns with your UVP.
3. Develop buyer personas

Buyer personas are another essential piece of a strong content marketing presence. And just like your UVP, you'll likely develop these while you build out your content strategy.
Buyer personas are profiles of what your typical buyer looks like. If you work in B2B marketing, there will be various decision makers at your prospects' companies. So, you'll want to develop various buyer personas to reflect that.
The best way to build buyer personas is to send a survey to your customer base to gain the insight needed to build them. Ask questions that will help you define attributes for your buyer personas, such as:
What is their title/role in the organization?

What are the biggest challenges in their daily jobs?

What are their primary objectives that are not being met?

What pain points could be solved by a product like yours?

What are their demographics, such as age, gender, etc.?

Which type of content do they prefer to consume?
4. Focus on the most engaging type of content
When you survey your customers to build out their buyer personas, you can ask them what kind of content they typically enjoy consuming. Then, you'll want to focus on those types of content. Some of the most engaging types of content used in successful content marketing programs are:
Blogs

Videos

Infographics

eBooks

Podcasts

Case studies

QR Codes  While

QR code generator

s can be a helpful tool in content marketing, they are just one aspect of a comprehensive content marketing strategy. QR codes can provide an interactive way for users to access content.
5. Blog on a consistent basis

If you don't have a company blog, consider starting one today. You'll need to write about issues and challenges that your prospects and customers face. Then provide solutions to those, without trying to sell anything. You're just educating your audience, and through that, you are establishing yourself as an authority in your space.
Consider these statistics from IMPACT on the effectiveness of blogging:
77% of internet users read blogs

while online.

Smaller businesses that publish blogs see

126% more lead growth

than those that do not.

Upon reading recommendations from a blog,

61% of online consumers

in the US made a purchase.

Companies that publish blogs generate

55% more website visitors and 97% more inbound links

to their site.
6. Map your content to the phases of the buyer journey
As your prospects move through the journey on the way to being customers, different types of content, at varying stages of the journey, will be more effective at moving them further along. You'll want to map the kinds of content that prospects at each stage need to see to that particular stage.
Here is a template that will help you do that: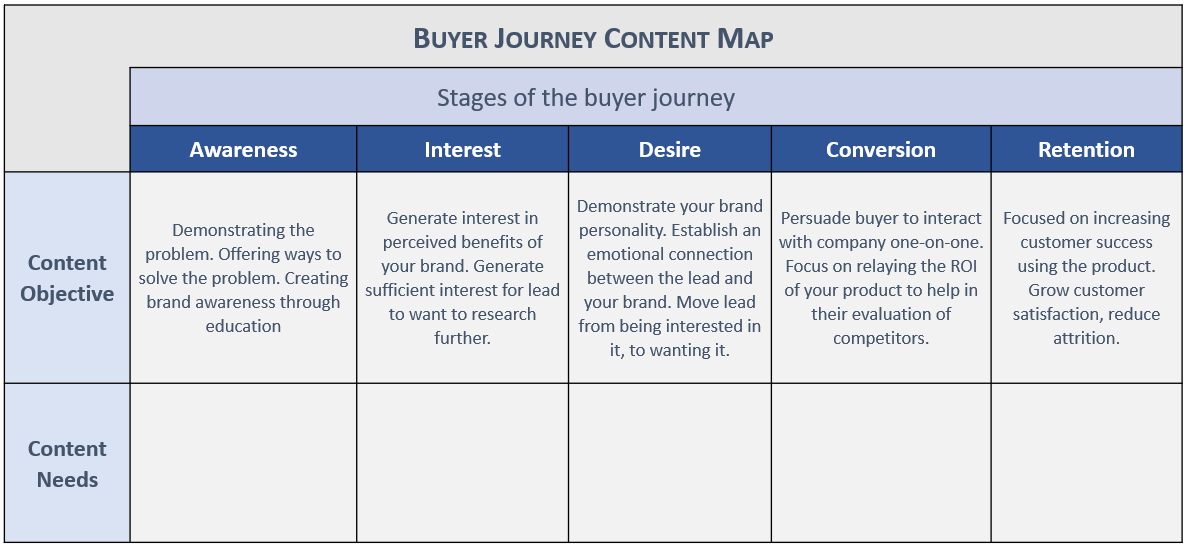 7. Create a content calendar

Once your strategy is finalized, and your content needs have been assessed, you need to create a content calendar so that your content tells a story over time. This helps you be more organized and ensures that you fill all the content gaps that need filling. I recommend creating a quarterly content calendar. You can always tweak it as you go, but having content creation mapped out over the next few months will help you be more strategic about what you create.
8. Focus on quality over quantity
High-quality content is the bedrock of content marketing. It's right there in the definition above, "valuable content." One high-value, engaging piece of content is worth 100 pieces of crappy content. Plus, if you do put out sub-par content, readers will take notice and will shy away from you when they need answers to important questions or solutions to common problems.
9. Repurpose your content
Do you have a killer eBook or white paper? Repurpose the content within to generate even more pieces around that same topic. You could slim it down and publish a blog article on the topic, or pull the numbers and key takeaways and create an infographic. It's a great way to squeeze the most juice out of your content creation efforts.
10. Align social media with your content marketing calendar
When you create your content calendar, share it with your social media manager. They hopefully also have a calendar that lays out social posts for the next month or quarter. They can use your content calendar to gain insight into what's coming their way and can plan posts to promote it. This will dramatically increase your social return on investment.
11. Share your content with social media groups

Social media groups, particularly on LinkedIn and Facebook, are great places to share your high-value content. You already know the people in those groups have an interest in the topic, as the group will revolve around it. So make sure to share in those groups as part of your content marketing strategy.
12. Prioritize content marketing over paid search
According to Kapost and Oracle, content marketing generates three times the number of leads that paid search marketing does. That's surprising, as most people would assume that paid search advertising would blow content marketing out of the water when it comes to lead generation. But not so, says Oracle's report. So, allocate more of your budget to content marketing, and a little less to paid advertising.  
13. Use content marketing to drive SEO  

Creating valuable, educational content that solves problems for your constituents can be the heart and soul of your SEO efforts. This is particularly true for blogging. Google takes notice of high-value content delivered on a consistent basis and rewards you by increasing your position in search results. To be sure, populating your website with valuable content results in 434% more search engine-indexed pages than companies that don't publish web content.
14. Drive engagement with killer content
You can use content marketing as the key engagement driver in your lead generation efforts. Nothing will engage your audience more than valuable content. The numbers tell the story; according to OptinMonster, 72% of marketers report that content marketing increases engagement. Engagement leads to conversions, which leads to revenue growth. You do the math.
15. Use marketing automation to distribute your content
You can have great content, but if you don't have ways to distribute it, what good will it do? Of course, you can distribute it on social media, and that will go a long way to driving traffic to your site and your content.
But, with marketing automation software, you can easily distribute your content far and wide, ensuring it gets to all your customers and prospects. Email marketing capabilities make it a breeze to send your content to your constituents. Use an email drip campaign to get the word out. Or incorporate email blasts around your content into a multichannel campaign. None of that is possible without marketing automation.
Conclusion
It may come as a surprise to learn the extent of the benefits you gain from content marketing. Marketing, in general, is in a constant state of transition, and older outbound tactics, although still viable, are giving way to inbound strategies. Content marketing should be your number one inbound marketing strategy. Follow the tips above, and you'll be sure to drive more lead conversions, more closed deals, and increase revenue growth.
Try Agile CRM for FREE!
FREE for 10 Users. No credit card required.