Landing pages can make or break an online business. With proven templates, one-click publishing and A/B testing, Unbounce has become the leading landing page builder and tester for marketers. Unbounce has major clients such as Canon, Amazon.com and Intuit, but the cool thing is that they've made their sophisticated landing page technology available to businesses of every size and budget. They eliminate the need for IT when your SMB needs new landing pages or a landing-page makeover to increase conversions.
Our new Agile CRM Unbounce integration makes sure that data gathered from Unbounce landing pages makes its way to the right place in Agile, automatically.
Agile's Unbounce CRM integration helps small and medium sized businesses increase conversion and retention rates, giving you tools to turn web visitors into dedicated customers. After all, awesome landing pages are just the beginning! The integration lets you:
Integrate landing pages using WebHooks. This is the first step after you activate the integration. WebHooks let you easily post your landing page forms to any URL that you choose. Automatically posting your Unbounce forms to your personal Agile CRM domain means no more lost data.
Automatically create Agile contacts using form data. Never miss another interested lead.
Automatically add tags to Agile contacts coming from specific Unbounce forms. Set the integration to add relevant tags to contacts depending on which form they fill in, so you can target them with campaigns tailored to their interests and user behavior.
Gather actionable data with advanced field mapping. F

ield mapping between landing page 

forms and Agile contact fields saves you time and makes it easy to personalize your marketing campaigns. See our detailed setup guide (PDF) for information about field mapping between Unbounce and Agile.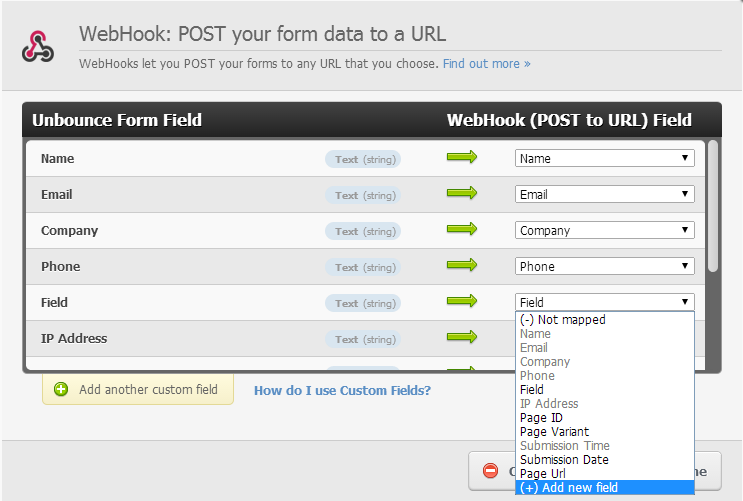 To integrate your Unbounce landing pages with Agile CRM, you'll need an Unbounce account and an Agile account. See our Unbounce integration page for step-by-step setup instructions. Note that 'First Name' and 'Email' are required to create a contact in Agile, so we recommend making those fields mandatory on any contact-related form you're integrating with Agile.
Are you an Unbounce user who doesn't have an Agile CRM account yet? Sign up for a free CRM account with Agile.
Try Agile CRM for FREE!
FREE for 10 Users. No credit card required.