There's nothing like watching your business unfold in real time. Agile CRM has become known for contact-level analytics, and we're excited to announce that we've extended contact reporting to include a real-time contact activities log and a set of email reports on contact activities. Get a complete view of contact activity on your site, email opens, link clicks and campaign stats, all automatically updated in chronological order. Quickly filter by activity type so you can improve your sales and marketing processes every day.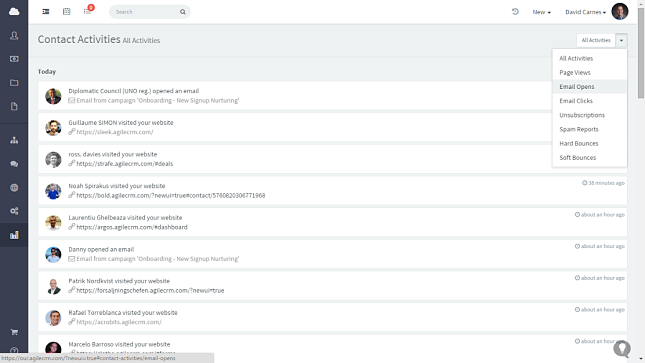 Agile CRM makes it easy to track contact and lead activities. Email and link tracking in particular is a great way to improve your bottom line by only focusing on the hottest leads. Sales pros love it because it lets them know when a prospect has actually spent time viewing pitches, demos or follow-up emails, and marketing pros love it because it gives them essential insights for building smarter, more effective campaigns. Combine this with our web engagement tools and you have a 360-degree view of contact activity.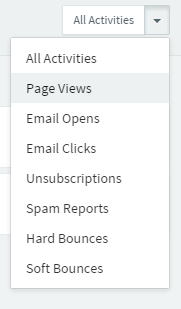 The new view of contact activities lets you see everything at once or filter by page views, email opens, email clicks, subscriptions, spam reports, hard bounces or soft bounces.
You'll find the new Contact Activities log on the Reports page of your Agile dashboard, in the Activities section. Just a quick word of caution: the contact activities log is addictive! We recommend brewing a cup of your favorite caffeinated beverage before sitting down to view the report. Otherwise you may forget to make it.
Reports on contact activities have been one of the most requested features by Agile CRM users. We couldn't be more excited to be evolving along with our users' needs and business goals. We hope you love the new activities feature as much as you've loved the user activities log, which gives you a real-time view of what all your Agile users are up to.
Keep sending us your feedback on UserVoice (you know those little surveys that pop up from the light bulb icon in the Agile app?), and drop us a line anytime at care@agilecrm.com.
Try Agile CRM for FREE!
FREE for 10 Users. No credit card required.