Is Bria your favorite SIP softphone client? Wouldn't it be great if CounterPath and Agile CRM combined forces for complete sales enablement?
Well, we've got good news and better news. The good news is that Agile CRM is already leading the industry with telephony features like one-click calling, voicemail automation, call scripts, recording, logs, reports and more. The better news (although, really, what could be better than that) is that we've just released a beta version of a new Bria integration in Agile.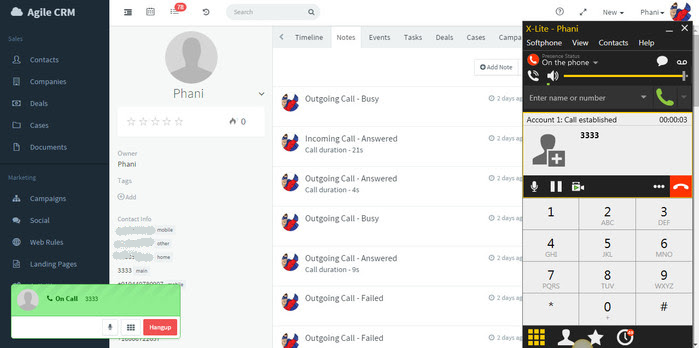 We really can't over-emphasize the importance of using voice calls in your sales and marketing process. From driving conversions to increasing customer retention, a good old-fashioned phone call can push your ROI through the roof. Well, old-fashioned but also next-gen, since Agile CRM's telephony feature set includes everything you need to track customer communications and new sales prospects.
Many of Agile's customers have been enjoying Twilio integration since the beginning, but for dedicated SIP calling, we are pleased to announce the beta version of the Bria SIP Softphone integration. Bria 4 is a popular option for enterprise users. Combined with Agile's feature set, it's a win-win.
How to Set Up Bria Integration
To set up the integration, open your Agile dashboard. Got to Preferences > Widgets, select the Telephony tab (it should be selected automatically), and click Add under Bria. Then just follow the on-screen instructions and you'll be making Bria calls in the CRM in no time!
What Does the Bria Widget Do?
With the new Bria widget, you can call directly from your Agile dashboard to any SIP number. The first iteration of the integration includes these options:
Make Outbound Calls: Make calls directly from the dashboard.
Receive Inbound Calls: Receive inbound calls directly in the app.
Take Call Notes: Once you end the call, a note pop-up will appear and you can manually store notes for future reference. These remain attached to contacts in the CRM.
See Call Details: Call details are displayed as soon as a call is completed. For example, after reviewing the call details, you might want to add the lead to a particular campaign.
Call Tracking: Once you've enabled the integration, we automatically track calls with your Agile contacts.
Of course, you can also do a ton of things while you're on a call. You can view campaigns and reports, view detailed contact histories, add tags, and so much more. With a complete sales and marketing solution at your fingertips, chatting on the phone just got a whole lot smarter. Calling in Agile CRM isn't just about sales, it's also about customer experience. Let's keep giving customers what they deserve: total care and complete engagement!
Try Agile CRM for FREE!
FREE for 10 Users. No credit card required.