In addition to our popular Social Suite, which lets you post, schedule and automate tweets on Twitter, many companies use Agile's social media plugins to turn Agile into a dynamic social CRM. Adding widgets to your CRM account makes it easy to monitor your brand on social media and engage contacts in the social universe from their contact pages in the CRM. This is especially useful because our 360-degree contact view includes a complete contact timeline, web stats, info on deals with the contact, and more, putting the info you need for productive social media interaction right at your fingertips.
Our new Facebook Widget is specifically designed for companies wishing to grow their business using Facebook's innovative features, such as posting to a customer's Facebook wall, directly from the contact page in the CRM. Engaging with your leads and contacts on social media has never been so easy.
Agile CRM's new Facebook Integration emphasizes one-on-one interaction on the popular platform, helping you to build the type of personalized customer experience that modern consumers have come to expect. With over 800 million daily active users (and almost 700 million daily active users on mobile devices), Facebook is a treasure trove of potential business. It's increasingly the go-to place where consumers find out about new products and share the products they love with their friends and community. If you want to scale a business in today's world, you need to be on Facebook.
Here's how to get up and running with our new Facebook widget:
Activate the plugin: Follow these instructions to set up the widget from the Preferences page or any Contact Detail Page in Agile.
Search for contacts: Use the Agile CRM Facebook Widget to search for the correct Facebook contact. After you've activated the plugin, the widget will show up on individual contact pages.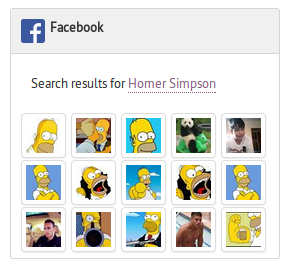 Send friend requests (DEPRECATED DUE TO FACEBOOK'S POLICY CHANGES): Use the widget to send your contact a Facebook 'friend request' so you'll be connected and able to interact directly with the contact's social media profile.
Post to your contact's wall (DEPRECATED DUE TO FACEBOOK'S POLICY CHANGES): Once the contact has added your company as a 'friend' on Facebook (or you've accepted their friend request), you're ready to post directly to the contact's wall. Thank them for their business, share a relevant blog post, or let them know about special offers, discounts or new features. Posting to a customer's wall is a simple way to encourage them to share information about your company with their own network, and posting to a sales prospect's wall is a great way to encourage a meaningful discussion about your product or industry.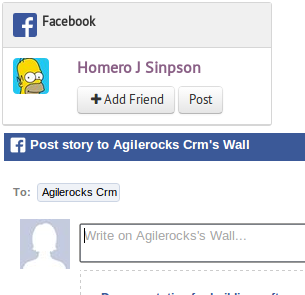 Don't have an Agile CRM account yet? Sign up for a free CRM account today.
PS. Are you already an advanced social CRM user? We recommend signing up for Zapier to automate tags, tasks, campaigns and more. Here are some current zaps connecting Agile CRM and Facebook. It's also remarkably easy to create custom zaps.
Try Agile CRM for FREE!
FREE for 10 Users. No credit card required.