Email marketing software allows businesses to send marketing emails to their customers. The software can be used to create and send newsletters, promotional emails, and other types of marketing content. It also allows businesses to track the success of their email campaigns, measure the click-through rate and open rate of their emails, and optimize their email content for maximum impact.
What Is Email Marketing and How Does It Work?
Approximately 59 percent of marketers have stated that email is their most important source of ROI. The power of email marketing is undeniable these days. Now let's look at the firms that have attempted to make use of this power.
This beginner's guide explains in detail what email marketing is. Upon completion, you will have a solid understanding of the basics and the know-how to launch an effective email marketing campaign for your business.
What is Email Marketing?
Email marketing software is far more than a tool for sending and monitoring emails. Tools for expanding your audience, segmenting your lists, and combining all of your marketing channels make the programme a great tool for growing your business and increasing income.
Email marketing, at its finest, helps firms to keep their clients updated while also customizing their marketing messages to their specific audience.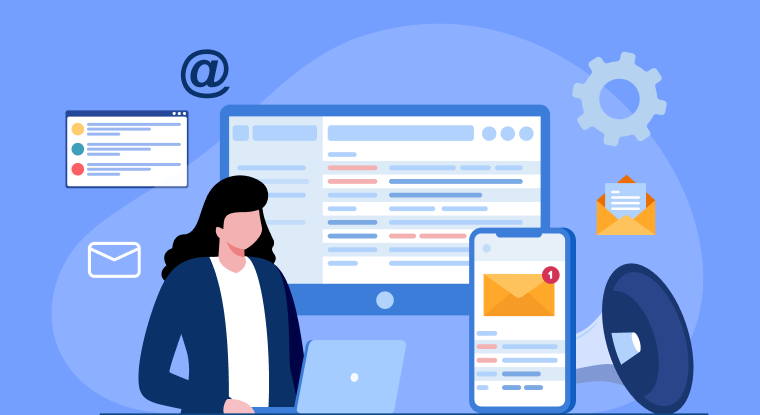 Key Features of email marketing
For most firms, email marketing is cost-effective and inexpensive. Here are five key features of email marketing-
Create a stunning email:
To create successful email campaigns, be certain to establish a good first impression on the people who will be reading your message. It's critical to choose an email marketing platform that allows you unrestricted graphic design and stylistic options.
Create email campaigns
Templates are also necessary when it comes to designing appealing emails. Using pre-designed templates to create email campaigns not only saves time and work but also allows you to create unique and smart email campaigns.
Image personalization
Image Personalization helps you to provide your customers with a better experience. Email marketing that is relevant and customized makes it simpler to reach certain clients and goals.
Contact Segmentation
Email marketing applications should assist you in segmenting your email subscribers into several groups or segments. By identifying them, you may send personalized emails based on their location, purchase history, browser user, click-through rate, and other factors.
Email Analytics
Email Analytics and reports are critical for identifying areas that need to be improved. As a result, email campaigns software that provides you with an overview of the effectiveness of your campaigns is critical.
Specific needs of Email marketing software
Developing a strong email marketing plan allows you to engage and interact with your target audience in a personalized manner while also increasing revenue. Email marketing solutions, like other platforms and media, allow your company to reach clients more easily than ever before.
Here are top specific needs of email marketing software
Regularly interact with your target audience – Understanding and segmenting your target audience allows you to create a stronger connection with your customer and tailor your content accordingly.
Real-time interaction with customers – Identity management, which securely identifies consumers and reduces friction in the registration process, can improve the customer experience across all devices.
Email triggers a response – Marketers send to update customers and show that the organization to which they have subscribed is a reliable one. A trigger email is an automated response to a subscriber's specific action or pattern of behavior.
Boost brand recognition – One of the best marketing strategies for enhancing sales performance and strengthening a company's position is to create strong relationships with its email list.
Why MailSend is the best software for email marketing?
MailSend is one of the best email marketing software in the market today. Mailsend is likely to enhance your open and click-through rates because of several well-thought-out innovative marketing features that take advantage of the millennial's interaction with technology. It includes a drag-and-drop newsletter builder as well as tried-and-true themes to help you produce stunning mailings. It enables you to automate drip marketing and successfully follow up with prospects. It also includes unique interfaces, such as online forms, to make it simple for your prospects to reply. This alone raises response rates by a significant amount.
Top features of MailSend –
Email Newsletter – to Share the latest news –
Use our tool to create stunning newsletter templates and connect directly with customers about the latest information or updates on new features or products so that they understand your brand's vision.
Drip Campaigns – to Design multi-step campaigns –
Turn to your company that attracts a steady stream of customers. Run drip email marketing campaigns to allow your customers to hear your voice, which will lead to more conversions.
Marketing Automation – to Automate email marketing –
Send automated messages to the right people at the right time to promote your products and services using automated email marketing software.
Drag and Drop Designer – to Build custom workflows –
To customize, design, structure, and add content to your email campaigns, use drag-and-drop email functionality.
Email Templates – to Create dynamic emails –
With eye-catching and unique email templates, you can capture the attention of your prospects and convert them into regular customers.
Mailing Lists – to Segment your subscribers –
Organize your subscribers and distribute promotional materials to multiple audiences with ease.
Email Analytics – to Know in-depth –
A comprehensive reporting tool can help you analyze your performance, better understand your audience, and optimize your marketing.
HTML Builder – to Customize newsletters in HTML-
Enhance the appearance of the newsletters you send out to your subscribers.
Conclusion
Today's market is not the same as the one we started in. There are now a number of applications available for various businesses and organizations. Because no two applications are alike, it's critical to get input from your team in order to identify the features and functionalities that are most essential to them, and then look for those in your new email automation software.
MailSend is a fantastic email automation tool. You're a part of the reason MailSend exists if you operate a small or medium business.
Try Agile CRM for FREE!
FREE for 10 Users. No credit card required.