Salesforce is great for the Fortune 500, but today's entrepreneurs want something leaner and more in tune with their actual needs. SMBs should never be forced to buy expensive external products or plugins simply to make their sales software integrate with their marketing efforts. As a complete sales and marketing suite at a fraction of the cost, Agile CRM is emerging as the smart Salesforce alternative. In addition to next-gen "traditional" CRM tools such as 360-degree contact management and lead scoring, Agile offers robust marketing automation, web engagement, payments and reports.
Agile CRM is a small business aimed at small businesses, but that doesn't mean we're holding back or scaling down. Au contraire! We're just not interested in wasting your time or wasting your money.  We'd rather save you time and make you money, and here's how.
Why hasn't Salesforce introduced extensive Marketing Automation (MA) into its core product? We're not sure. But we do know that MA is essential to Ecommerce and SaaS company success in today's dynamic world of plugged-in consumers. As the expert panel at the recent SiriusDecisions Summit 2014 made clear, business leaders no longer see marketing automation as something "extra" – it's now seen as "critical" to both sales and marketing.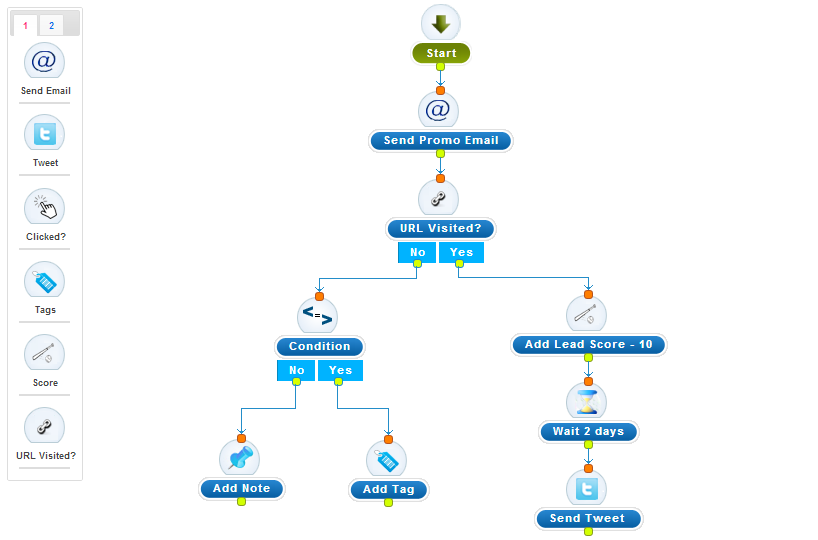 We built Agile to give SMBs the sales and marketing power of the Fortune 500, and our marketing automation suite is second to none in the CRM business. Our MA tools include:
Multi-step Campaigns: Agile's signature drag-and-drop campaign building tool lets you build effective campaigns in seconds, whether you're tweeting to a new vertical or setting up complex email auto-responders and multi-channel campaign triggers to increase conversions.
Lifecycle & Drip Marketing: Entice your prospects with sophisticated lifecycle and drip marketing campaigns, offering appropriate discounts, deals or communications depending on their online and offline behavior.
Behavior-Based Segmentation: Unlike Salesforce, Agile CRM lets you segment your contacts automatically based on their actions. You can add relevant tags or notes based on visitor/contact actions on your website or with your emails, so your sales and marketing teams know whom to contact and when.

Intelligent Email Campaigns: The first feature our beta users started raving about was Agile CRM's in-built email campaigns, and for good reason. While both Agile and Salesforce offer email templates for newsletters and campaigns, only Agile offers email personalization, A/B testing and link personalization. Plus, with our new Chrome app you can even receive real-time email and link-opening notifications while browsing the web!
While Salesforce sends its users to secondary products to purchase the latest web engagement technology, Agile CRM includes everything you need to track and engage web visitors, combat exit intent, increase newsletter sign-ups and drive conversions to new heights. Agile's web grabbers and popups are easy to personalize and customize:
Personalized popups: Unlike Salesforce, which offers nothing in the way of web engagement, Agile gives you all the tools you need to address both known and anonymous visitors in a personalized fashion to increase their engagement with your app. Greet them by name, mention their geographic location or browsing habits, product/page likes and dislikes. Earn customer trust, loyalty and business with useful popups.
Popup forms: Easily collect valuable user feedback, offer perfectly timed discounts, and increase signups for email campaigns and monthly newsletters.
Timed Popups: Program popups to emerge when they'll have the most value for the web visitor, whether based on exit intent (when someone about to leave a page), reaching the end of a page, or at a specific time.
Form and Landing Page Integrations: In addition to in-built web grabbers and popups, Agile offers seamless integrations with Wufoo, Unbounce and Gravity Forms. Salesforce does not offer web-forms integrations, while Agile lets you push data from any of your customized forms directly to contacts in the CRM, whether you created the form in Agile or on an Unbounce landing page.
Some small and medium sized businesses worry that when they sign up with a new CRM or MA service (or, in Agile's case, both at once) then their business might start to scale so quickly that they can't keep track of it. As a small business ourselves, we understand your concerns. Such concerns are why we designed Agile's best-in-class analytics and reports to give you everything you need to understand your data – not just visualize it. While both Agile and Salesforce offer funnel analysis and periodic email reports, only Agile includes customizable growth and cohort analysis. These reports are essential to understanding how your leads are converting over time.
Not only is Agile CRM a more affordable option than Salesforce for SMBs and SMEs, the Salesforce alternative CRM also offers an extensive range of integrations, including plugins for payments and invoicing such as FreshBooks and Stripe. Agile's new Zapier CRM integration makes it easy to push data between all of your apps and the CRM. Agile's VoIP integrations let you take and track phone calls directly from the CRM dashboard. And your developers will love our open API. Agile is committed to freedom and flexibility, and our open API proves it. Salesforce only provides a Web services API, but Agile's front-end and back-end API (in REST, PHP, Javascript, Java and .Net) gives users complete control over their data and, consequently, their business.
The Agile CRM feature set is a complete sales and marketing suite for small businesses. Sign up today for the most powerful and affordable Salesforce alternative and let us welcome you into the Agile family!
Try Agile CRM for FREE!
FREE for 10 Users. No credit card required.