It's here; the digital age is upon us. Nearly everything we do these days—from ordering pizza to filing our taxes—is done online. It's no surprise that using an online scheduling tool and booking appointments would follow suit. And it has, in a strong and very present way.
The concept of online scheduling software is simple: you create a calendar, select the time slots when you are available, then share your calendar link with whomever you want. They book appointments on their own, at their convenience. You check back later to see which meetings you have on the calendar. Online scheduling is growing so rapidly that we included its adoption in our list of 2018 New Year's resolutions for growing businesses.
Everybody's doing it. If you currently are not, now is the right time to start. There are many solutions available, but, of course, not all are created equal. I, as you would expect, am partial to Agile CRM's online appointment scheduling tool. However, regardless of the tool you choose, there are some steps you can take to optimize your efficiency while using it. Here are nine tips for accomplishing that:
1. Check and update every day
In the real world, our priorities are ever-shifting. Things come up, appointments get canceled, and you have to stay on top of that. An online scheduling tool eliminates tons of manual work. But, it's still important to update your calendar every day to reflect any new obligations you may have or time slots that you filled outside of the system. Let the system do its work but complement that with a few minutes of human input on a daily basis to ensure nothing falls through the cracks.
2. Leverage a time buffer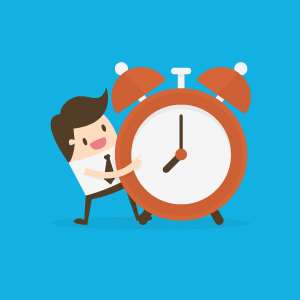 By time buffer, I mean the minimum amount of time before a meeting in which an appointment can be scheduled. You don't want someone booking an open time slot that starts in five minutes. You won't be prepared or able to deliver the value your clients and prospects deserve.
How much time is enough for you? One hour before the meeting? Determine this and configure your system so that no one can book an appointment less than one hour in advance. Doing so lets you maintain control of the scheduling process. Plus, it will save you a lot of stress, and perhaps a few grey hairs.
3. Include a general, generic welcome message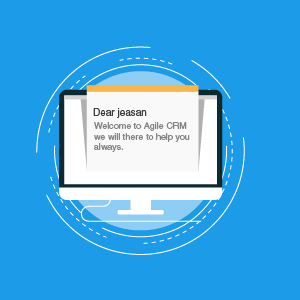 When someone clicks your calendar link and lands on your scheduling page, what will they see? How will you greet them? Do you have different types of customers who speak different industry lingos? Rather than trying to be slick and catchy with your welcome message, I recommend going for something simple, welcoming, and neutral that will apply to everyone. Something as simple as this would work:
"Hello! Thank you for your interest. Please select the time slot that's most convenient for you, and I will accommodate your schedule accordingly. I look forward to meeting with you and will speak to you then. Have a great day!"
That's a very bland example, but you get the point. The goal is not to "wow" your constituents, but rather to make it inviting and simple for them to book an appointment.
4. Offer different meeting lengths for different purposes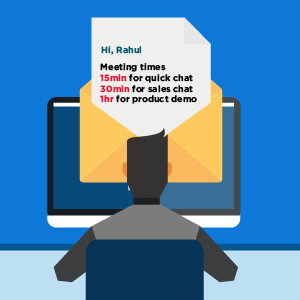 The tool you choose should let you specify the length of the specific types of meetings you offer. For example, you might offer 15-minute time slots for quick check-ins, 30-minute time slots for those with sales questions, and one-hour meetings for product demos.
The tool should allow you to specify the meeting type length and assign a label to each one. This makes it easier to book a slot, as it provides clear options to choose from. This also reduces instances when someone books an hour slot for a 10-minute call. Less time wasted more productivity.
5. Don't forget about your own time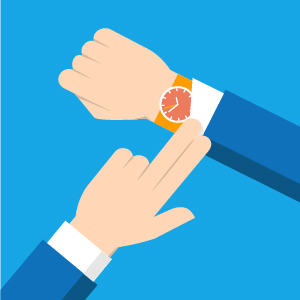 Unless you're a superhero with the ability to be in multiple places at once, you simply can't be in back-to-back meetings all day. You'd never get anything else done. That's why I recommend you block off periodic time slots, reserved just for you.
You can use these to catch up between meetings, work on pending tasks, or just grab a coffee. You need to factor in time for the administration of your daily workload. Be sure not to leave entire days or huge blocks of time open without breaks in between, unless you want to be tied up for that long.  
6. Share your calendar link everywhere you can (or want)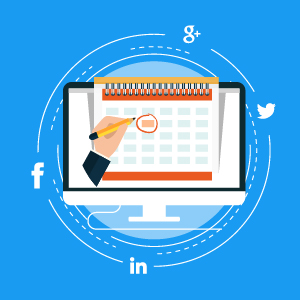 An online appointment scheduling tool provides you with a unique link so that others can access your calendar. You can share this link on social media or pin it to your social media profile page. Post a link to it on your website. Include it in your email signature. Post it anywhere people will see it because many will come across it at random times and want to book an appointment right then and there.
According to LSA Insider, 40% of online bookings are made outside of business hours. This means that when someone is browsing social media in the evening and comes across your calendar link, they can book a meeting while it's on their mind. Bookings happen 24/7 with an online scheduling tool, so be sure to make your link visible and easy to find in the places where your constituents spend their time—day or night.
7. Sync with your other calendars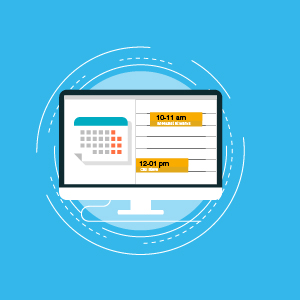 Better scheduling tools allow you to sync your online calendar with the other calendars you use. For example, Agile CRM's online calendar can be configured to sync with your Outlook, iCal, or Google Calendar. This means that when someone books an appointment with you online, you'll see it on your other calendars as well. Juggling multiple calendars can be tricky—well, juggling is tricky anyway, but you get the point! Sync them all so that when someone books with you online, it is reflected in all your live calendars.
8. Leverage your mobile device
Some solutions won't provide this feature, but I suggest you look for it when selecting an online scheduling tool to use. We—as members of the modern workforce—are constantly on the move. It's hard to predict when or where you'll need to check your calendar. Look for a tool that provides mobile access so you can check your schedule while commuting, taking your lunch break, or relaxing on your couch with a cold beverage at the end of a long day.
Plus, your customers and prospects will want mobile access as well. According to Pingup, at least one-third of all appointments booked through online scheduling software is done via a mobile device.
9. Always send confirmation emails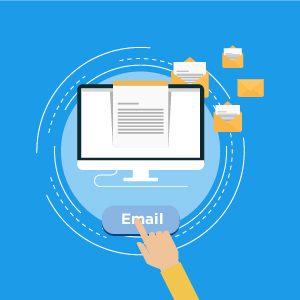 This should go without saying, right? You'd be surprised by how many people miss this step in the process. Your tool should provide you with the option to automatically send a confirmation email when someone books with you.
You should be able to create a stock email that gets sent—and automatically populated with relevant meeting information—as soon as someone hits the submit button on your calendar. For an extra tip: include a calendar file in that email so they can easily save it to their own calendars without having to enter it manually.
The Bottom Line
Like I said above, everybody's doing it! Peer pressure sucks, but in this case, it's the truth. Appointment scheduling is moving online, like it or not. It's better to get ahead of the curve and start using it now, than to bumble around with manual scheduling until you're the only one left doing it.
There are myriad benefits to using an online scheduling tool, including:
Time saved from minimizing manual scheduling, that you can instead spend on higher value tasks

Reduction of no-shows because people book at their convenience, not under pressure

Millennials (steadily becoming the largest consumer demographic) prefer it

24/7 access to your calendar for your customers and prospects

Historical records of all your appointments

Improved customer satisfaction
Benjamin Franklin once said, "For every minute spent organizing, an hour is earned." When the organizing is done automatically by an online scheduling tool, those extra hours earned begin to grow exponentially.
Are you using online scheduling? Do you have any helpful tips to share with your peers? Don't forget to do so in the comments section below!
Try Agile CRM for FREE!
FREE for 10 Users. No credit card required.