With so many sales platforms available on the market, how do you choose the right CRM for your business?  On the surface this is a simple question — you just choose a CRM that delivers the highest value — but in practice, it's a complex process. Choose the wrong system or implement it incorrectly and you might cause your business more problems than you solve.
Luckily, thousands of businesses have been exactly where you are, looking for the best CRM for their small business.
Avoid These 3 Common Mistakes When Choosing a CRM
Here are 3 common mistakes made by organizations choosing a CRM solution. Avoiding these pitfalls will help to ensure that your CRM investment pays high dividends in the years to come.
[Tweet "Choosing a #CRM for your #SMB? Avoid these 3 common mistakes"]
1. Not knowing your CRM objectives
First things first. What are your objectives with your new CRM?
To derive the maximum benefit out of a CRM, you need to figure out what you wish to achieve from it and whether the goals that you set up for your business are short term or long term. Measuring these goals is crucial to the proper understanding of the success/failure of your CRM deployment.
For maximum benefit, you need a CRM that can help you monitor these goals and KPIs once you've mapped them out with your team. The most important goals to set up and monitor are:
Attract New Customers
Improve Marketing Campaigns
Increase Sales
Enhance Efficiency
Take time right now to clarify these goals, and how a CRM will help with them. This will help to improve ROI in the long run.
2. Not focusing on the actual users of the CRM
Experts agree that to succeed with CRM, organizations should get end users actively involved even before implementing the system. A common mistake companies make when choosing a new CRM is to only have it evaluated by executives, rather than the actual people and teams that will be using the software.
The users should be made aware about how CRM as a tool can be used to improve the organization and realize significant organizational goals such as revenue enhancement, cost reduction, process automation and time management. Moreover, gone are the days when CRM software was a reserve of the desktop. Will your new CRM be optimized for mobile? Is there a customizable dashboard on the desktop site? These questions should be answered sooner rather than later.
3. Ignoring social media integration
Today the world is social. Social media is everywhere, and customers expect omni-channel engagement. It is essential to have a CRM system that includes your social interactions with your customers. Too many businesses pick a CRM without a social suite or extensive social media integrations, only to have to switch CRMs in the near future.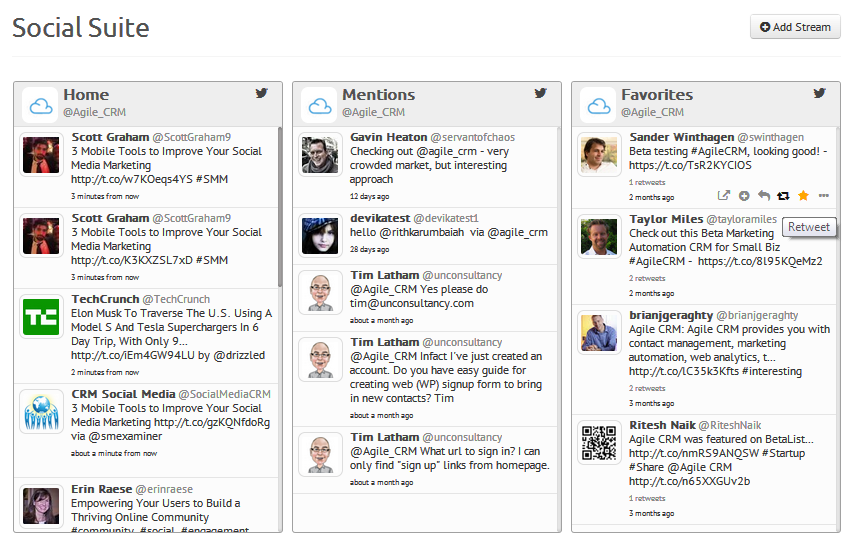 And social goes further than just monitoring conversations. According to expert opinion, VoC (Voice of the Customer) is a key measurement of CX (Customer Experience) and that it is not sufficient to simply gather and monitor this information. Businesses need to focus on what their customers are saying, analyze streams of customer voices, listen intelligently, analyze and derive actionable insights, and actively engage with them across all social media channels. This will lead to an organization's understanding of key insights and will help foster a long-term relationship with its customers to facilitate enhanced customer experience and ultimately reflect on its revenue.
[Tweet "Does your #CRM include #socialmedia? If not, you're making a huge mistake"]
When choosing a CRM, you need social media integration that works with your business model and that will help you exceed on every consumer channel. Otherwise, leads will disappear and customer happiness will never reach 100%.
While it is widely known and acknowledged that an efficient CRM solution can do wonders for your business's bottom line, it is equally important to remember that purchasing and implementing the wrong CRM can cause more harm than good. The right CRM solution for your business will be exactly that – a sales solution, not just a piece of software.
Ready to learn more about Agile CRM? Schedule a chat with our friendly reps.
Try Agile CRM for FREE!
FREE for 10 Users. No credit card required.