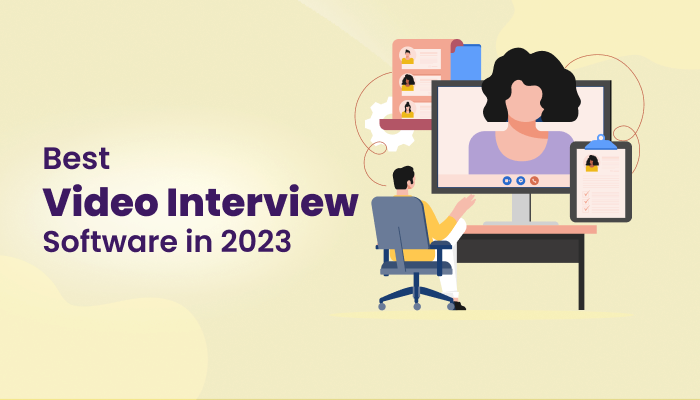 The use of best video interviews has been on the rise in the past few years, with more employers using this technology to conduct initial screenings of candidates. Video interviews are becoming increasingly popular for many reasons, including the cost-effectiveness of the technology and the convenience of being able to conduct interviews from anywhere.
The global market for video interview software is estimated to reach $1.6 billion by 2027, with a compound annual growth rate of 17.1% from 2020 to 2027. This growth is largely attributed to the increasing demand for video interviews due to the cost-effectiveness and convenience they offer.
The evolution of video interviews has been driven by the increasing availability of reliable and secure video conferencing services. Companies are now able to use video conferencing services such as Skype or Zoom to conduct interviews, which has made video interviews much more accessible and cost-effective. Additionally, employers are now able to utilize automated interview platforms to streamline the interview process, further reducing the time and cost associated with interviewing.
The increasing availability of video conferencing services, coupled with the growing demand for video interviews, has created a strong demand for video interview software. This has led to an increase in the number of vendors offering video interview software, which has in turn driven down the cost of the software and made it more accessible to employers.
The global market for video interview software is expected to continue to grow in the coming years, as more employers embrace this technology to streamline their recruitment process. As employers become more familiar with the technology, they will continue to adopt video interviews as a cost-effective and convenient way to screen candidates.

Advantages of Video Interviews Software
There are several advantages to using video interview software for job interviews:
Convenience: Video interview software allows both the employer and the candidate to conduct the interview from any location, as long as they have a stable internet connection and a device with a camera and microphone. This can be particularly useful for companies with remote or distributed teams, or for candidates who may have difficulty traveling to an in-person interview.
Time-saving: Video interviews can be scheduled at a convenient time for both parties, saving time and reducing the need for travel.
Cost-effective: Video interviews can be conducted over the internet, which can significantly reduce the cost of travel for both the employer and the candidate.
Improved efficiency: Video interview software often includes features such as scheduling and calendar integration, which can help streamline the interview process and make it more efficient.
Increased diversity: Video interviews can make it easier for companies to reach a wider pool of candidates, as they are not limited to those who can physically travel to an in-person interview. This can help companies build more diverse and inclusive teams.
Enhanced communication: Video interviews can provide a more immersive and interactive experience compared to traditional phone interviews, allowing both parties to see and read nonverbal cues and body language, which can improve communication and understanding.
List of Top 11 Best Video Interview Software

The video interview software NinjaInterview is a powerful online interviewing tool that helps recruiters and hiring managers to find the right job candidates quickly and easily. With NinjaInterview, recruiters are able to ask questions, record interviews, and review responses all from one platform.
Features
Video Assessments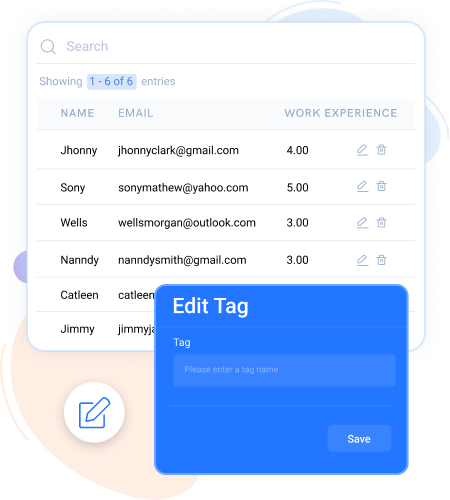 Create accessible video assessments to evaluate efficient candidates. Leverage the latest video technology to conduct high-quality remote interviews at any time.
Coding Assessments

Code assessments are an excellent approach to swiftly measure the abilities of programmers. You can prepare a new set of questions or pick from the pre-existing questionnaire.
Candidate Management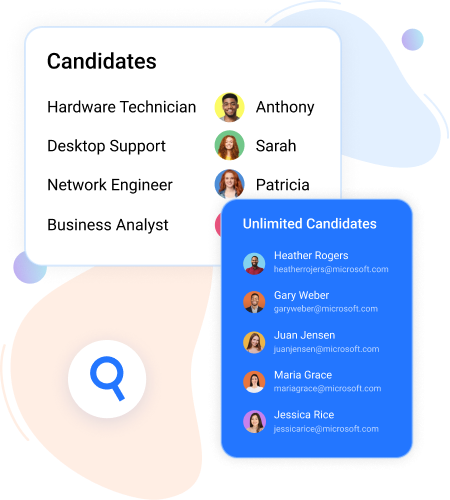 Enhance your screening and qualifying processes by consistently assessing applicants' skills and managing candidates for available job positions more efficiently.
Online Aptitude Testing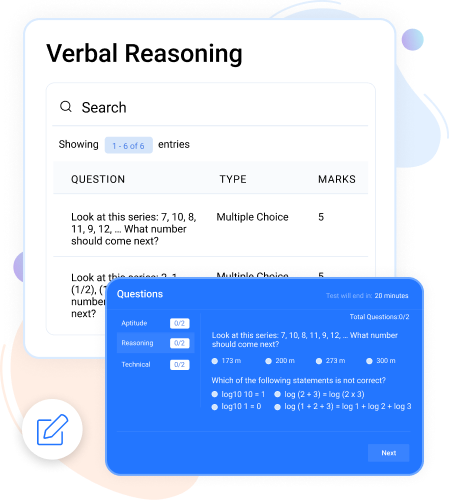 Create online aptitude assessments that help you shortlist suitable candidates for selection and then easily track their performance to see if they meet or exceed expectations.
Assessment Management

Assess the candidate's intellectual strengths and weaknesses to generate qualified candidates.
Automatic Grading

Automate the evaluation procedure to speed up the hiring process. Let NinjaInterview grade the candidate assessment based on your regulations.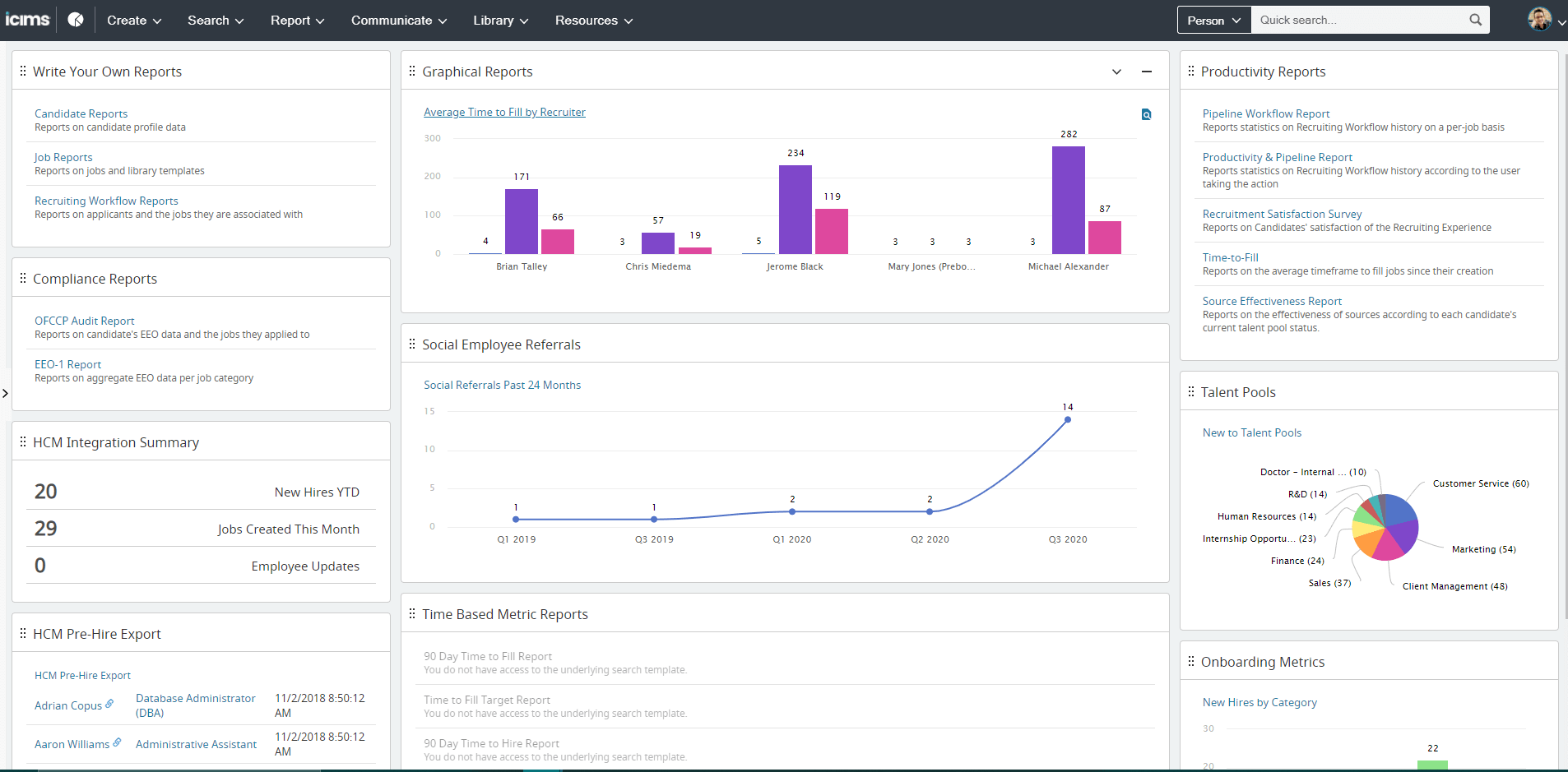 Utilizing a single recruitment platform will guarantee a flawless candidate experience from start to finish. Best-in-class recruiting products from iCIMS are available for your hiring life cycle and may be bought separately or as a part of a single talent cloud platform.
Features
Artificial intelligence (AI)-Powered Recruiting: The iCIMS Talent Cloud uses AI to streamline the hiring process and make it simpler to find the best applicants. The top candidates for a position may be swiftly and correctly identified by recruiters thanks to AI-powered capabilities like job-matching and automatic resume screening.
Integrated Recruiting Platform: The iCIMS Talent Cloud offers a centralized platform for all aspects of recruiting, such as posting jobs, tracking candidates, and onboarding. By streamlining the entire hiring procedure, this integrated platform helps businesses locate and hire the best personnel quickly.
A vast candidate database is provided by iCIMS Personnel Cloud, enabling recruiters to easily identify and access the top talent. Recruiters can identify particular applicants using the platform's extensive search features, which let them filter results based on skills, experience, and other factors.
Powerful social recruiting options are available through iCIMS Talent Cloud, including social media job listings and integrations with well-known social networks. With the use of these tools, recruiters can quickly locate candidates on social media and interact with them there.
Automated Onboarding: The iCIMS Talent Cloud streamlines and automates the onboarding process, cutting down on the time needed to get new hires up to speed. Organizations may swiftly and efficiently onboard new recruits with the use of automated onboarding solutions like document management, compliance tracking, and employee self-service.                                                                    Tweets by iCIMS


ApplicantPRO by JobMatch, a cloud-based ATS, is designed for small- to medium-sized firms who are attempting to follow EEO/AA and OFCCP laws. Its interface can be used by businesses in any area, including real estate management, manufacturing, education, the food and beverage industry, and more.
Features
Automated Job Postings: With ApplicantPRO, posting positions to well-known job sites is simple. By doing this, you can connect with more candidates and improve your chances of finding the best match.
You may keep track of candidates with this feature while the hiring process progresses. You may handle their applications, keep tabs on their progress, and look over their resumes.
Resume parsing: This function automatically analyses resumes to extract key data, including job titles, competencies, and experience. This enables you to find the ideal candidates for the position quickly.
Scheduling an interview: You can schedule interviews with applicants directly. By doing this, you can schedule the interviews fast and save time.
Customizable Reports: ApplicantPRO offers you reports that you may alter and give you information about your hiring procedure. You may monitor the effectiveness of your recruitment strategy using these reports.
Candidate Engagement: Email campaigns and SMS messaging are only two of the methods ApplicantPRO gives you to interact with your candidates. This keeps you in contact with candidates and keeps you top of your mind.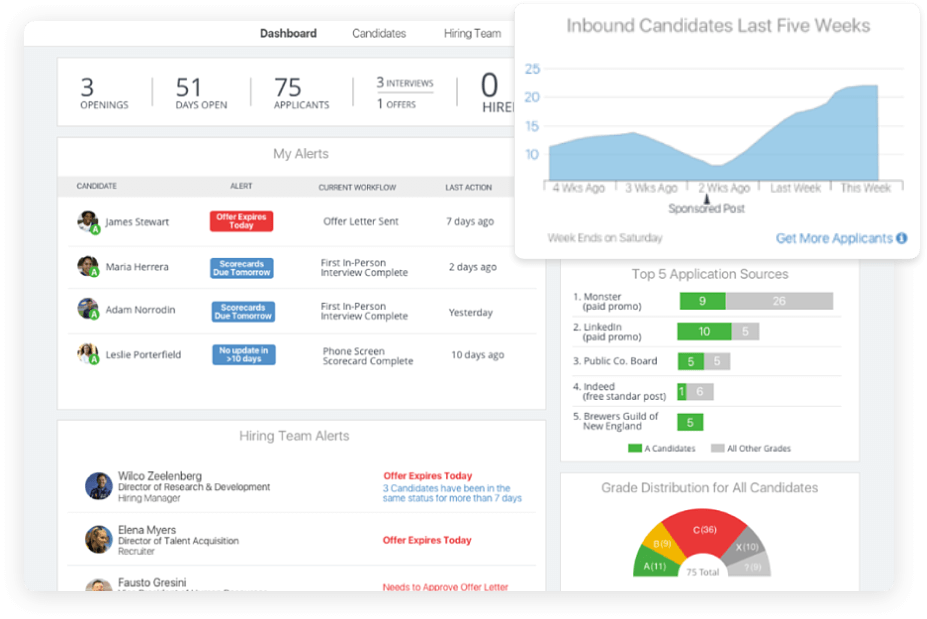 A comprehensive HR, talent, and performance management software called ClearCompany was created to assist companies of any size in streamlining their hiring, onboarding, performance, and development procedures. It is a simple, user-friendly tool that aids businesses in raising employee engagement and maximizing ROI.
Features
Automated sourcing, screening, and onboarding for new hires are made easier with the help of ClearCompany's automated candidate tracking and recruiting system. Additionally, it provides automated job postings, customized job boards, a strong search engine, and other features to help users locate the ideal applicant quickly.
Onboarding: Companies may save time and money on training and onboarding expenditures by using ClearCompany's onboarding functionality to swiftly and conveniently onboard new hires. It consists of pre-filled custom forms, automated onboarding tasks, and employee onboarding checklists.
Performance management: The performance management system from ClearCompany makes it easier to monitor and assess worker performance. It has customizable feedback and performance assessment forms, as well as a goal-setting module to aid staff in maintaining focus on their goals.
Learning and Development: Employees can access a variety of materials for training and development through ClearCompany's learning and development suite. It has a collection of online courses, as well as a collection of tests that may be used to gauge employee performance and engagement.
Analytics and Insights: The analytics and insights feature of ClearCompany makes it possible to monitor and gauge employee performance using a variety of measures. Additionally, it offers in-the-moment information about employee engagement, enabling businesses to make wiser choices and increase ROI.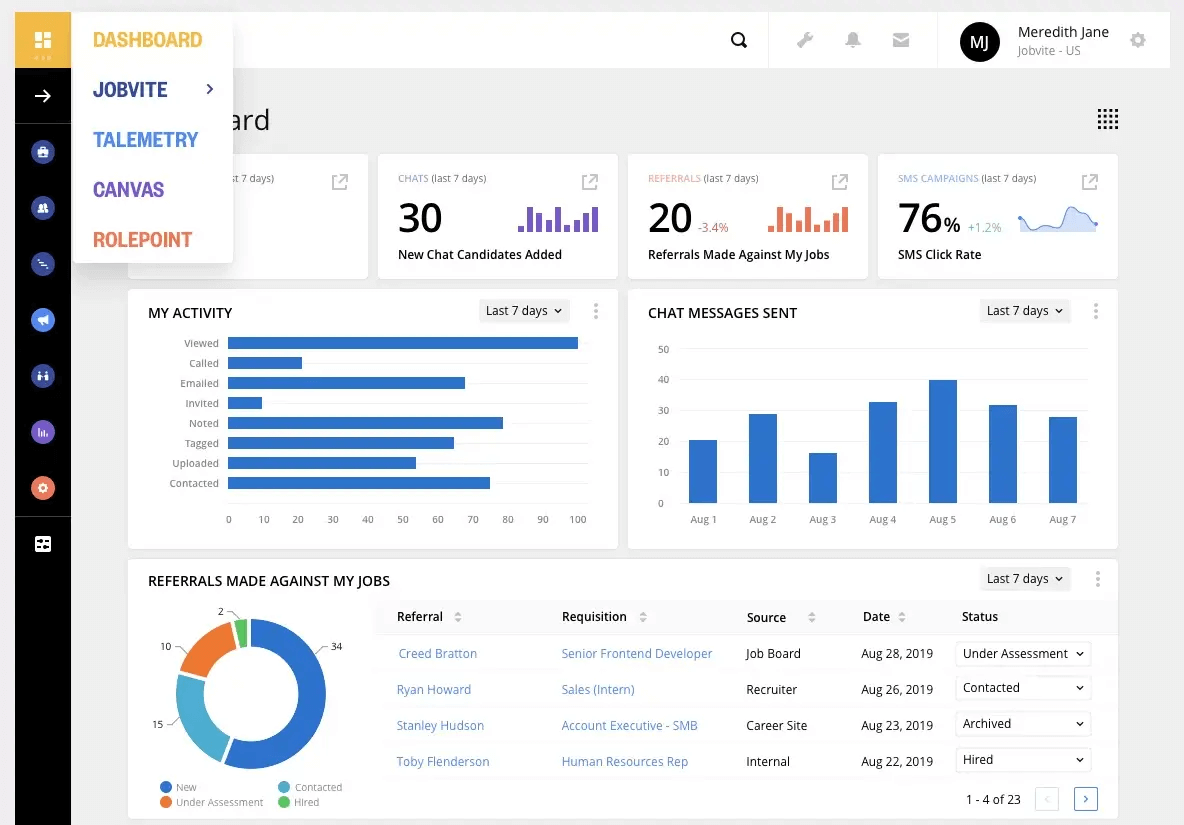 The best cloud-based recruiting software, Jobvite, enables you to make better, quicker, and more informed hiring decisions. The platform provides a wide range of capabilities to improve the effectiveness and efficiency of the hiring process.
Features
Features of an applicant tracking system (ATS) include the ability to track and manage candidates automatically throughout the whole hiring process, from sourcing to onboarding.
Automated Processes: With configurable workflows that send messages and reminders automatically, you can streamline the hiring process.
Job Advertising: Promote your job ads on more than 100 job boards and social media platforms to attract more qualified prospects.
Candidate screening: Make quick work of determining the most qualified candidates by using our automated screening tools.
Video Interviewing: Use our built-in platform for video interviews to swiftly and simply connect with candidates.
Comprehensive Analytics: With thorough data and analytics, you can learn more about your hiring efforts.
Use our mobile-friendly job posts and applications to make it simpler for job seekers to apply.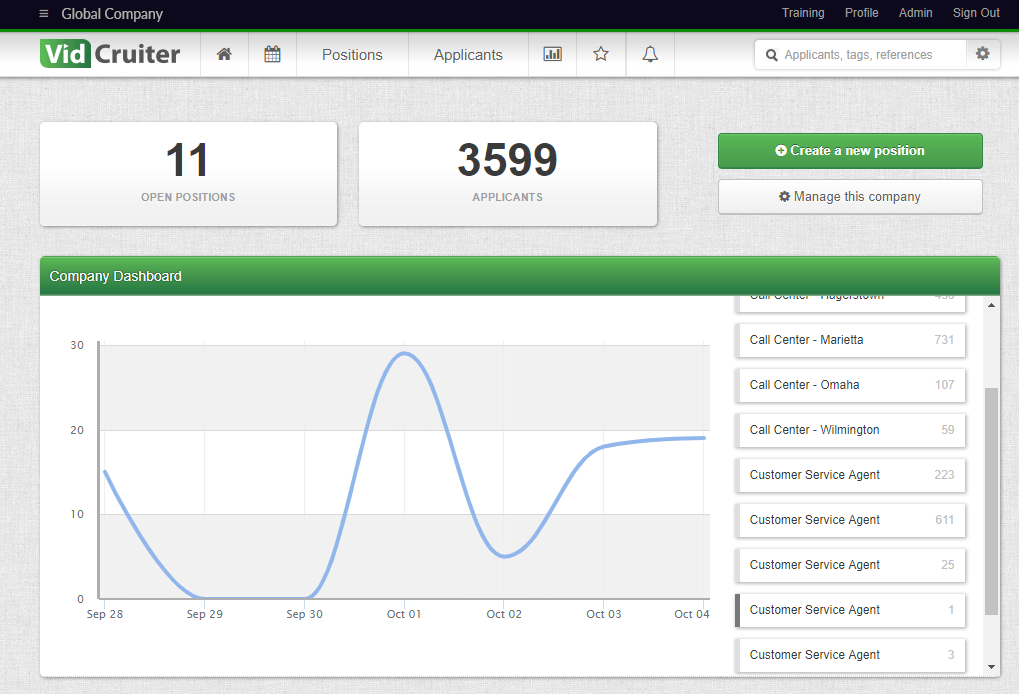 Businesses of all sizes have used the VidInterviewing by VidCruiter video interviewing platform to locate better candidates more quickly and affordably. Pre-recorded and live video interviews are included, and they may be customized to fit any recruitment scenario.
Features
Automated Scheduling: With VidCruiter, you can quickly and conveniently set up interviews with prospects using the automated scheduling tool. The manual coordination of both online and in-person interviews is no longer necessary thanks to this functionality.
Online interviews: VidCruiter provides candidates with a complete online interviewing solution. This encompasses the capacity to capture, archive, and distribute video interviews.
Workflow Automation: By automating tasks and procedures, VidCruiter's workflow automation tool streamlines your hiring procedure. By doing so, you can focus on more significant duties while spending less time on manual labor.
Customizable Questionnaires: VidCruiter gives you the ability to design and alter questionnaires specifically for each job. As a result, you can modify the hiring procedure to suit the particular position you're trying to fill.
Reporting and Analytics: You can easily assess the effectiveness of your hiring process with VidCruiter's reporting and analytics function. Making better hiring decisions is made possible by being able to see where improvements can be made.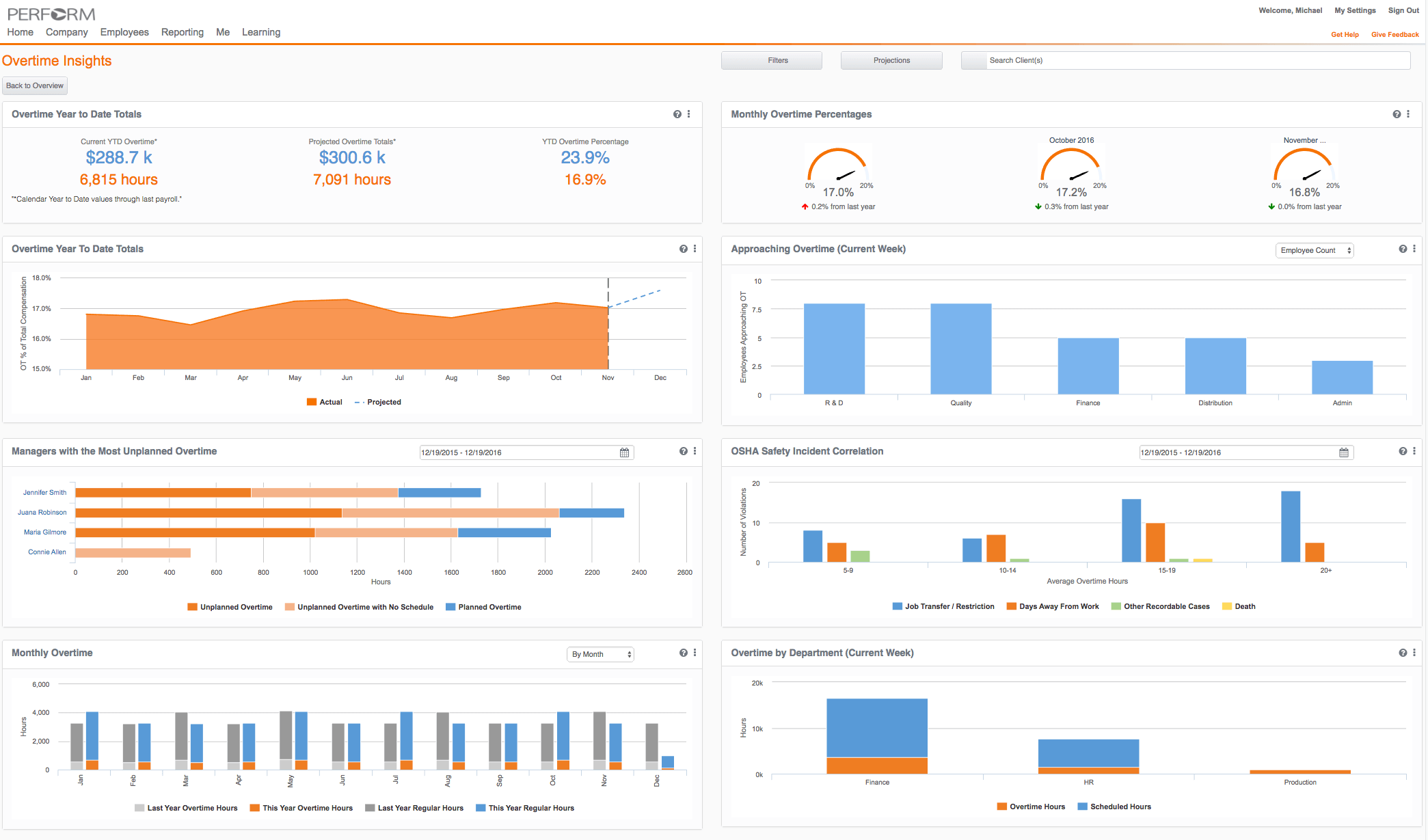 Managers are equipped by Paycor to build productive teams. Paycor stands out thanks to the modernization of every area of people management carried out via its human capital management (HCM) platform, including hiring, onboarding, payroll, career development, and retention.
Features
Strong Reporting: Paycor's reporting tools are made to give you up-to-the-minute information and insights on employee performance, review processes, and workforce makeup. This makes it possible for HR personnel to monitor target progress and detect and resolve any problems as they arise.
Automated Onboarding: Using Paycor's solution for automated onboarding, HR managers can easily design customized employee onboarding procedures that include automated documents and notifications. By doing this, businesses may save time and resources while ensuring that employees are given crucial information when it matters most.
Comprehensive Benefits Administration: HR professionals can simply manage employee benefits, such as health insurance, retirement plans, and more, thanks to Paycor's benefits management system. This enables businesses to offer employees the benefits they require while still complying with local, state, and federal rules.
Employee Self-Service: Paycor's self-service portal gives employees a safe, simple way to check their pay statements, go over information about their benefits, and more. In addition to saving HR professionals time and money, this makes it simpler for employees to acquire the information they require.
Mobile App: With Paycor's mobile app, staff members can easily access information about their salary and benefits, as well as request time off from their phones. Employees can use this to access information about their pay and benefits while they are out of the office.

Organizations may conduct video interviews with candidates thanks to the cloud-based human resource management (HRM) service HireVue. The method enables job candidates to answer interview questions via an online video interface.
Features
Interviews Powered by Artificial Intelligence: HireVue uses cutting-edge AI technology to streamline the interviewing process. This enables businesses to evaluate candidates fast and choose the best ones for the position.
Automated Video Interviews: Employers may swiftly and easily invite candidates to participate in a pre-recorded interview using HireVue's automated video interviewing technology. Doing away with in-person interviews enables companies to evaluate applicants from all over the world.
Customizable Interview Questions: Employers may target the best candidates for their company by customizing the interview process using HireVue's customizable interview questions.
Real-Time Reporting: HireVue's real-time reporting function offers companies in-depth analysis of applicant performance and facilitates candidate comparison. Employers can use this information to make better recruiting decisions.
Employers can quickly use the HireVue platform from any device thanks to its mobile-friendly design. This makes it simple to conduct interviews while on the go and maintains contact between companies and candidates.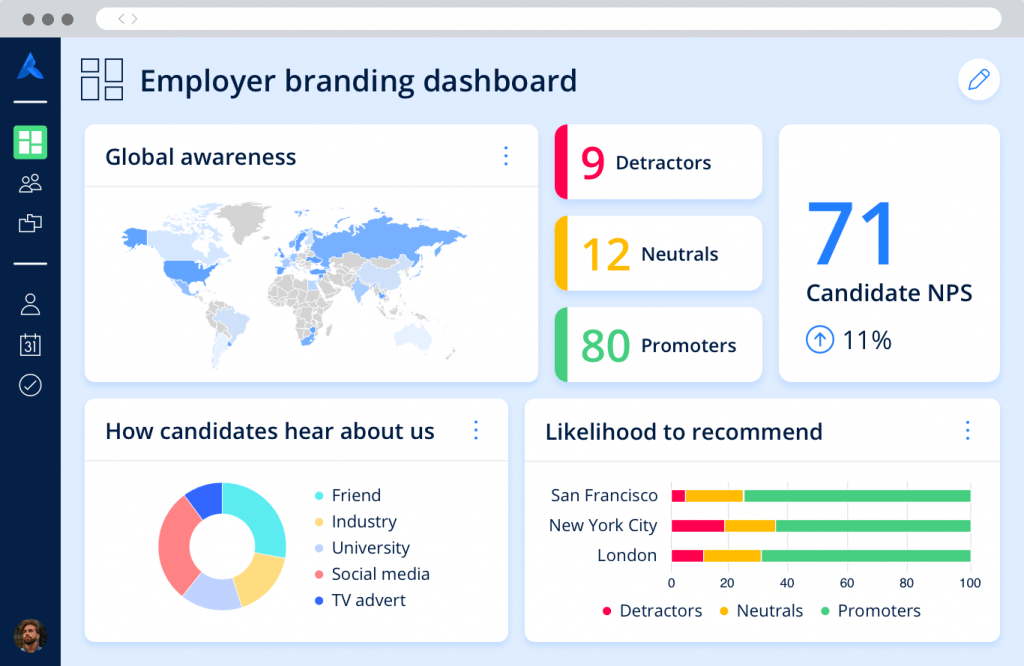 Avature is an extremely flexible enterprise SaaS platform that promotes the creation of HCM applications for hiring and managing personnel. Dimitri Boylan founded Avature, which offers cutting-edge HR solutions for companies at the corporate level all around the world.
Features
Advanced Search & Filtering: With Avature, you can easily identify the ideal candidate for your job vacancy thanks to its advanced search and filtering features. You can better understand the talent pool with the option to search by area, experience, skills, and other factors.
Automated Recruiting & Engagement: You may find and interact with potential candidates fast and effortlessly with Avature's automated recruiting and engagement tools. In one location, you can arrange interviews, send customized emails, and monitor the progress of candidates.
Reporting & Analytics: Avature's reporting and analytics tools provide you with a thorough understanding of your hiring procedure. To better understand the results of your recruiting efforts and pinpoint areas for improvement, you can extract and analyze data.
Collaboration & Automation: Working with other recruiters, managers, and stakeholders is simple because of Avature's collaboration and automation features. To save time and improve productivity, you can automate routine operations like candidate outreach and interview scheduling.
Avature's mobile-friendly platform is designed to work well on both desktop and mobile devices. This enables recruiters to see resumes, interact with candidates, and access their recruiting dashboards from any                                            Tweets by Avature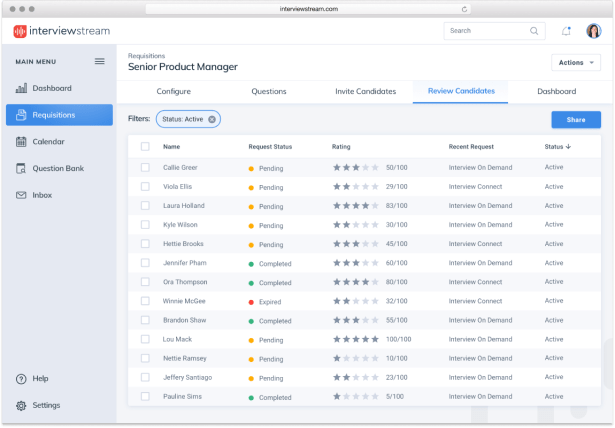 Businesses may now hire employees more quickly and efficiently thanks to Interviewstream's video interviewing and scheduling technology. Our users love how easy it is to use us, how fast we can answer support inquiries, how much better the applicant experience is, and how little time is wasted on candidate screening.
Features
Real-time Interviews: InterviewStream enables you to interview candidates in real time, making the process more practical and effective.
Automated Scheduling: InterviewStream makes it simple to plan interviews with candidates. Reminders are issued automatically to make sure everyone is on the same page.
Employers can evaluate candidates' presentation and communication abilities through video interviews.
Interviews that can be customized: Interviewers can include questions, time constraints, and feedback forms that are specific to their requirements in their interviews.
Compressed Video Playback: You can quickly and easily watch and evaluate interviews using InterviewStream's video playback capability.
Analytics: InterviewStream offers thorough analytics to assist you in comprehending the strengths and shortcomings of your candidates.
Secure Interviews: For increased protection, InterviewStream also provides a secure video streaming solution in addition to storing all data on secure servers.
You can conduct interviews anywhere thanks to InterviewStream's multi-device compatibility with desktop, laptop, tablet, and mobile devices.
Administrators of universities and other higher education institutions can manage their admissions processes and candidate assessment processes with the help of Kira Talent, the solution of a cloud-based admission.
Automated Interviews: Kira Talent gives hiring managers the ability to design unique video interviews with pre-programmed questions and evaluation criteria. Since recruiters can swiftly review and contrast applicant responses, it streamlines the hiring process.
Employers can make video evaluations using Kira Talent to evaluate both technical and soft abilities. This feature enables recruiters to have a better understanding of a candidate's skill set and to make better hiring decisions.
Kira Talent provides a robust applicant screening function that enables recruiters to swiftly weed out individuals that don't fit their requirements. Additionally, it gives businesses a quicker approach to assessing and contrasting applicants.
Analytics and Reporting: To help recruiters better understand their hiring process, Kira Talent offers thorough analytics and reporting solutions. This enables recruiters to make more educated hiring decisions and helps to discover areas that require development.
Customization: To better suit their hiring objectives, Kira Talent gives recruiters the ability to alter the online tests and interview questions they use. Recruiters can also modify emails and notifications to help the hiring process run more smoothly.
What's Next?
With multiple recruiting apps under one suite, businesses would be able to more easily manage their recruiting process in one place. This would make it simpler to track results and progress, as well as to keep an eye on the overall performance of the hiring campaign.
Having multiple business suites like Sales, Developers, Marketing, etc will allow you to get the most out of your technology investments and ensure that your organization is running efficiently and effectively just like 500apps does.
Conclusion
The video interviewing software makes it easy to track and manage job applicants throughout the hiring process. They provide a central repository for all applicant information and allow you to track each applicant's progress through the hiring process.
The best and most popular video interviewing software examples for your business are career portals like NinjaInterview, from 500apps which have intriguing features like a resume parser and job administration.
Come check out 500apps today to learn more about our All-in-one Software which provides 50 apps for just $14.99 per user.
Try Agile CRM for FREE!
FREE for 10 Users. No credit card required.