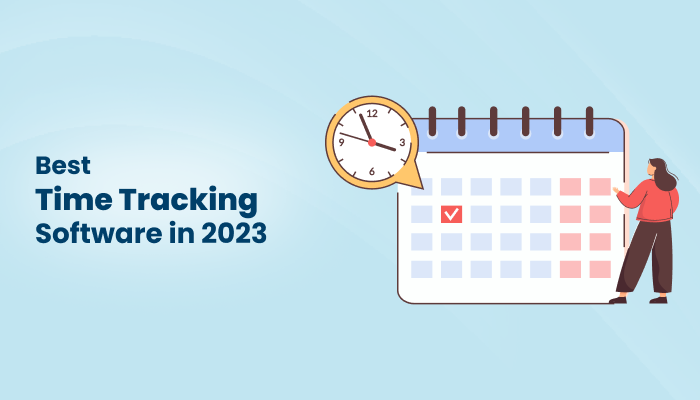 Time-tracking software provides businesses with a way to measure employee productivity and performance. It allows businesses to track the time spent on various tasks and projects, as well as the amount of time spent on each task. This information can then be used to determine which tasks are most profitable and which need to be improved upon. With this data, businesses can assess overall productivity and measure the performance of individual staff members.
Time-tracking software has become increasingly popular over the past decade as businesses have become more aware of productivity, efficiency, and cost savings. The global market for time-tracking software is estimated to be worth over $2 billion by 2023. This growth is driven by the increasing demand for software solutions to help manage and measure employee productivity, as well as the need for improved accuracy in financial reporting.
Furthermore, time-tracking software also helps businesses save money by preventing overspending. By tracking the time spent on tasks, businesses can ensure that they are completing tasks in the most efficient manner possible. This in turn leads to cost savings by eliminating any unnecessary spending. Additionally, time-tracking software can be used to measure the effectiveness of different sales and marketing strategies, allowing businesses to make more informed decisions.
 It's crucial to assess employee productivity using the best time-tracking system and to do it with the highest level of accuracy, regardless of the products or services your business offers. Because most workers find it challenging to keep constant focus and give their best work because of distractions, it may be challenging to maintain staff productivity in an organization.
It often leads to poor or ordinary production in a corporate enterprise because of this lack of enthusiasm and involvement. Accurately assessing your employees' output is one way to clearly find which staff are the most productive ones.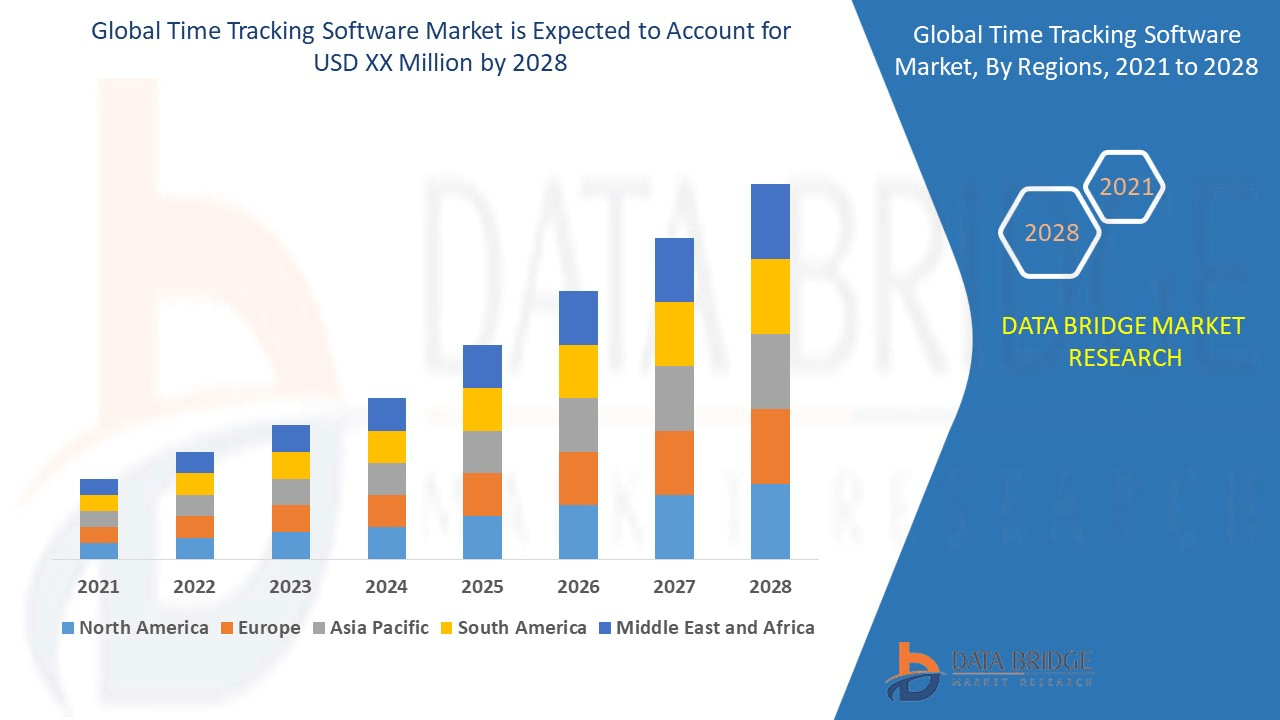 Advantages of Using Time Tracking Software
There are many advantages of using time-tracking software. Some of these advantages include
Increased accuracy

: Using time tracking software can help increase the accuracy of your time tracking. This is because the software can automatically track the time you spend on each task and project.

Increased productivity

: Time tracking software can help you become more productive by helping you to better manage your time. The software can help you to see how you are spending your time and where you can improve. 

Better organization

: Time tracking software can help you to better organize your time. The software can help you to track your time so that you can see where you are spending the most time. This can help you to better allocate your time to the tasks that are most important to you. 

Reduced stress

: Time tracking software can help to reduce stress by helping you to better manage your time. The software can help you to see where you are spending your time and where you can improve. This can help you to better allocate your time to the tasks that are most important to you. 

Improved quality of work

: Using time-tracking software can improve the quality of your work. This is because the software can help you to better manage your time.
List of 16 Best Time Tracking Software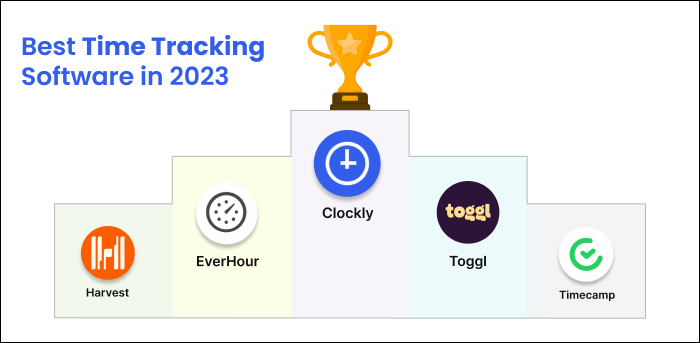 Clockly is a time-tracking software that helps you to keep your business operating efficiently, including employee monitoring, online timesheets, and project budgeting.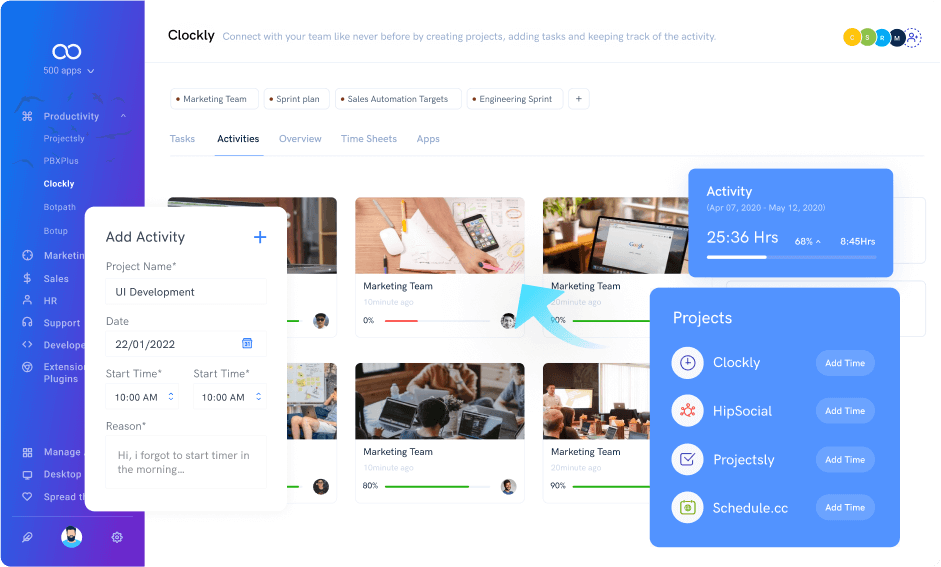 Features
Time Tracking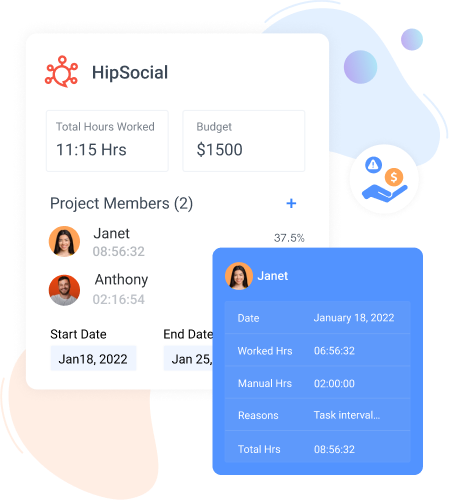 Keep track of your team's productivity in real-time to ensure that tasks are finished on time.
Employee Monitoring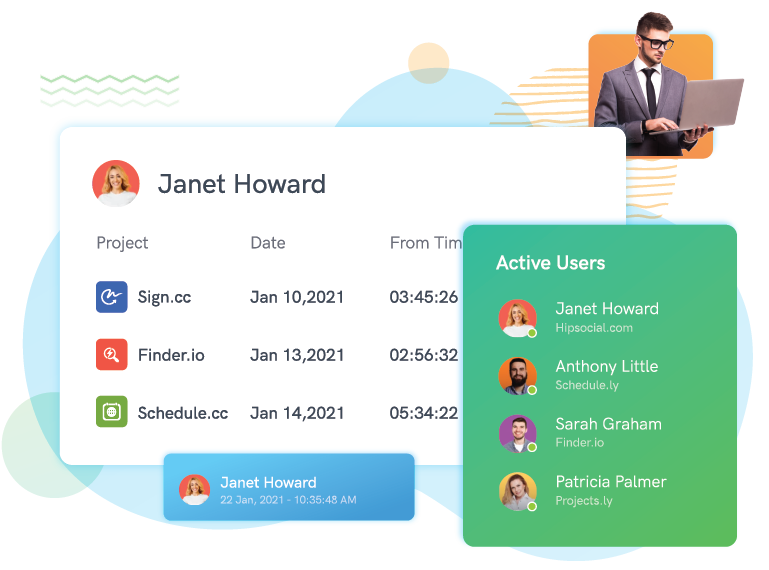 Utilize real-time reports, screen captures, location trackers, mouse clicks, and keystrokes to monitor employee activities and increase productivity.
Project Budgeting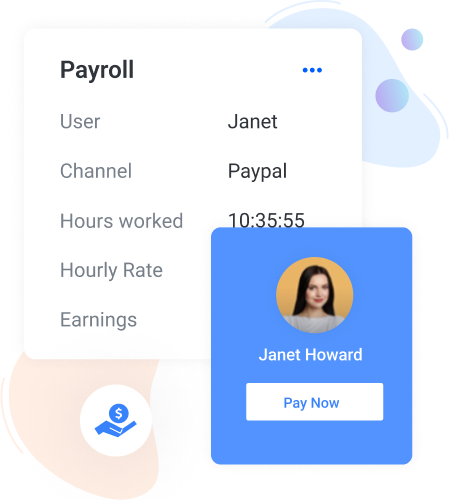 Track project value based on the number of hours spent on it. Gain insights to improve future project estimates and cost management.
Online Timesheets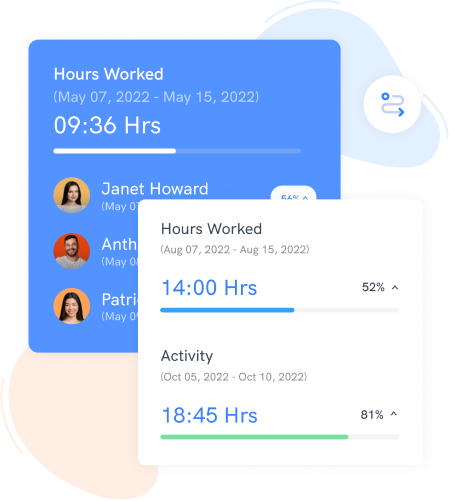 Track and report on employees' working hours in a centralized manner with our online timesheets on a daily, weekly, and monthly basis.
Integrate with Your PM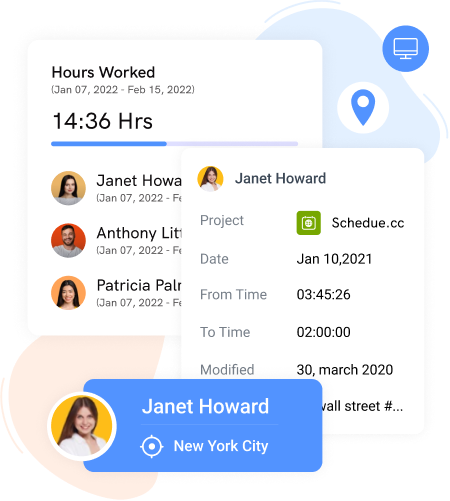 Spend less time switching back and forth between multiple apps and more time boosting productivity.
Chrome Extension
Boost productivity by tracking and managing employee working hours on your favorite web browsers with clock's browser extension. Clockly is also compatible with Mac, Ubuntu, and Windows.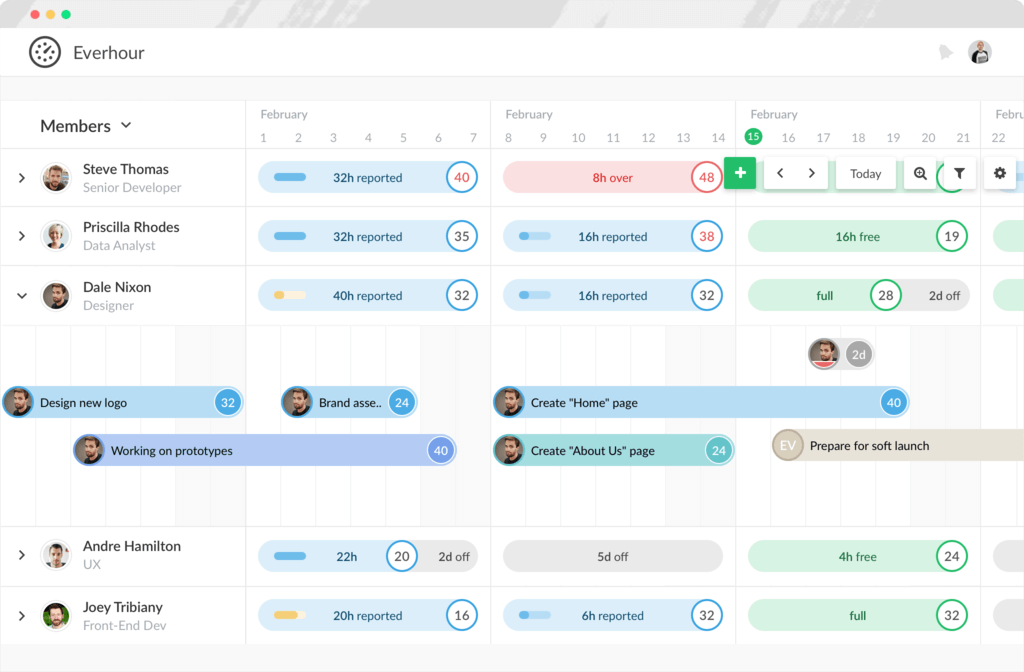 The easiest decision you can ever make for streamlining your time-tracking requirements is Everhour. Everhour's ability to integrate directly with a range of frequently used project management tools, including Asana, Trello, and Basecamp, makes it an instant favorite among agile teams. Additionally, Everhour provides customers with some fundamental task and project management tools.
Features
Easy Time Tracking– Everhour has a built-in digital timer that you can use to check in and keep track of how many hours you spent on a given work or project. Team members can manually track and log their hours as well. By including the remaining time and hourly estimates on each project, users may also keep track of how their work is progressing.
From the live dashboard, which offers a centralized view of all project timelines with detailed labels of "total time spent" next to each activity, a team leads or project manager can identify which team member failed to achieve his or her deadline.
Flexible reporting-Adaptable reporting Its tracking and reporting are both straightforward. Users can categorize reports into a time period or according to importance by using filters.
Each job can have due dates, milestones, and tags assigned so that users can assess it in relation to their timeline.
Good Compatibility -A web-based solution called Everhour can be used with any browser, including Mozilla, Chrome, and Safari. Traveling consultants and executives can use Everhour on their smartphones to handle timesheets and project schedules while they are on the go.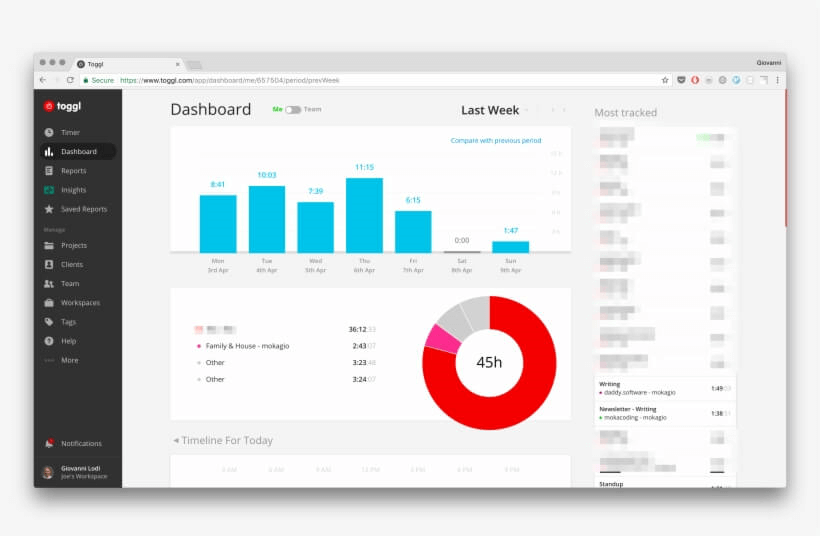 One of the best time-tracking programs available is Toggl, which is cloud-based and provides offline support as well. A project management tool with a time-tracking component is called Toggl. Users can create timesheets, and reports, charge hours, and even export data outside of the application.
Features
Time Tracking: Real-time time tracking is made easier with Toggl. When users log in, Toggl begins to calculate billable hours. There is an option to manually enter the users' working hours even if Toggl is not launched. Additionally, it is possible to tag the time in relation to either the project being worked on or any other aspect.
User rights: Depending on the nature of their work, users may be given certain rights.
Project Setup and Reporting: Different users can create projects as needed. In the end, a report that includes pertinent project data, such as the total number of hours worked on various projects and the status of the project can be produced.
Export Data: Users have the option to email reports or timesheets to the appropriate authorities.
Offline Support: Toggl offers offline functionality. Users can register time in this way even when they are not online, and the time will be updated on the cloud later.
Flexible Pricing: Toggl provides consumers with flexible pricing. For billing, you have the option of a monthly or yearly bundle.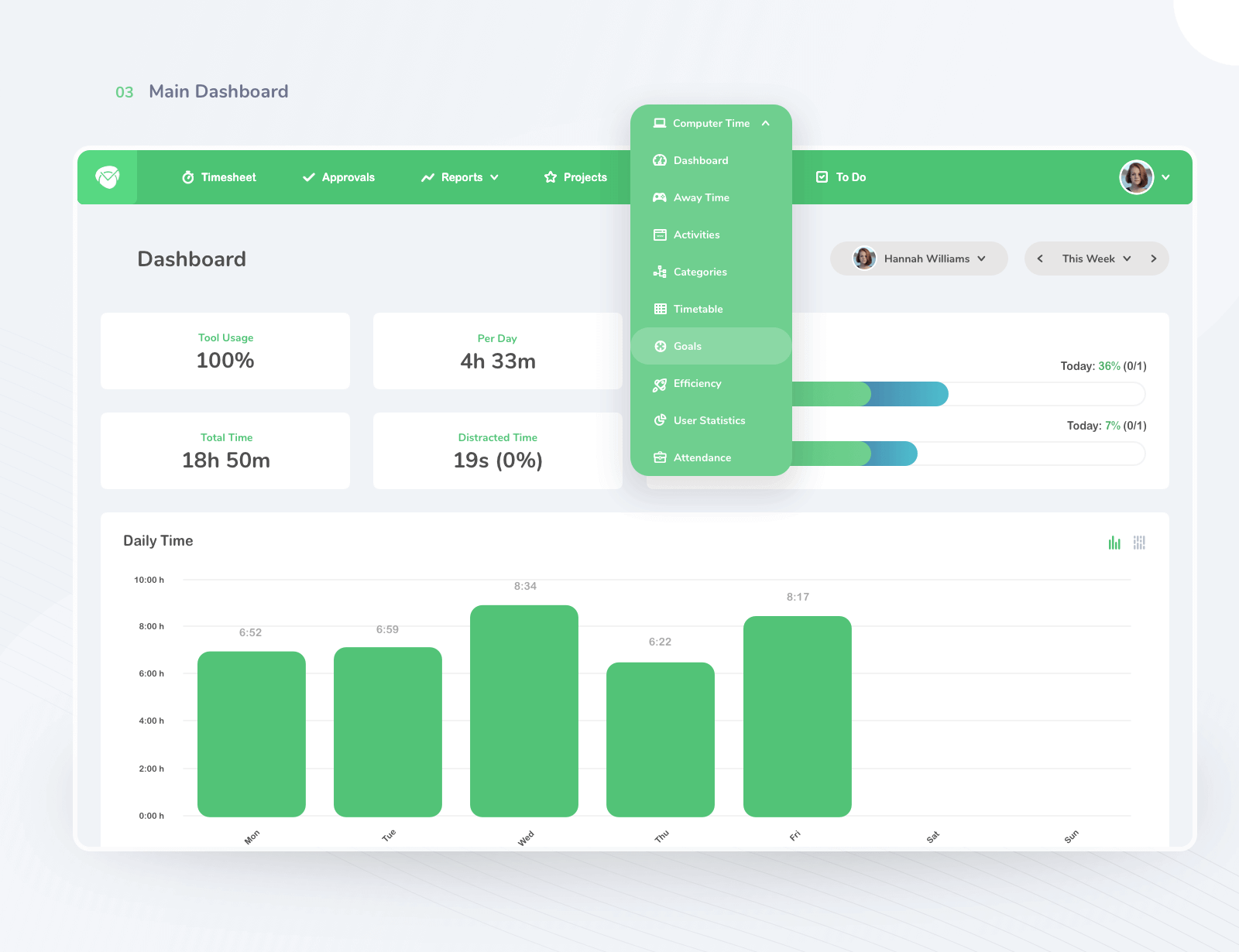 Timecamp has the potential to be an employee's worst nightmare. If your company is picky about attendance, the amount of time spent on projects, and other daily activities, this application is unquestionably one of the best time-monitoring tools you can find.
Features
Time management: You can effectively keep an eye on employees' activities by using the time management module. This covers the duties that personnel are carrying out, the time-consuming instruments, and the objectives established. Additionally, it provides weekly email summaries, user-specific daily summaries, productivity analysis, automatic tracking of computer usage, and time spent working on documents. What else? Users' offline activities are also tracked by it.
Attendance Analysis: Get complete user attendance, absence, real-time tracking of people entering and exiting the office, holidays are taken, and start and finish work time analysis information. The app also offers a time clock kiosk feature for on-site teams.
Billable Time: Timecamp gives users the option of one-click or automatic billing. A graphical timesheet, subtasks, notes, budgeting, income computation, and tools for figuring out estimated and real hours are all included.
Reporting: Flexible reporting options are available for the projects, including information on project profitability and project history.
Invoicing: Use the feature for invoice generation to make professional invoices, take use of the integrated payment method, and receive notifications each time a client views an invoice.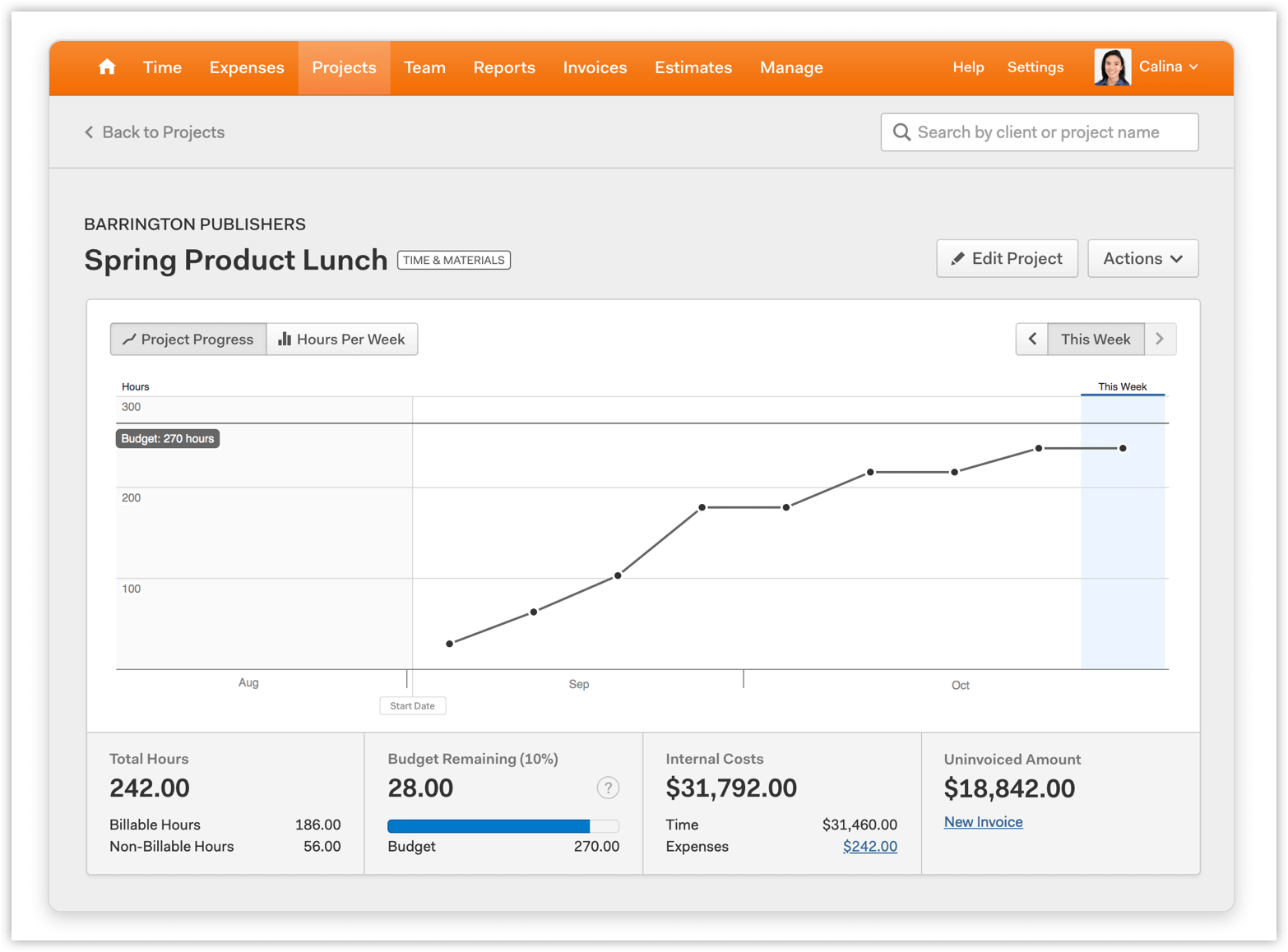 With a super-fast interface, Harvest has assisted millions, if not billions, in keeping a meticulous log of endless hours. Harvest gives its users leverage by allowing them to track spending along with the number of hours they put into a work or project.
Features
Flexible Tracking: Harvest users can record, modify, and keep track of their hours on a weekly timesheet. either manually records the number of hours they spend each day on each work they are given or utilize the Harvest button.
Users can track the financial changes made over a project's entire lifecycle by adding expenses next to each project in Harvest.
Invoicing: Harvest's ability to quickly and easily invoice clients thanks to the backlog of invoiced time and expenses. An illustration of paid and unpaid invoices divided into a monthly timeline can be found on the invoice board.
Team-Time Management: Harvest can be integrated to one of its sister applications called Forecast for team time management. Project managers can develop a roadmap of all planned projects and tasks for each team member with the use of forecasts.
Automated Notifications: Every time a team member creates a time report, an automated notice is issued that the project manager can pick up to maintain closely watched accountability.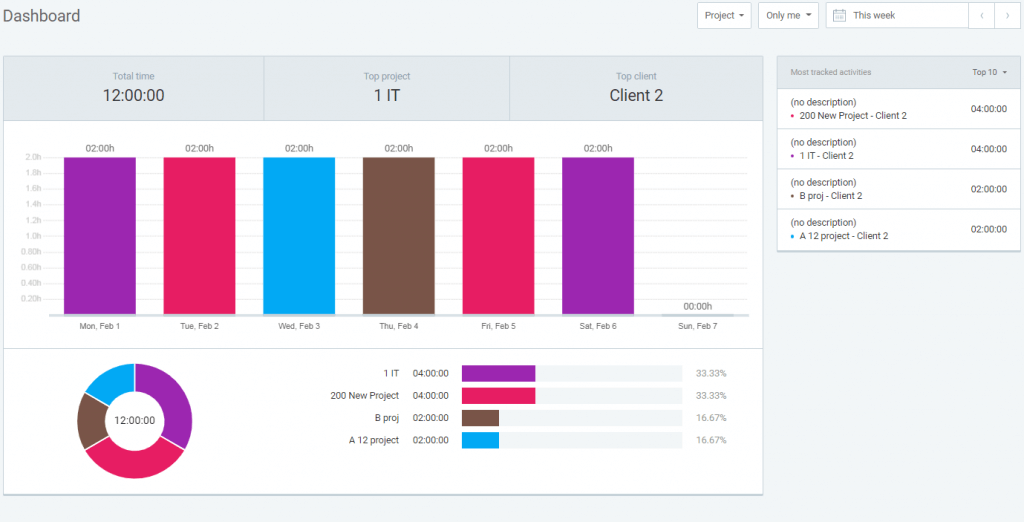 Clockify is the greatest time-monitoring software for you if you don't want to spend any money on it. You can use the platform for as many team members as you like because the tool supports an unlimited number of users and projects.
Features
Free for unlimited users and projects: The tool's essential features can be used by an infinite number of people on an unlimited number of projects.
Team Dashboard: A centralized dashboard where you can track how much time you and your team are spending on various tasks.
Intelligent Reporting: To maintain transparency, segment your weekly staff reports based on certain projects.
Customizable Timesheets: Easily check and edit each person's time entry to better manage time. Customizable timesheets.
Teams' Workspaces: Separate work areas for teams working on various projects. Team members should be invited to workplaces so they can independently control their attendance.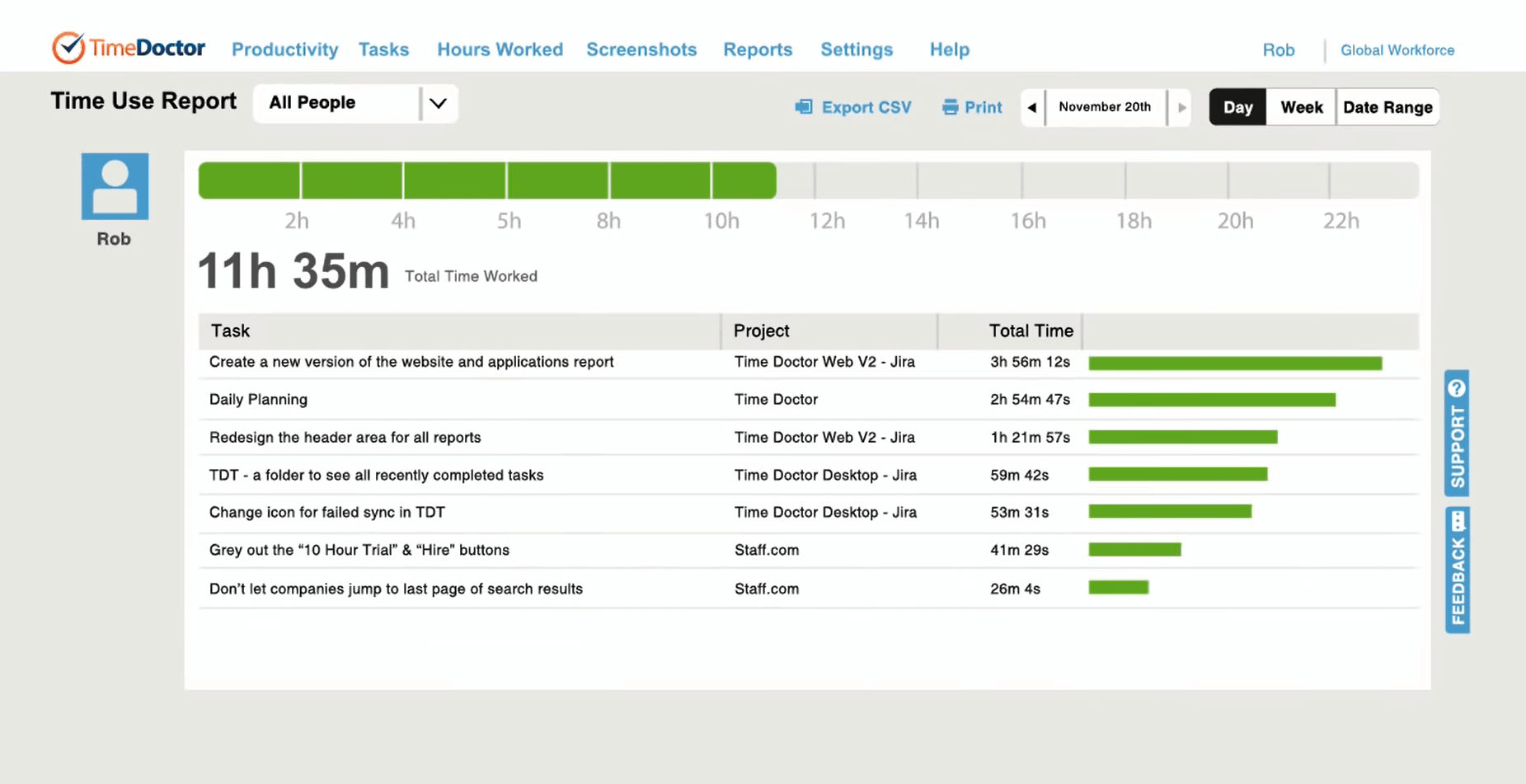 You and your team may do far more each day with the aid of Time Doctor, a software program for tracking employee time. It offers in-depth information on how time is used during the workday. While your staff is working, you may check out the programs and websites they used and snapshots of the computer screen every few minutes.
Features
Easy to set up: Time Doctor is incredibly user-friendly and simple to set up. It takes hardly any time at all to begin utilizing it. Once the user begins the timer, the time spent on tasks created under projects is recorded.
Idle time notification: If a user is inactive for a predetermined amount of time, it alerts them to determine whether they are working or taking a break. If the user has been inactive for a prolonged period, it may also put them on break.
Reporting in detail: The reports are offered in tabular and chart formats. Filters for the reports include daily, weekly, monthly, and custom date ranges. For transparent billing, there is a customer report view that can be made available.
Integrations: The usefulness of Time Doctor is improved by its integrations with all popular apps. Time Doctor may now connect to thousands of other apps thanks to the Zapier connection.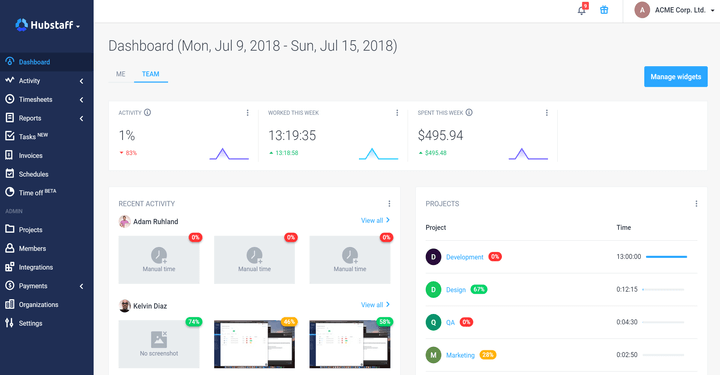 Even the best time monitoring tools might take a lot of time to complete. The unrivaled solution to that is Hubstaff. Hubstaff helps make time tracking more efficient than ever with exceptional functional features like screen recording, automatic payrolls, GPS tracking, and strong APIs.
Features
Advanced tracking – Users can manually and digitally record the number of hours spent on each activity, and project managers can record screenshots of their team members' workspaces. It is also possible to monitor employee performance by keeping track of their keyboard and mouse movements. Despite how useful this function is, it can be disabled if clients or employees so desire.
Centralized management – A centralized dashboard offers a consistent overview of the performance and activity of the entire team. The dashboard's display is divided into clearly readable sections for recent activity, total project budget spent, total projects worked, total members active, total hours billed, and weekly reports.
Advanced Reporting – Hubstaff Tracker steps in to automatically provide a complete-time report for you after you're through billing hours and tracking total hours spent. Then, reports can be readily exported through email to an external source.
Advanced Monitoring – The internet monitoring function of Hubstaff enables users to keep tabs on how much time each team member spends on each website while at work.
Staff Scheduling – Hubstaff's online scheduling tool enables project managers to monitor each team member's presence in relation to his or her allocated responsibilities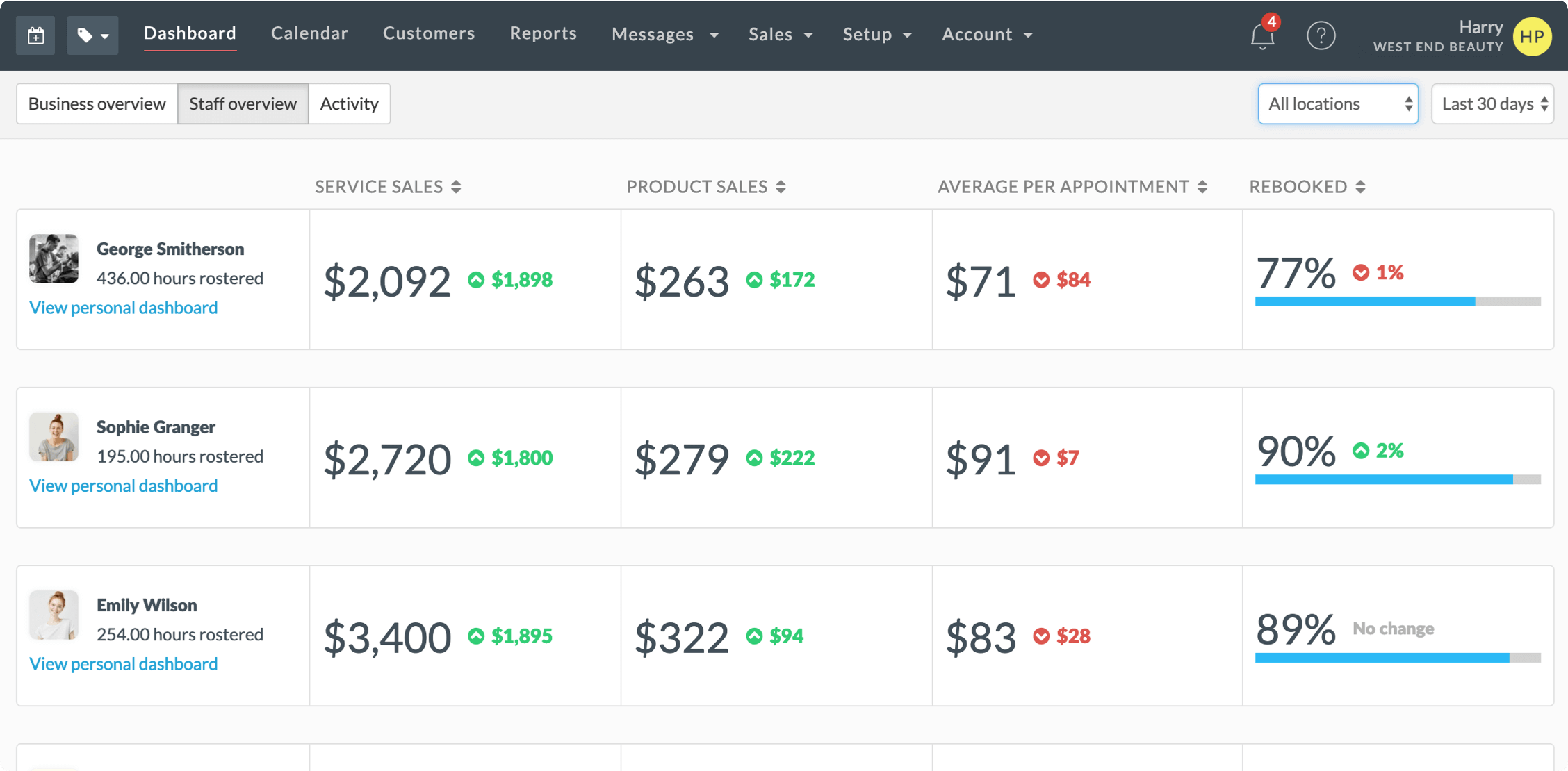 One tool that provides automatic time tracking and team and project time management is called Timely. Count the hours you spend on chores and the money you spend.
You can also keep tabs on the performance of your team by looking at the tasks that employees spend the most time on, instantly monitoring employee activity and KPIs.
Features
Task and People Time Management: Timely's built-in tagging system enables you to view time spent on tasks with two values: logged hours and logged money. This enables you to remain aware of the precise cost of each task. Additionally, it makes keeping track of the hours clocked by several users in a single display easier. You may even watch what each member is doing at a particular time with a Live Feed.
Bulk Editing: With bulk editing, you can simultaneously delete entries, mark multiple entries as "billed," and manage tags.
Shareable Reports: By using the offered links, you can build personalized reports and share them with others.
KPI Tracking: Easily keep track of your team's performance using important indicators like capacity and billable %.
Team Creation: Multiple teams can be created depending on different metrics, such as a country or department. This makes managing and keeping an eye on teams simple.
Memory Tracker: You can choose to preserve your monitored data in a personal timeline that is only visible to you by using the "Memory Tracker" feature.
BigTime helps you track and save time while enhancing team performance with its extensive customizable module library and more than 30 timesheet types. Track costs, resource distribution, and invoicing effectively while maintaining control over the volume and nature of data shown in configurable reports.
Features
Time Tracking: Grab a full-featured time-tracking module that enables you to track time both online and offline using intelligent lookup fields. Due dates make it easier for you to monitor the progress of work and staff assignments.
Billing and Invoicing: There are several ways to bill time and materials, including percent complete or a number of predetermined amounts billed at the milestone. Additionally, you may select the information you want your clients to have using customizable invoice templates.
DCAA Timekeeping: Use DCAA (Defence Contract Audit Agency) compliant auditing to record timestamps for each time entry, notes necessary for adjustments, and late timesheet submissions.
Expense Tracking: Keeping track of expenses is simple with the scanning option. Use your phone to scan and collect receipts, then add them to your digital expenditure reports.
Reporting: Utilize the built-in reporting capabilities to create and alter reports for analytics.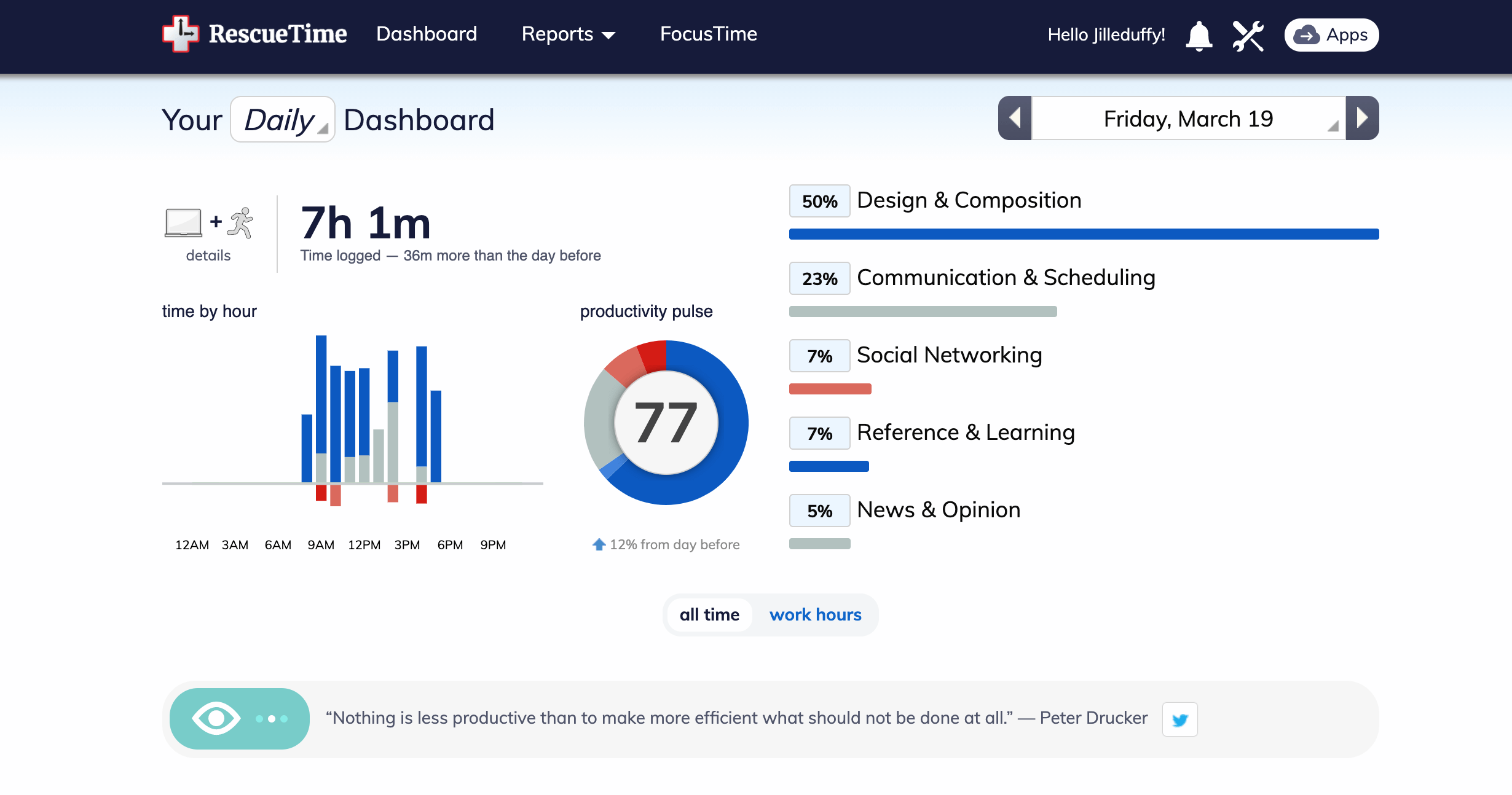 RescueTime is the right program for you if you're seeking automatic time tracking that works on several platforms. Both teams and individuals can use it. The app is also available for a free trial. This application's benefit is that it allows you to receive weekly updates on your work habits. You can increase your productive hours and complete more work in this manner.
Features
Time tracking that is automatic: The RescueTime application will inform you of how you have used your time. Put an end to manually entering time.
Custom Daily Schedule: With a schedule that is derived from your daily work activities, productivity data, and working trends, you may now save several hours each day.
Website blocking: Use a website blocker to get the most out of your workday. You can now place a blocker on the websites that cause you to get sidetracked and miss deadlines.
Integrations with other apps: You can quickly link RescueTime to Slack and your calendar to increase productivity.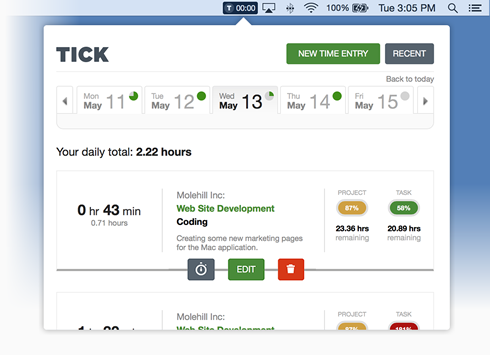 Tick is a simple time-tracking program that makes the process of keeping track of project time easier. This time monitoring application aids in completing the task at hand without interruption despite having a relatively dull user interface and no eye delight. The idea is based on a time card that allows you to enter details and add time to a task.
Features
The timecard: You can track the time and use timesheet reporting to gain budget feedback through a three-step process that entails project selection, task selection, and time entry. You can update the card with notes as necessary in the interim.
Running Timers: While working on various tasks, you can select from a single timer or switch between numerous timers. To make new timers for later usage, you can use completed time entries.
Budget feedback: Team members can monitor the amount of time left to finish a task. As a result, the team is able to finish each work within its budget.
Multiple platforms: This utility is available as a desktop app for Mac as well as a mobile app for iOS and Android.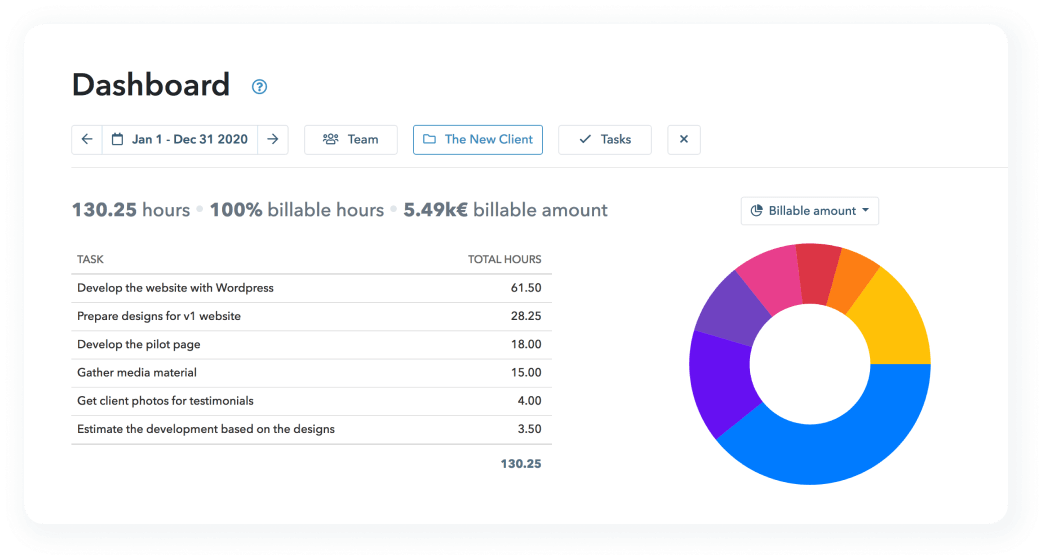 One of the greatest time-tracking and billing programs that allows you to monitor your team's working hours is My Hours. My Hours is an intuitive tool that enables you to manage time and bill clients quickly. You can easily create analytical reports and set hourly rates to bill your customers.
Features
Reporting Dashboard: A thorough dashboard that shows how long your tasks took. This is demonstrated in two ways. One is the entire amount of time spent on tasks, whether they are billable or not, and two is the precise percentage of time spent on certain tasks or projects.
Task Timer: Automatic task timer that can be started and stopped with a single click. helps you determine which jobs require your undivided attention and how much time is spent on them by your personnel.
Customized Filters: Use custom filters on your datasets to produce the appropriate results. Additionally, you can use client-based filters to only access the reports you need to see.
Budgeting: Use the budget management capabilities to keep your expenses under control and your projects inside your allocated spending limits.
Paymo, which primarily serves as a project management tool, has enough reliable time-tracking capabilities to earn a spot on this list of online time-tracking tools. The program has all the functionality you'll need to keep track of the time spent on your projects. Paymo offers a straightforward yet clever solution for time tracking, including automatic web timers and timesheets in the form of calendars.
Features
Simple Time Tracking: Use the web timer to start and stop recording the time spent on tasks and projects. The start and finish dates of each of the generated time entries will be stored so that you may keep track of performance.
User-friendly Interface: This time tracking program has a simple, user-friendly interface that makes it easy for users to learn how to use it.
Invoice generation: Timesheets that are generated can be turned into invoices, which makes it simpler to charge clients. To prevent the inconvenience of repeatedly creating individual invoices, these can also be copied.
Tracking Expenses: The program also makes it easier to keep track of expenses. You can quickly track additional expenses related to particular projects and tasks to invoices.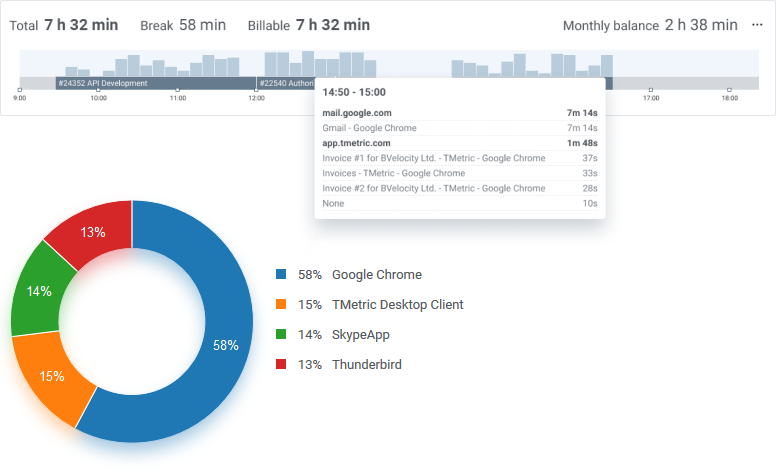 The greatest candidates for TMetric are independent contractors and small teams. You can use the program on a single platform to manage time, create invoices, and establish project budgets, and project revenues.
Features
Convenient Time Tracking: Time tracking is simple and just requires one click. Simply set the timer to start when you start working, and it will record every minute spent on activities and projects.
Strong Integrations: By easily integrating with your preferred project management programs, TMetric enables you to keep an eye on your workspaces.
Productivity Measurer: Monitor the output of your staff by precisely calculating the time spent on each app and conducting a thorough analysis of their work practices.
Adjustable Pricing: TMetric's pricing structure is adaptable enough to support teams of all sizes. You can modify your programs to fit the demands of your team.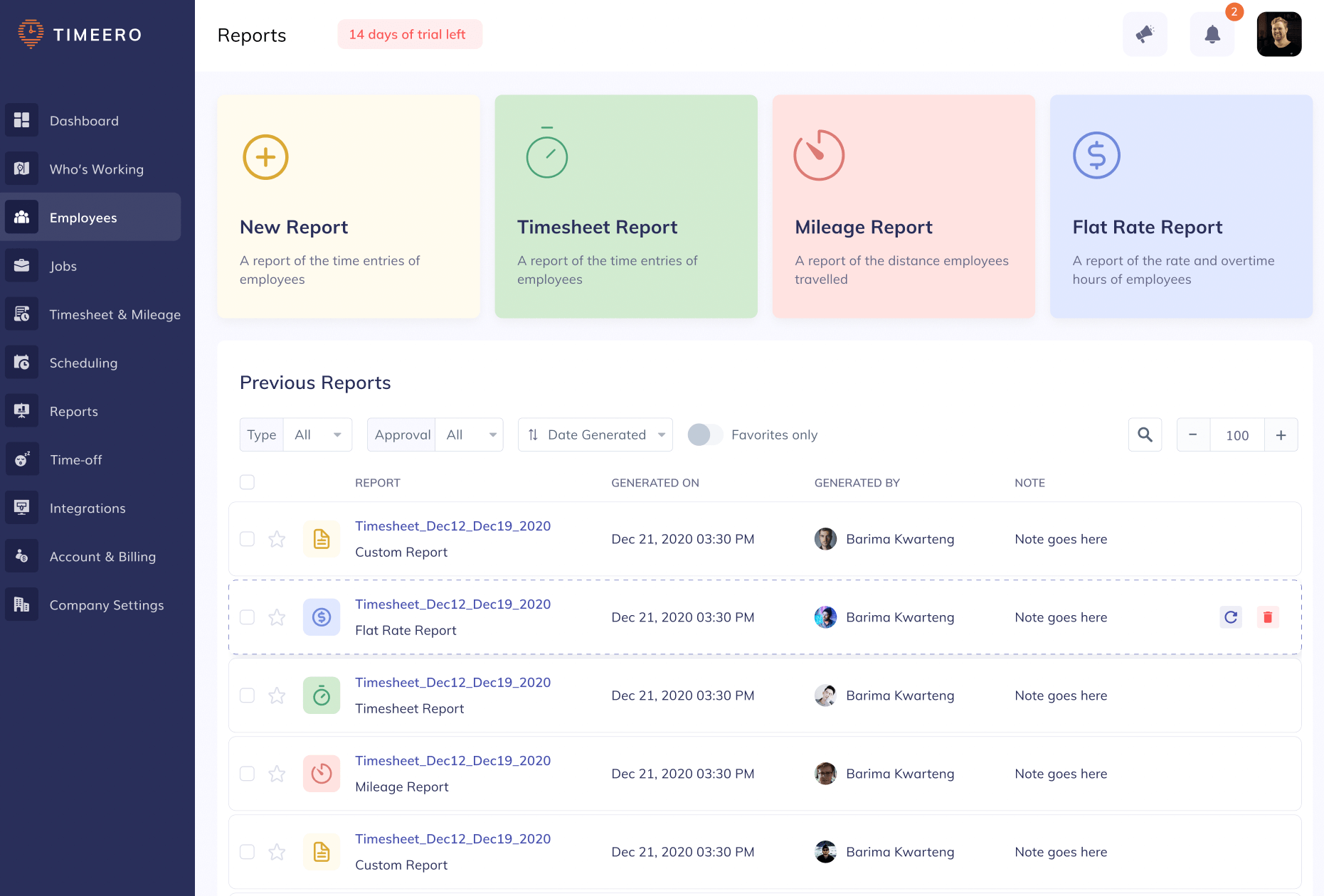 The best app for monitoring the time, location, and mileage of your employees is called Timeero. You will have a deeper understanding of where and how your team members are spending their time thanks to Timeero.
Features
Simple App – Team members find it very simple to adapt the program and product due to its simplicity.
Many ways to enter time – There are numerous methods to enter time using Timeero's incredibly flexible platform. You can enter time using the web application, iOS and Android mobile apps, the Timeero kiosk/terminal software, or SMS text messages. Your team members can log time using one of the various methods available to them at any moment.
Works offline –A time-tracking solution that enables you to clock in and out when offline is essential because not everyone has a strong internet connection and field or outdoor workers may not always have access to the internet.
What Next?
With multiple HR managing apps under one suite, businesses would be able to more easily manage their HR process in one place. This would make it simpler to track results and progress, as well as to keep an eye on the overall performance of the HR department.
Having multiple business suites like Sales, Developers, Marketing, etc will allow you to get the most out of your technology investments and ensure that your organization is running efficiently and effectively just like 500apps does.
Conclusion
The best time-tracking software is the one that meets your specific needs the best. There is no one-size-fits-all answer to this question. Consider what features are most important to you, and then choose the software that offers those features.
 Try our employee time clock, like Clockly by 500apps, if you own a business and want to increase your employee productivity.
Come check out 500apps today to learn more about our All-in-one  Software which provides 50 apps for just $14.99 per user.
Try Agile CRM for FREE!
FREE for 10 Users. No credit card required.