How regularly you have the need to capture a screenshot of something on your computer or when you're browsing the internet?
How often do you have to add a note or scribbling on the screenshot in order to make things stand out more? 
' At the very least, I do it once a day. Screenshots and recordings are definitely more frequent if you are a content producer, designer, and any other department. These duties can be assisted by a wide range of software. During this post, I'll give you a general overview of Ninjacapture the browser extension
Ninjacapture Fundamental
Ninjacapture is part of a suite of tools under the 500apps. It provides 37+ apps bundle suitable for SMEs to grow they company like fortune 500. It is available for Chrome and  other browsers, easy to download using chrome extension store. One of the powerful tool for visual communication, especially in this digital world where communication is done more clearly with light speed.
Screenshots Capture
Ninjacapture will help you making screenshots in multiple ways such as through browser icon in the bookmarks bar, keyboard shortcuts (which you can customise), or a right-click popup menu.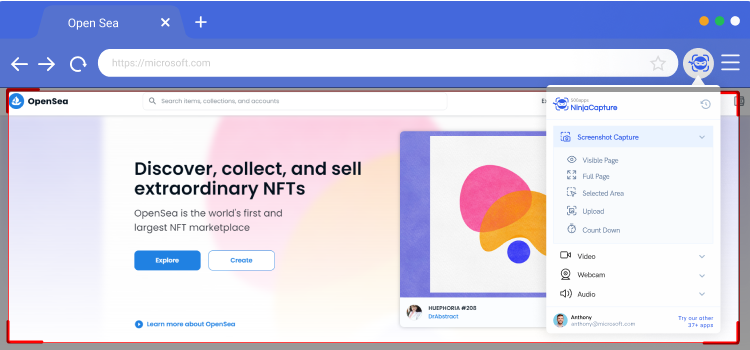 Different ways you can take a screenshot of your screen:
Visible Page:
Capture the screen what is visible on the desktop browser
Full Page:
When you click on the Fill Page it will automatically captures the full screen visible on the desktop browser
Select Area:
You can capture a specific part of the screen visible on the desktop browser.
Upload:
With the help of upload option you can share the captured screenshot via link to the destinationation.
Count Down:
With the help of Count Down option you can seet the timer to take the screenshot.
There are plenty of options available to you after you've taken a screenshot. In the browser popup, you can set any of these as the default.
Share Link

Download

Upload to Google Drive, Dropbox, and Box
Annotate Your Screenshot:
Select 'edit' to add annotations to your screenshot. A wide range of options are available for users of the Ninjacapture screenshot editor. The editor allows you to accomplish the following tasks.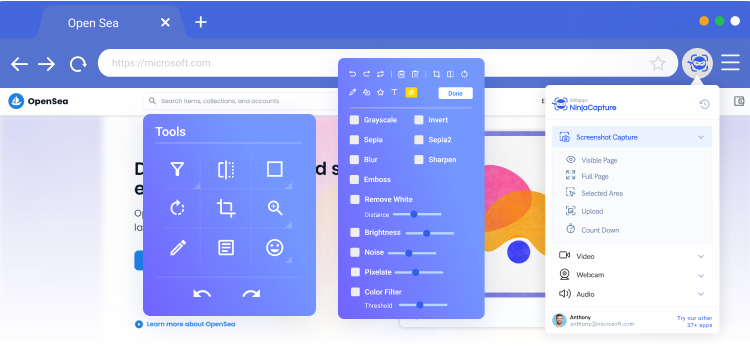 Crop

Flip

Rotate

Draw

Shape

Icon

Text

Filter

Zoom-in & Zoom-out

Undo & Redo
You may use all of these tools to make screenshots that appear professional for your articles or client training sessions.
After editing, you can save the screenshot to your computer, Google, Dropbox, or you can Email to multiple people at a time.
Video Recorder
The Ninjacapture extension also has a screen-recording capability. There are several possibilities for screenshots, however this one is the last one. Upon completion of the screen recording, you will be given the choice of saving it in.webm file format, storing it in Google, storing it in Dropbox. You can also modify the video or convert it to an.mp4 or.gif in that window.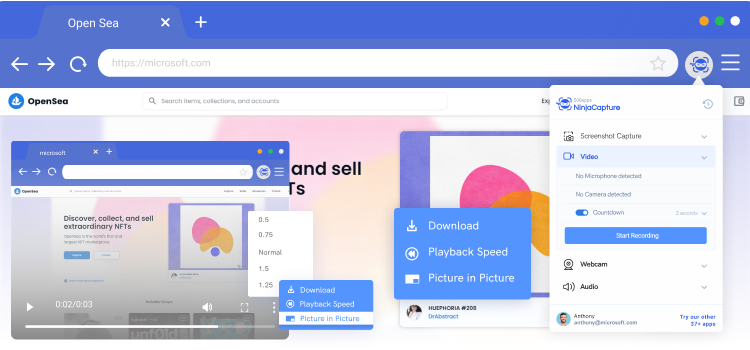 Webcam 
A webcam something to say is all you need to make a great movie with Ninjacapture's Chrome extension! Share your webcam, your screen, or a split-screen view by pressing record. Streamline the video production process. Video production may be mastered by all members of your team using simply one addon.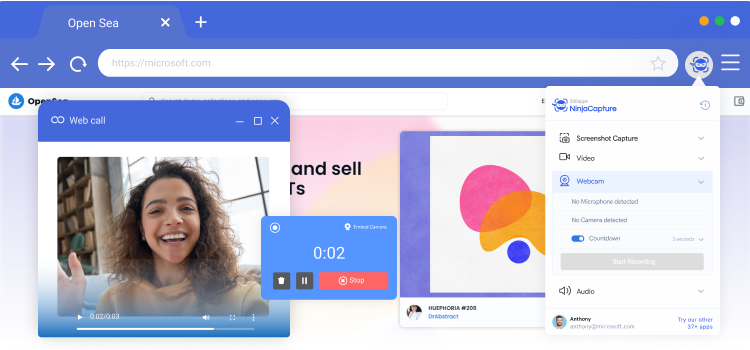 Audio
Most of the time, you'll want to go over the presentation's key points again after the presentation, online meeting, or conference ends. What are your plans to deal with this? Here is the best approach to record a specific portion of a presentation or to jot down a portion of a presentation in audio. Using Audio Capture is the best way to accomplish this.
It's a good idea to record the audio from your computer's camera or online conference if you want to keep a record of what's being said. Any digital marketer, project manager, or content creator should have access to a high-quality screen recorder. There are no restrictions when it comes to what you can and can't record.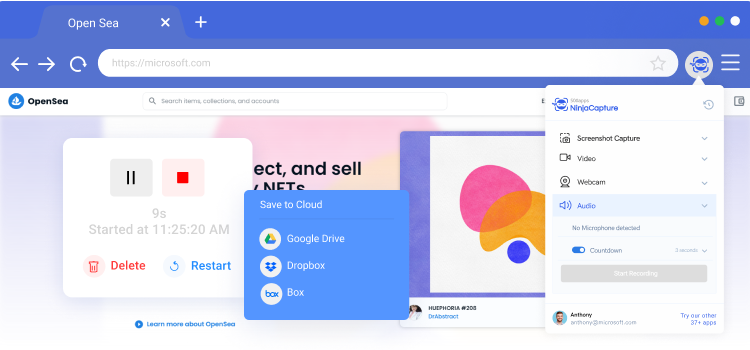 Conclusion:
You've learned what Screen Capture & Recorder extension means now. Some of the best tools out there provide a free version with a limited set of options. However, this shouldn't deter you from settling for the greatest software in the market because you gain a lot by doing so.
Try Agile CRM for FREE!
FREE for 10 Users. No credit card required.