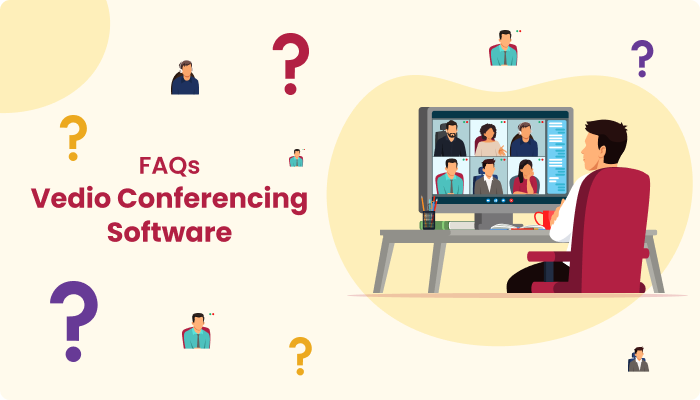 Video conferencing software has grown in importance as a business, educational, and personal tool in recent years. The need for video conferencing software has only grown as a result of the COVID-19 pandemic forcing many people to work and study from home. However, choosing the best video conferencing software for your purposes might be overwhelming given the abundance of possibilities.
We've created this in-depth FAQ on video conferencing software as a result. Whether you're new to video conferencing or seeking to transition to a different platform, this guide will provide you with all the information you need to make an informed choice. Let's start by learning everything there is to know about video conferencing software.
1. What is video conferencing software?
Users can connect and speak with one another in real-time through voice and video using software called video conferencing. Without physically being present in the same place, online meeting enables people or groups to hold meetings, debates, and presentations.
2. Can video conferencing software be used across multiple platforms?
Yes, a lot of video conferencing programs can be utilized on many platforms. In fact, many of the most widely used video conferencing tools, like Zoom, Microsoft Teams, Google Meet, and Skype, are built to function flawlessly across a variety of gadgets and operating systems.
For instance, this video conferencing software is often compatible with Windows, macOS, and iOS mobile devices as well as desktop and laptop PCs. They can be utilized on a range of various platforms and devices because they can also be used through web browsers.
3. Can video conferencing be used to conduct interviews?
Yes, using video conferencing to conduct interviews may be quite effective. In reality, a lot of businesses are increasingly conducting job interviews remotely utilizing video conferencing software, especially when candidates are unable to attend in-person interviews.
Video conferencing makes it easier and more affordable for both parties allowing interviewers and candidates to connect from various locations. Additionally, it can aid in the removal of geographical boundaries, making it simpler for businesses to hire candidates from other regions of the world. Furthermore, it is important to ensure that the green light is on indicating that the camera is turned on, during video interviews. this ensures visual communication and adds an important level of engagement to the interview process.
4. How easy is it to set up and use a video conferencing system?
Depending on the particular platform and technology you choose to utilize, setting up and operating a video conferencing system can be challenging. However, generally speaking, setting up and using video conferencing systems has gotten simpler in recent years.
Many systems for video conferencing are created to be user-friendly and require little technical know-how to set up and utilize. Popular services like Zoom, Microsoft Teams, and Google Meet, for instance, provide simple setup instructions and tips. It is simple for consumers to try the system before committing to it because the majority of platforms offer a free trial or a free version.
5. How many participants can join a video conference at once?
Depending on the video conferencing platform and the package you have subscribed to, a video conference's maximum number of simultaneous participants can change.
Zoom, Microsoft Teams, and Google Meet—some of the most widely used video conferencing platforms—offer several plans with differing capacities for the number of participants. For instance, Zoom's free plan permits up to 100 users to attend a video conference simultaneously, whereas the subscription plans offer higher capacity, with up to 1,000 users on a single call. Similarly to this, Google Meet's free plan permits up to 100 people to join a video conference, while the subscription plans permit up to 250 people.
6. What features are included in most video conferencing software packages?
The following characteristics are present in the majority of video conferencing software packages:
Communication via video and audio: Video conferencing software normally provides real-time, high-definition audio and video communication for participants.
Participants can present their ideas, work on projects together, and edit documents by sharing their screens with one another using this function.
Chat and messaging: Participants can converse via text in addition to audio and video using the chat or messaging tool that is frequently included in video conferencing software.
Video conferencing software that allows for recording and playback enables users to save meetings for later review or sharing with others.
File sharing: The ability to share papers, presentations and other files is a feature that many video conferencing software packages offer.
Virtual backgrounds: With this feature, participants can alter their backdrops during video chats, maintaining their privacy and adding a little bit of fun to meetings.
Calendar integration and meeting schedule: Many video conferencing programs make it simple to arrange and join meetings by integrating with calendars like Google Calendar, Microsoft Outlook, or Apple Calendar.
Security and privacy: Security and privacy features, including password protection, waiting areas, and end-to-end encryption, are frequently included in video conferencing software packages to guarantee that sessions are private and safe.
Support for many devices: Users may attend meetings from any location thanks to video conferencing software's support for a variety of devices, including desktops, laptops, smartphones, and tablets.
Participant management: Using this feature, the host can control the participants on the call, such as by muting or unmuting them, removing them from the call, etc
7. How secure is video conferencing software?
The use of particular software, how it is configured and utilized, as well as the security procedures of the users, all affect how secure video conferencing software is.
Use the most recent version of the program, use strong passwords and other authentication methods, and only share meeting links with people you can trust to join you in the conference to increase the security of video conferencing software.
8. How much does it cost to set up a video conferencing system?
The price to set up a video conferencing system can vary significantly based on a variety of variables, including the number of participants, the desired features, and the quality of the video and audio. The following items could raise the price of installing a video conferencing system:
Hardware: This consists of the microphones, speakers, and video cameras required to record and transmit audio and video. Depending on the equipment's complexity and quality, costs can range from a few hundred to several thousand dollars.
The software that enables participants to connect and work together during video conferences falls under this category. While some systems are accessible without charge, others could need a membership or per-user license.
Internet bandwidth: A solid and dependable internet connection is essential for a seamless video conferencing experience, and you may need to upgrade or raise your internet package to account for the additional usage.
Setting up the room: If you need to set up a special video conferencing room, you may need to spend money on furniture, lighting, and other accessories to make the room ideal for video conferencing.
9. Is video conferencing software compatible with mobile devices?
The majority of software is compatible with smartphones and tablets as well as other portable electronics. Most software companies have mobile apps available for download from Google Play or Apple App Store. The ability to attend or host meetings, share displays, and interact with participants are just a few of the features and capabilities that these apps often offer.
10. Is video conferencing software compatible with mobile devices?
Yes, software for video conferencing frequently integrates with other programs to offer a smooth and effective communication experience.
To make scheduling and joining meetings simpler, video conferencing software, for instance, may link with calendar programs like Google Calendar or Outlook. Through this connection, users will be able to plan a video conference straight from their calendar and have the video conferencing URL instantly included in the calendar invitation.
Users may be able to start or attend video meetings straight from within messaging platforms like Slack or Microsoft Teams thanks to the integration of video conferencing software with these tools.
Wrap Up
In today's digital age, video conferencing has emerged as a crucial tool. Choosing the best software to fit your needs might be overwhelming with so many alternatives available. An overview of the most significant features of video conferencing software is given in this extensive FAQ on the subject.
500Conference from 500apps is one program that stands out from the competition. A number of capabilities are available, including high-definition audio and video, screen sharing, recording, and more. It is also simple to use and reasonably priced, making it a fantastic choice for both individuals and small organizations.
Video conferencing software is a necessary tool whether you're hosting a virtual meeting, conducting remote interviews, or just keeping up with friends and family. You should be able to select the program that best meets your needs using the information in this FAQ. Additionally, we heartily endorse 500Conference from 500apps if you're seeking a top choice.
Try Agile CRM for FREE!
FREE for 10 Users. No credit card required.