Bill Gates once said, "Your most unhappy customers are your greatest source of learning." And he is right! It's critical to understand how your customers feel about your product, service, and brand. It's the best way to improve the overall customer experience and increase customer engagement. And you can gain that insight through the use of web form surveys.
Why are customer surveys so important? Consider this: Reports state that by 2020, over half (51%) of consumers will want companies to know their needs and provide relevant suggestions before the company ever makes contact with them.
The knowledge you gain from customer surveys will also provide you with insight into what prospects need to hear and know in order to engage with you. These surveys not only help you maintain satisfied customers; they allow you to improve your lead generation efforts.
But how do you create and implement a survey via a web form that generates the maximum amount of feedback? Below we'll cover the entire spectrum, from forming your strategy and goals to analyzing the results.
Determine the kind of insight you want to gain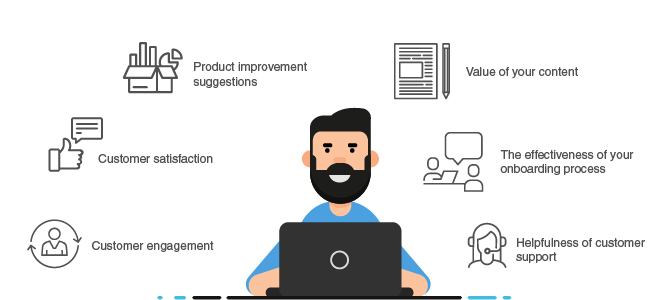 This is the first step in creating an effective survey form. This is where you form your strategy and determine which kind of feedback you want to gain. In other words, which part of the customer journey do you want to learn more about?
Surveys need to focus on one key area of your business. Otherwise, the feedback you get won't be very useful, and you'll have wasted lots of time creating and coordinating it.
Here are a few examples of areas you could focus your survey on:
Customer engagement
Customer satisfaction
Product improvement suggestions
Value of your content
The effectiveness of your onboarding process
Helpfulness of customer support
How are you going to implement your survey?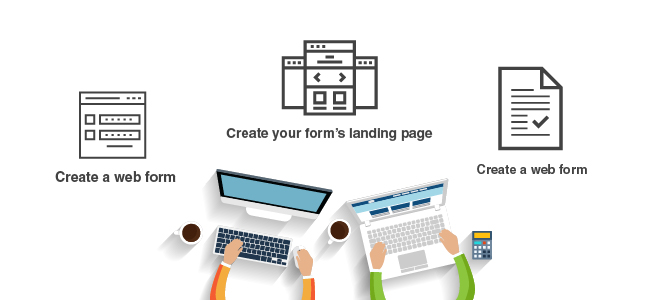 For this article, we are going to focus on creating a survey that solicits feedback from customers. You're much more likely to get responses from customers than prospects. And you can use the resulting insight to form strategy around prospect outreach.
Create a web form
If you are using an all-in-one CRM, such as Agile CRM, you will have built-in marketing automation features. These features include the ability to easily create a web form. With an intuitive drag and drop form builder, you can select the questions you want to ask, the format of the form, etc.
Once you create your form, then it's time to embed that form on a stand-alone landing page.
Create your form's landing page
The marketing automation features in your all-in-one CRM will allow you to easily create a professional looking landing page to house your form. You'll want to include a minimal amount of text because you want the user to focus on completing the form.
You may briefly describe the purpose of the form, thank users in advance for completing it, and mention the incentive you're offering for them completing the form (more on incentives below). Your landing page will have a unique URL, which you'll share with those whom you want to provide feedback.
Create your confirmation page
Once someone completes your form, they are directed to a confirmation page that confirms their feedback has been received. This is a great chance to engage customers further.
The best way to approach this is to place the link customers need to click to obtain their incentive on the confirmation page. You can also include links to educational content that will help users work smarter and more effectively. The bottom line is that you want them to continue to engage with you rather than submit their survey then leave your site.
Which kinds of questions should you ask?
Obviously, the nature and topics of your questions will depend on your strategy and the insight you want to gain. But there are a few best practices for developing questions that will produce a higher response rate. These include:
Keeping your questions short and concise. A one sentence question is normally best.
Keep your survey short (10 questions should be enough). Otherwise, response rates will drop.
Ensure each question will contribute to your overall objective and the insight you want to gain.
Use open-ended questions sparingly. It's harder to collate qualitative data. One tactic is to make the last question open-ended, asking something like: what else could we improve upon to deliver a better experience to you?
Aside from your open-ended question, stick to short, multiple choice questions, questions that allow users to rate five answers on a scale that you decide (e.g., very likely to not at all likely), and simple yes or no questions.
For questions that ask the user to rate options on a scale, be sure to keep your rating scale consistent for every such question.
Be very specific in your wording—leave no room for misinterpretation.
How to encourage feedback
Incentives
The best way to encourage customers to respond to your survey is to offer an incentive for completing it. That could be a discount, a coupon, or a small gift card to a retailer like Starbucks.
If you offer every person who completes the survey a $5 Starbucks gift card and 100 customers complete it, the feedback and insight you gain will be worth way more than $500.
Think of something that will spark your customers' interest and offer that as an incentive. That will vary for every business based on their unique customer base. The important part is to offer an incentive that grabs their attention and encourages them to participate.
Notify customers via email
Once your survey is ready to go, you need a way to inform customers about it. With the email marketing capabilities built into your all-in-CRM, you can easily create an email to send them the news.
Think of a great subject line that will entice them to open the email. If they never open it, all your hard work will have been in vain. Read more about effective subject lines.
Send reminder emails
Give customers a defined time frame in which to complete the survey. Then send a reminder email when there are just a few days left to remind them that this is their last chance to take advantage of your incentive. And, of course, always remember to include the link to your survey form in each email.
Analyze your results and implement them
Once your survey is complete and all the responses are submitted, it's time to analyze the information you received. Analyzing open-ended questions will take some time. You can collate all other responses into percentages that inform you what your customers' top priorities and needs are.
Look for commonalities in the responses and form a plan to implement changes based on the most common responses. Then implement them. A survey serves no purpose if you don't do anything with the results.
Identify the things that the majority of your customers want and focus on those when developing your plan to implement changes based on their feedback.
The reporting capabilities in your CRM should make this easy. Be sure to take your time and analyze responses with a critical mind and a thoughtful approach. The end goal here is to improve the customer experience and improve customer satisfaction with the changes you implement as a result.
Share your results and your plan with your customers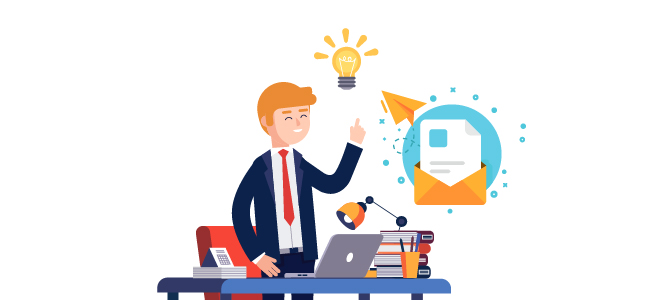 Once you have formed a plan for improvements that you plan to make, you need to communicate that to your customers. You can do that with an email newsletter that includes a section about the results of the survey and the plan to implement changes based on them.
Or, you can send a one-off email that outlines the responses you received, what you plan to do to implement them and thanking them for being trusted partners who help in improving your product or service.
Also, if you feel it's appropriate, you can post the results to your social media channels. Doing this allows you to reach those that may not open your email. It also allows prospects to see that you're dedicated to delivering a world-class customer experience, which can generate new interested leads.
The key takeaway is that you should shout your results from the rooftop. This will send the message that you truly care about the customer experience and are taking proactive measures to improve it.
Conclusion
We've walked through how to create the best survey form to generate maximum feedback from your customers. We've also covered how to develop an effective survey and how to implement it in order to generate the maximum number of responses.
Consider the advice above and implement your own customer survey to gain valuable insights that will let you continue to delight customers. A proper survey, executed and shared in the right way, will increase brand loyalty, customer engagement, and through that, increase revenue and maintain satisfied customers over the long term.
Do you have any suggestions you'd like to add to the above? Share them with us in the comments section below!
Try Agile CRM for FREE!
FREE for 10 Users. No credit card required.