You have a business website that is giving away freebies if a user signs up, and that's how you are trying to increase your customer base. However, you need something extra like more email subscribers, signups or visitors. Now the question is how you get all this without doing something "spammy" or "salesy."
The answer is simple: you start focusing on content upgrades.
Just asking customers to use your signups for freebies is not enticing enough. You need to allure them by making these freebies tied to the content that drew them to you in the first place.
Let's say you are a web hosting company. You can have a popup that offers a white paper on 5 Keys to Finding a Good Web host. That's not bad. Better, however, is having an offer that pops up when a customer is reading about your reliability, one that tempts the visitor with a checklist of questions they should be asking to determine hosting reliability–but only if they sign up for your newsletter.
This is how you capture new leads effectively. Content upgrades get you there.
What you are trying to do is create something around your product or service that acts as a bonus for your customers. They are like magnetic leads that help in securing more email addresses thereby increasing your subscriber list. To simplify this for you, see the below picture from LeadPages: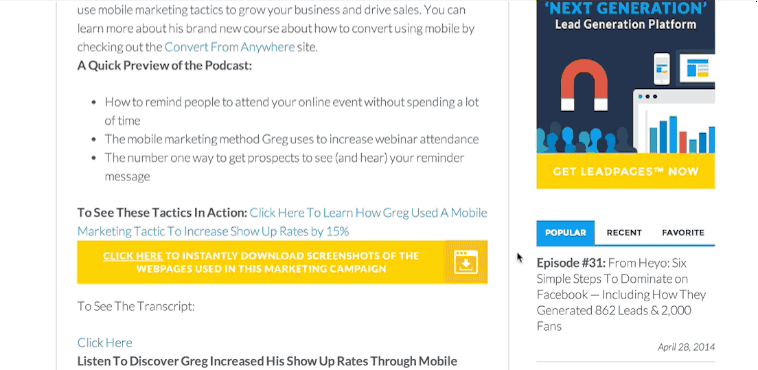 Here, LeadPages is tempting visitors by giving away a transcript but only if the visitor provides an email address.
To take advantage of content upgrades, all you need is the appropriate type of content freebies to accompany your web pages or blog posts.
Click To Tweet
Here is a quick list of some of the most popular content upgrades.
1. Quick Start Guide
If your new product or service is complex and customers might need a kickoff then use a quick start guide as an upgrade to your piece. List out simplified pointers so that customer understands the concept easily, and then take it from there.
2. Full Guide
This can be a more comprehensive version to your quick guide. Give your customer a complete understanding of the concept and then simplify the whole thing at the end with an easy list that can be followed.
3. Checklist
You can get more mileage out of your content by turning one guide into three content upgrades. Simply build a full guide, make a condensed version as a Quick Start Guide–and distill this distilled version into a checklist. Give each away separately. Checklists can be used for anything, too, not just guides–they could be important points in a YouTube video you're serving up, for instance.
4. Resource List
If you have mentioned various tools and plugins in your website for your service or product, then link them and create a downloadable PDF. The customer can use this upgrade as and when they want rather than doing a web search themselves.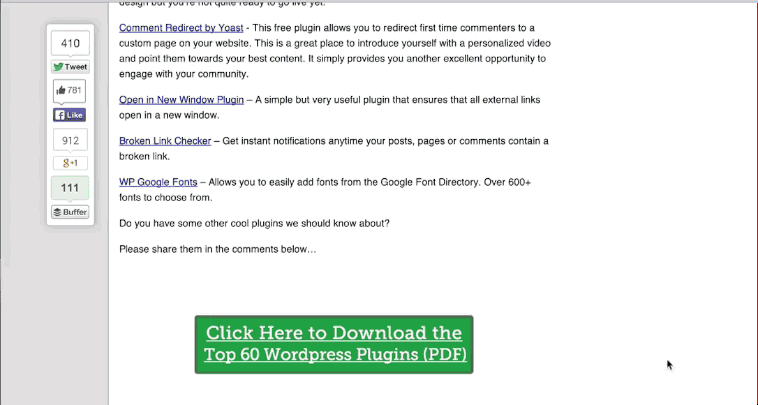 5. Video or Audio
Try out how-to video on your website to explain to how to use a particular service or product. Or add audio/video clips checklist or webinar or interview as an upgrade.
6. Transcripts
Your website might have webinars, and a great content upgrade that is often overlooked is a transcript of these webinars. Most customers will appreciate a written version of the webinar and will usually give their email address to get a copy of the webinar in written form.
7. Infographic
A picture tells a thousand words. We all like visuals to communicate ideas quickly, which is why infographics are so popular. Simplify a webinar, interview or update in an infographic for easy understanding.
8. SlideShare
If an infographic is too time-consuming, you can always use SlideShare as your content upgrade. Just make a quick PowerPoint presentation and upload it on SlideShare.
9. Cheat Sheet
Are you giving away guidelines, tips and tricks or references? If yes, then provide a printable cheat sheet so that they can refer to it whenever they want. Note, however, that cheat sheets need to be short.
10. Spreadsheets
If you are providing a large list of some kind, your best upgrade is to turn it into a spreadsheet for better manipulation and use by the visitor. This is one of the simplest content upgrades you can offer–but it works!
11. Bonus Interviews
DVDs used to offer it. So can your web site. If you've created a video or webinar, there often is ancillary content or video that was not used in the main offering. Serve this up as bonus content. Or, interview someone who was a part of the original video and have them summarize as bonus material.
Just remember your old stack of DVDs for ideas related to this content upgrade.
12. Add-Ons
A good way to include more information on your website is to give an add-on upgrade. Instead of listing out all 20 new email templates in a post, for instance, provide them with 10 and add on the next 10 as an upgrade.
13. Free Trial
This works best when you are selling a service or a product. Just offer a free sample or trial. Use this only when necessary, however.
Now you understand content upgrades and have several ideas for where to start. Hop to it. If your web site is not converting visitors to hot leads, you're obviously not yet rocking the content upgrade.
Try Agile CRM for FREE!
FREE for 10 Users. No credit card required.