Businesses are finally catching up to the idea that chatbots are the future of customer service. 
BotUp is a chatbot software that allows you to build powerful chatbots for your business in just a few minutes without the need to code to help customers solve their repeated queries automatically without having to wait for a response from a live agent.
BotUp's AI-powered chatbot software can be used for sales, marketing, content generation, and more. You can build chatbots for Whatsapp, Website, SMS, Facebook, Instagram, and Slack by using the industry-specific pre-built chatbot templates, which are easily customizable according to your business needs.
Features:
Customer expectations are always on the rise, so it is essential to meet them head-on with your business. They're starting to expect a lot more from you and your company in this modern-day age. 
Businesses are expected to be accessible to their customers at all times. 24/7, 365 days a year, and think that excellent customer service is just as important as having great products or services. If buyers know more about the product features, they are more likely to stick with a particular brand.
Chatbots are made to adapt to these ever-evolving demands and ever-increasing standards. A chatbot can help your business by answering questions, making product recommendations, qualifying leads, automating tasks, and more. They can take the place of more traditional methods of communication, such as email or phone calls and real-time chat.
The following features help businesses easily create and deploy chatbots on various platforms.
Flow Builder or Flows is an intuitive no-code interface that helps you build your bot quickly. A Flow is a conversational scenario your users go through in Messenger. A Flow consists of several nodes; each node is a message or a configured bot action, for example, greeting message or email collecting. Build flows from scratch with the drag and drop option on the powerful and easy-to-use visual flow builder.
Industry-Specific Templates: 
Templates are an excellent choice for beginners. Choose a template that best fits your goals and use it as a basis for your bot. Pick from the list of pre-built industry-specific chatbot templates that best suit your business and customize them according to your requirements. 
Access the performance of your chatbots with chatbot reports and analytics, and make informed decisions with simple customizations.
BotUp is a simple chatbot that takes complete lead nurturing by qualifying leads, scheduling messages, and sending email or SMS notifications. Easily manage contacts and obtain vital information to export and use for other tasks.
As chatbots become more and more popular, the need for REST integration becomes more apparent. Chatbots are valuable to any business to handle customer service inquiries and other essential tasks. However, they need to connect with other systems and data sources to be truly effective. That's where REST comes in. 
By using RESTful API calls, chatbots can interface with just about any system or data source you can imagine. This allows businesses to integrate their chatbot with CRM, databases, and other popular business applications. Chatbots can be used to retrieve data from these systems, place orders, and much more.
Add images of any format, just drag-and-drop, and it will automatically upload. Document Management allows you to upload as many images as you want and save them all in one place, automatically generating an image URL that can be conveniently used to create engaging flow.
See all the user's information in the contacts log, including contact information, location, and platform from which the chat was made. Manage your contacts in a centralized address book with built-in CRM. 
Connect with users instantly by just clicking on the call icon, which is convenient to communicate with customers in a more personal way. Also, generate leads and involve them in the process of selling, confirming their order, or engaging in some other form of customer interaction.
Why Use BotUp by 500apps?
A major problem that online businesses face is the lack of customer service. Customer service is essential in today's online business environment. It is estimated that 40% of customers will not return to a website due to a bad customer service experience. BotUp is a software package that allows users to build their custom chatbots to handle customer service functions. BotUp can be used to create custom chatbots to manage customer service functions.
BotUp can automate various tasks that would otherwise require human interaction. This can free up your employees to focus on other tasks or allow you to outsource work to a third party. Additionally, BotUp chatbot software is affordable and easy to use. It can be customized to meet your specific needs, and it integrates with many popular apps like Facebook, WhatsApp, Slack, Website, and SMS.
BotUp Chatbot Software is the easiest to use, most affordable, and the most effective chatbot software on the market. Thousands of businesses worldwide use it to automate their customer service to cut costs and streamline their customer service efforts. Businesses no longer have to hire hundreds of customer service workers and spend thousands of dollars in payroll and overhead expenses. BotUp by 500apps is affordable, effective, and easy to use chatbot builder software.
Pricing:
Chatbot software can be a precious asset for businesses of all sizes. Chatbots improve customer service, but they can also help drive sales and increase brand awareness. However, not all chatbot software is created equal. There are various chatbot software providers on the market, each unique pricing structure.
When choosing a chatbot software provider, it is essential to consider the cost of the software and the features that are included. BotUp is fully packed with advanced features and comes with an unbelievable $14.99/user pricing. With BotUp, get access to 38+ apps for free to help your business manage whole operations on a single dashboard.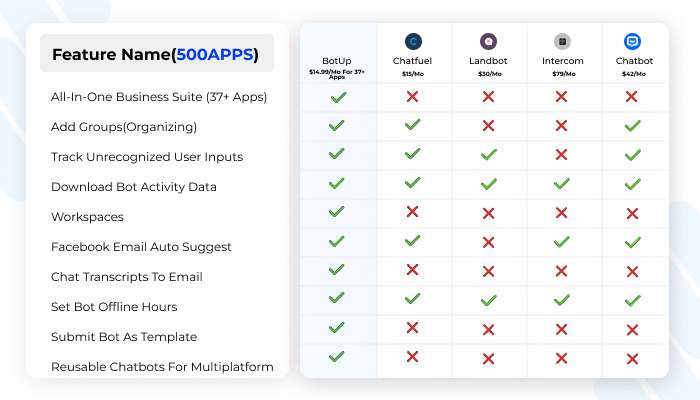 Conclusion:
The full potential of artificial intelligence (AI) in bot intelligence has yet to be realized; businesses can benefit significantly from its features and "wow" echoing nature. Businesses often develop a strategy around a single piece of software to build a brand. BotUp breaks such an approach as it is a part of 500apps, an all-in-one business solution that has 38+ apps where there is no need to rely on any other third-party apps. Put yourself on the path to elegance and bond elevation by starting your journey with BotUp. Register for our webinar to learn more about BotUp and chatbots.
Try Agile CRM for FREE!
FREE for 10 Users. No credit card required.