Since the early days of the internet, website builder tools have advanced significantly. Early website builders tools were relatively primitive and only supported basic text and graphic pages. Today's website builders are far more capable and support pages and features that are more intricate. E-commerce, social network integration, and other advanced capabilities are now widely available in website builders.
Without any prior coding experience, consumers can construct websites using a website builder. Small enterprises and individuals that lack the funds to engage a web developer frequently use website builders. There are numerous website builders available, and they differ in terms of functionality, cost, and usability.
It's critical to keep your needs and budget in mind while choosing a website builder. You won't need to spend as much money as someone who wants a more complex website builder with a large range of capabilities if you only need a basic website builder with a few features. The simplicity of the website builder's interface should also be taken into account. If you are not experienced with coding or website creation, you should choose a website builder that is simple to use because certain website builders are more user-friendly than others.
The website builder has received positive reviews. It has many functions and is simple to use. It is also reasonably priced. The website builder is very user-friendly and simple to use, in my opinion. The available templates were also very polished and simple to alter.
The Benefits of a Website Builder Tools
Here are some of the more important benefits of website-building tools:
Intelligent Website Design
The website builder can assist in developing a website that is user-friendly and contains all the information users might require. This can improve user experience and make it simpler for users to find what they're looking for on your website.
ECommerce Integration
The perk of website builder software is that it makes it simple to integrate with eCommerce platforms. Without having to spend money on separate eCommerce software, this enables businesses to rapidly and easily set up an online store.
Social Media Integration
Social networking is integrated by the website builder. For users to share your material on social media, you can add social media buttons to your website. This broadens your audience and sparks curiosity.
Cost-Effective
The website builders tool is affordable since it enables users to develop a website that appears professional without having to pay a web designer. By building a website utilising a website builder rather than paying for web hosting, users can also save money.
Time Saver
A website can be quickly and easily created using the website builders tool without the need to learn how to code or work with a web developer, which helps you save time.
Zero Maintenance Hassle
A website builder tool can assist in reducing the need for ongoing maintenance and hassle. This can be a great way to save time, money, and stress associated with having to constantly update and maintain a website.
List of 10 Best Website Builder Tools in 2023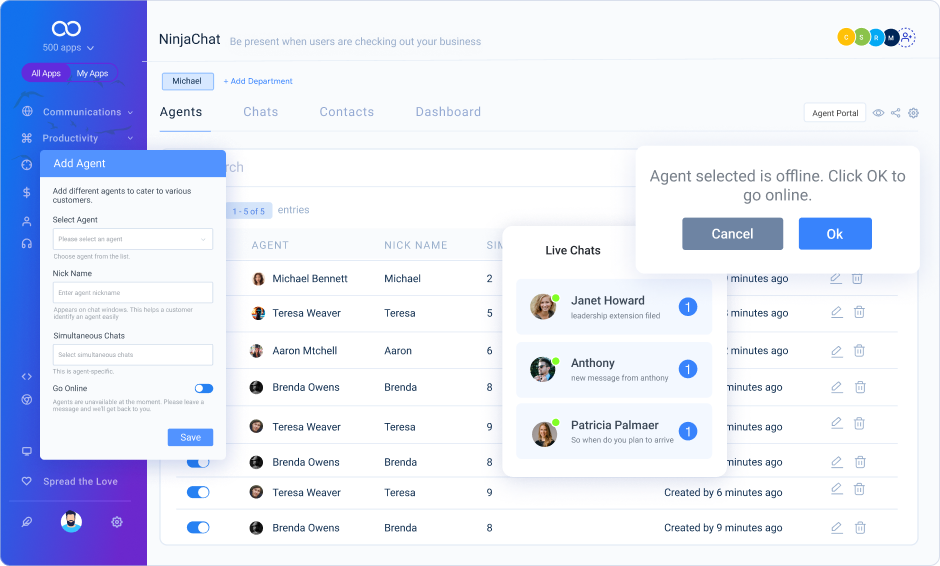 NinjaSites is a website builder tool that enables users to make responsive, professional websites using a drag-and-drop editor without prior coding knowledge. Users can develop and create user-friendly websites using the templates produced by designers. Make sure that content is search engine optimised and that pages may be found by search engines. It doesn't require coding or the assistance of specialised website development firms and is intended for use by non-IT people.
Features of NinjaSites:
Landing Page Builder:
A pre-designed web page that you can advertise is a website builder landing page. This kind of page raises conversion rates by outlining your website builder in detail.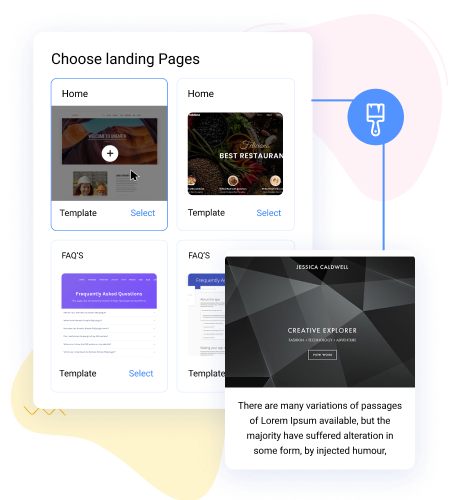 Drag and Drop Builder :
Just drag and drop the elements you want to use and place them where you want them; you don't need to know any code or be a designer to build a beautiful website.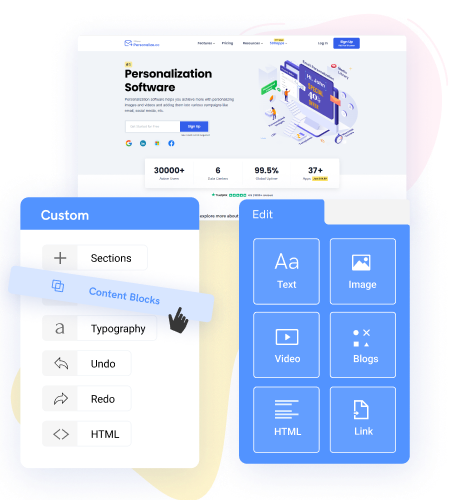 Free SSL Certificate:
A website's communication with a visitor's web browser is encrypted using an SSL certificate. This is significant because it helps safeguard confidential data.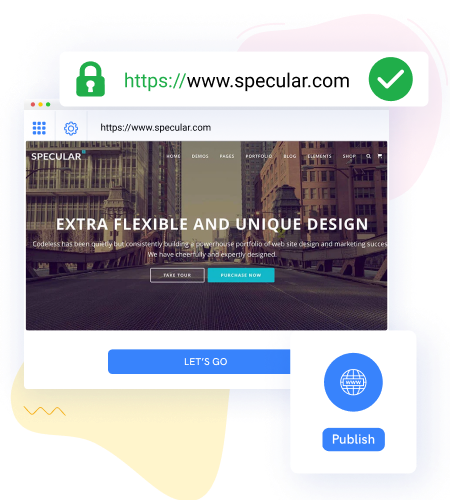 Built-in SEO:
A built-in SEO feature in the website builder tool enables you to optimise your website for search engines. You can find the ideal keywords to employ on your website using the keyword research tool included in this feature. Additionally, it has a link-building tool that aids in constructing links to your website.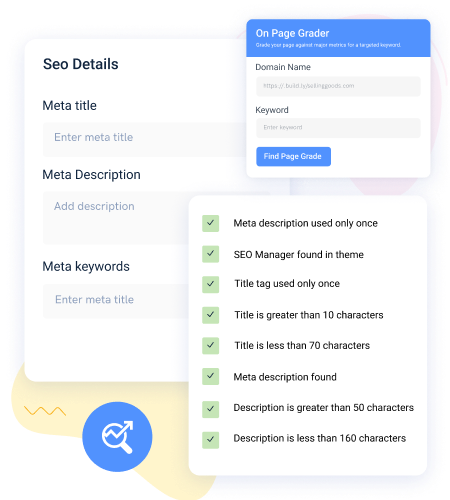 Unlimited Domains:
The website builder's ability to work with an unlimited number of domains is great for users who want to create numerous websites.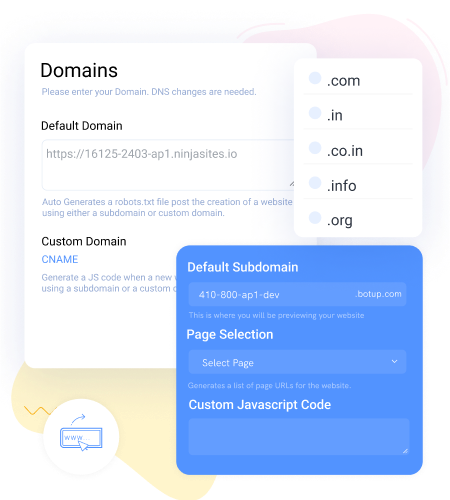 Content Management System:
The content management system is a crucial element of website builder tools. Users can easily create, edit, and manage website content without writing any code.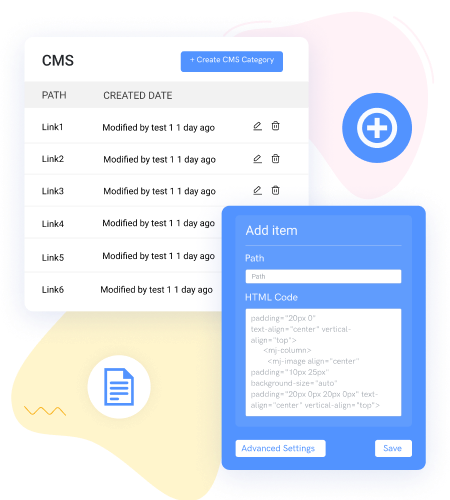 Content Delivery Network (CDN):
CDN's can improve website performance by delivering content from a server closer to the user's location. They can also help increase website security by adding a layer of security between the website and the user.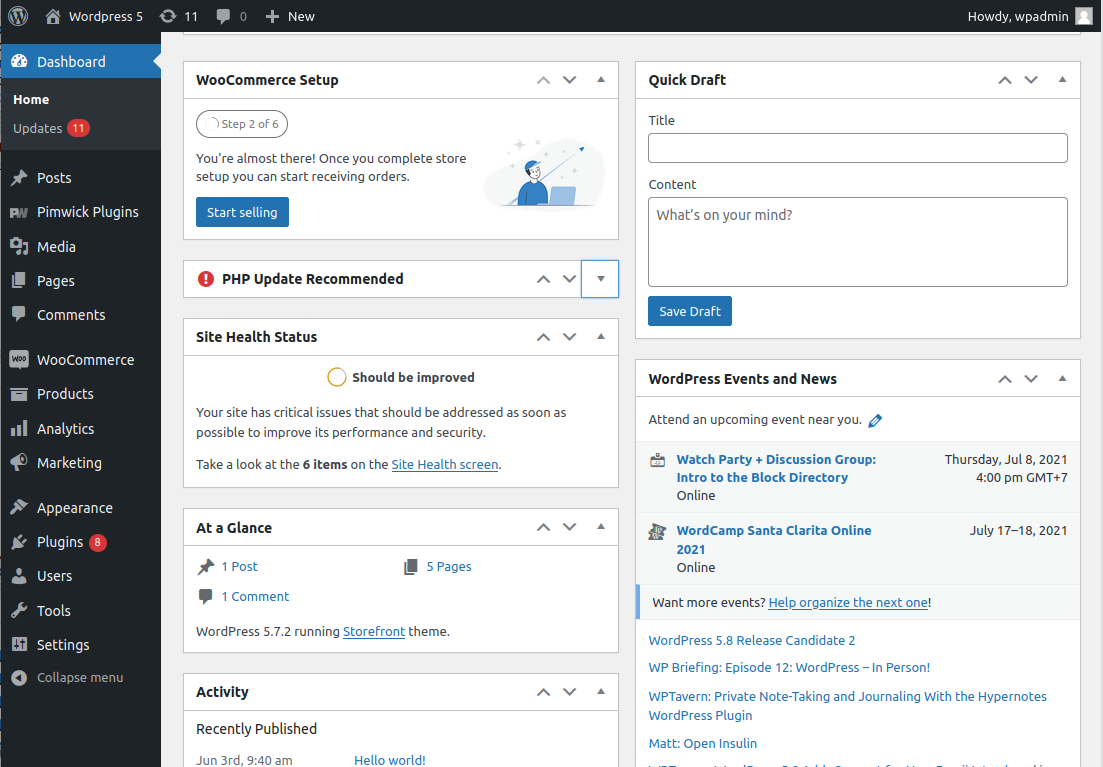 WordPress is a well-known website builder tool that enables you to create a website from scratch or enhance an existing one. Millions of people around the world use WordPress, including numerous small businesses, organisations, and individuals who simply wish to create their own websites.
WordPress is one of the best things because it's simple to use, even if you don't know much about computers. Another advantage is that you may customise your website with thousands of plugins and themes to suit your needs.
Features of WordPress:
Drag-and-Drop Live Page Building System: A live page building system that makes it simple to create and customise pages in real time is the drag-and-drop page builder.
Easy to Use: WordPress is an extremely user-friendly platform, and using it doesn't require you to be a tech whiz. You can learn how to use WordPress even if you've never used a website builder before.
Flexible: WordPress is a flexible framework that can be applied to many different types of websites. WordPress is capable of handling both simple blogs and intricate e-commerce websites.
Customizable: You can alter the design and feel of your website to better represent your business thanks to WordPress' great degree of customization. You can choose the ideal setup for your website among the many thousands of themes and plugins that are readily available.
Powerful: WordPress is a robust platform with lots of capabilities. You'll be able to do whatever you want with your website and have access to all the resources you need to build a successful one.
Secure: WordPress is a secure platform, and you can rest assured that your website will be safe from hackers.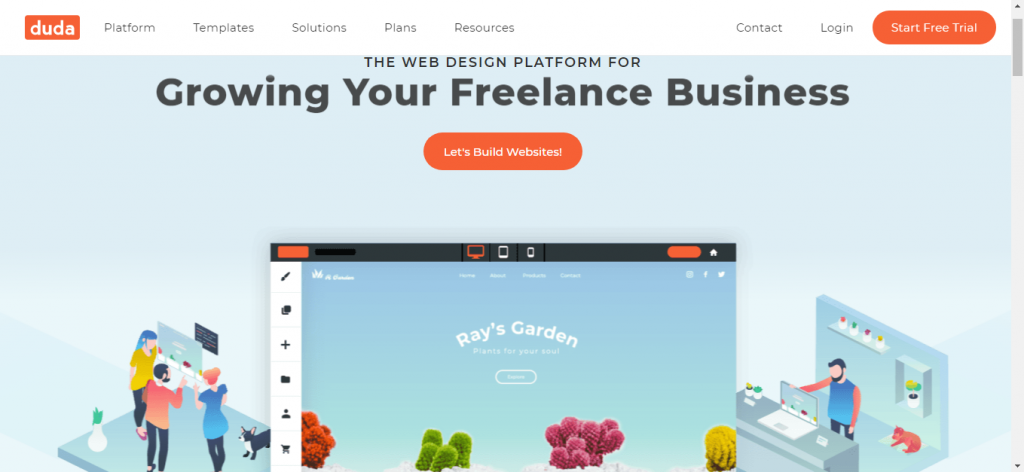 Duda is a website design tool that allows you to create beautiful, responsive websites with ease. It has a simple, drag-and-drop interface that makes it easy to get started, and a wide range of templates and customization options to make your site look just the way you want it.
Features of Duda:
Easy to Use: Duda is easy to use, even for those with no prior website-building experience. With its drag-and-drop interface, you can easily create a beautiful website in minutes. 
No coding Required: Duda does not require you to write any code, allowing you to concentrate on building your website without having to worry about technical intricacies.
Mobile-Friendly: Duda's responsive design ensures that your website will look great on all devices, from phones to tablets to computers.
SEO-Friendly: Duda has every tool you require to make sure your website is search engine optimised so you can be found by potential clients.
Affordable: Plans from Duda start at just $14/month, making it a very cost-effective choice for individuals and small businesses.
Wix is a user-friendly website builder tool that enables people to create professional looking websites without any prior coding knowledge. With Wix, users have access to everything they need to make a website, including templates, hosting, and an editor for easy drag-and-drop content creation.
Features of Wix:
Ease of use: Wix is an intuitive platform that makes it simple for users to build stunning websites. Without any coding experience, designing and customising a website is straightforward because to the platform's drag-and-drop editor.
SEO: You may make your website search engine friendly using the Wix-SEO function. It offers suggestions and guidance on how to increase the visibility of your website to potential customers as well as tools to assist you raise the ranking of your website in search results.
eCommerce integration: Integrating Wix-eCommerce is a terrific method to launch your online store quickly and easily. With Wix, you can build a website with a polished appearance and all the tools and functionality required to manage a profitable online business.
Squarespace is an excellent website builder tool for those who want to create a professional looking website without any prior experience or technical knowledge. The platform is easy to use and provides users with all the tools they need to create a stunning website. You don't need to install any software or hire a web designer, making Squarespace the perfect solution for anyone who wants to create a website on their own.
Features of Squarespace :
Mobile-Friendly: Squarespace makes it easy to have a great mobile experience for your website visitors. Your site will be automatically optimized for mobile devices, so your visitors can have the best experience no matter how they access your site.
Built-in SEO: Squarespace's built-in SEO tools help your site rank higher in search results and get found by potential customers.
24/7 support: Squarespace offers 24/7 customer support, so you can always get help when you need it.
Custom CSS –Squarespace is a website builder that makes it easy to create a professional website for your business. With drag-and-drop tools, you can quickly and easily design your site.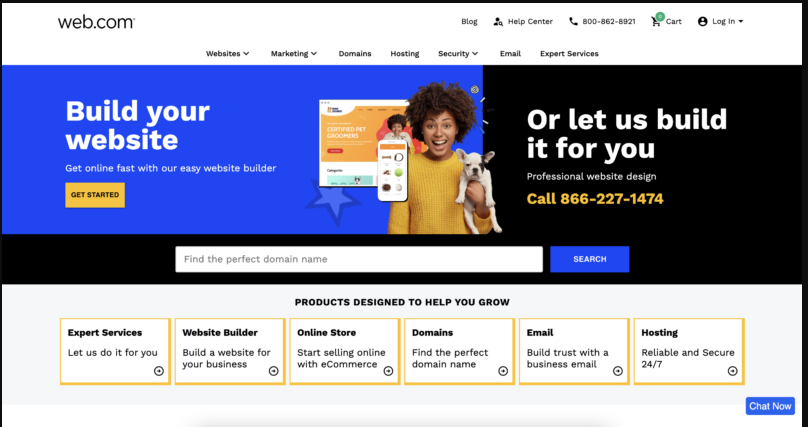 Web.com provides a variety of services that can help website owners and businesses grow and succeed online. These services include web hosting, domain name registration, and site design. Additionally, Web.com offers a variety of tools that can assist website owners and businesses in achieving online growth and success.
Features of Web.com :
Easy to use: You don't need to be a tech expert to use Web.com. Just enter your content and we'll take care of the rest.
Flexible: A website that precisely matches your vision can be made. You have complete creative control over the layout of your website with Web.com.
Affordable: One of the most cost-effective website builders available is Web.com. A website can be created for free, or you can select from a number of subscription plans starting at just $4.99/month.
Reliable: A dependable website builder that will keep your site operational is Web.com. Your website is in good hands, so you can relax knowing that.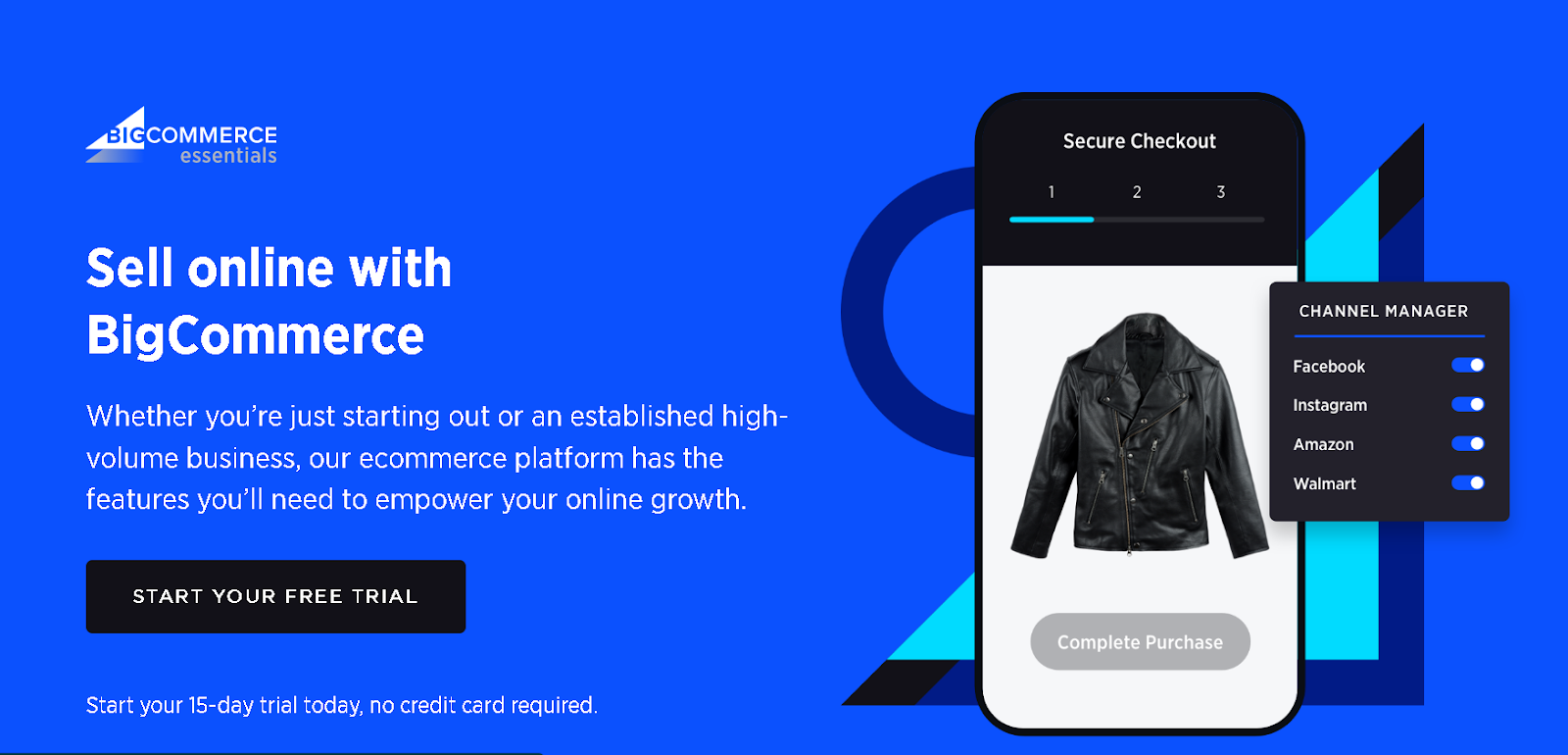 BigCommerce is a website builder tool that enables users to create and manage online stores. BigCommerce is a platform that provides users with all the tools they need to create and manage a profitable online store, including templates, hosting, and payment processing. BigCommerce is a great option for those looking to start an online store because it is simple to use and has a wealth of functionality.
BigCommerce is a website builder that enables users to construct and run online stores. BigCommerce is a platform that gives users everything they need to develop and operate a successful online store, such as templates, hosting, and payment processing. BigCommerce is user-friendly and offers a wide variety of features, making it an excellent choice for people wishing to launch an online store.
Features of BigCommerce:
Fully customizable templates – Create a distinctive shopping experience for your customers by customising the look and feel of your store.
No transaction fees -BigCommerce doesn't impose transaction fees, allowing you to keep a larger portion of your hard-earned money.
Built-in SEO tools -BigCommerce has integrated SEO tools that can help you increase traffic to your store and raise its search engine ranking.
Unlimited products and storage -The quantity of goods you can sell or the amount of storage space you require are both unlimited.
24/7 support – BigCommerce offers 24/7 support, so you can always get help when you need it.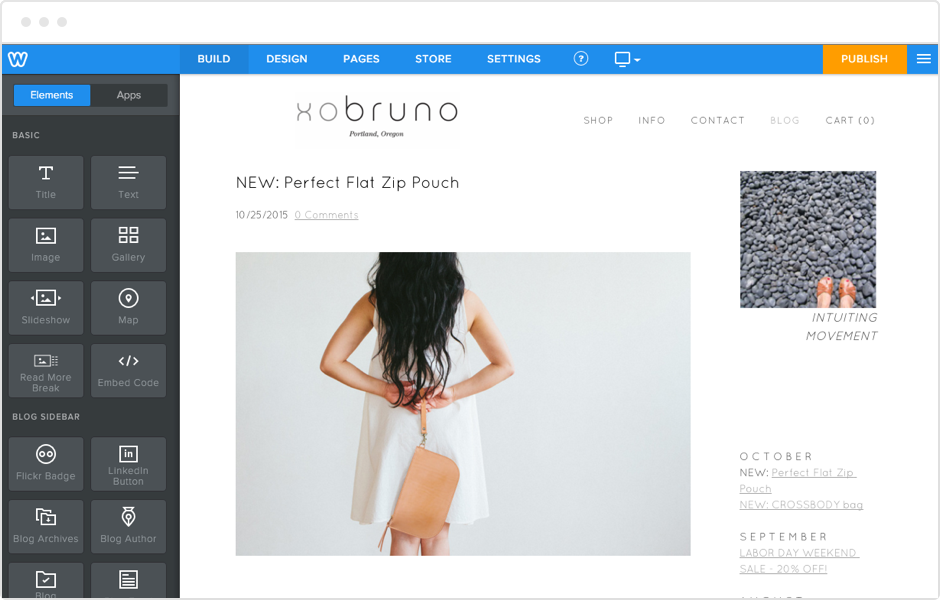 Weebly is a user-friendly website builder tool that provides a number of functionality and design options. This makes it perfect for people who require a website and a straightforward method to bill for their services.
If you sell things in person, such as at a farmers' market, you can use Square as your point-of-sale system and easily connect it to your Weebly website.
Features of Weebly:
Drag-and-Drop Interface– Weebly is a user-friendly website builder with a simple drag-and-drop interface.
Custom Designs–Weebly has a lot of templates and themes to pick from, or you can make your own custom design from scratch.
eCommerce Integration- Weebly integrates with eCommerce platforms such as Shopify, so you can easily add a shop to your website and start selling products online.
SEO-Friendly–Weebly websites are designed to be friendly to search engines, so you can be sure that your site will be easily found by them.
Mobile- Friendly–Weebly websites are designed to be responsive, meaning they will automatically adjust to fit any screen size, from desktop to mobile.
Webflow is a website builder tool that enables the creation of responsive websites without the need for coding. It offers a visual editor with a drag-and-drop interface for site design, and HTML and CSS are also available for site customization.
Features of Webflow :
Drag-and-Drop Interface– Webflow's visual interface lets you design and build responsive websites without writing code.
Custom templates -Webflow offers a wide range of templates for creating websites. 
CSS code-Webflow allows users to add their own CSS code for customizing their website.
Integrations –Webflow integrates with a wide range of third-party services to offer its users a comprehensive and convenient experience.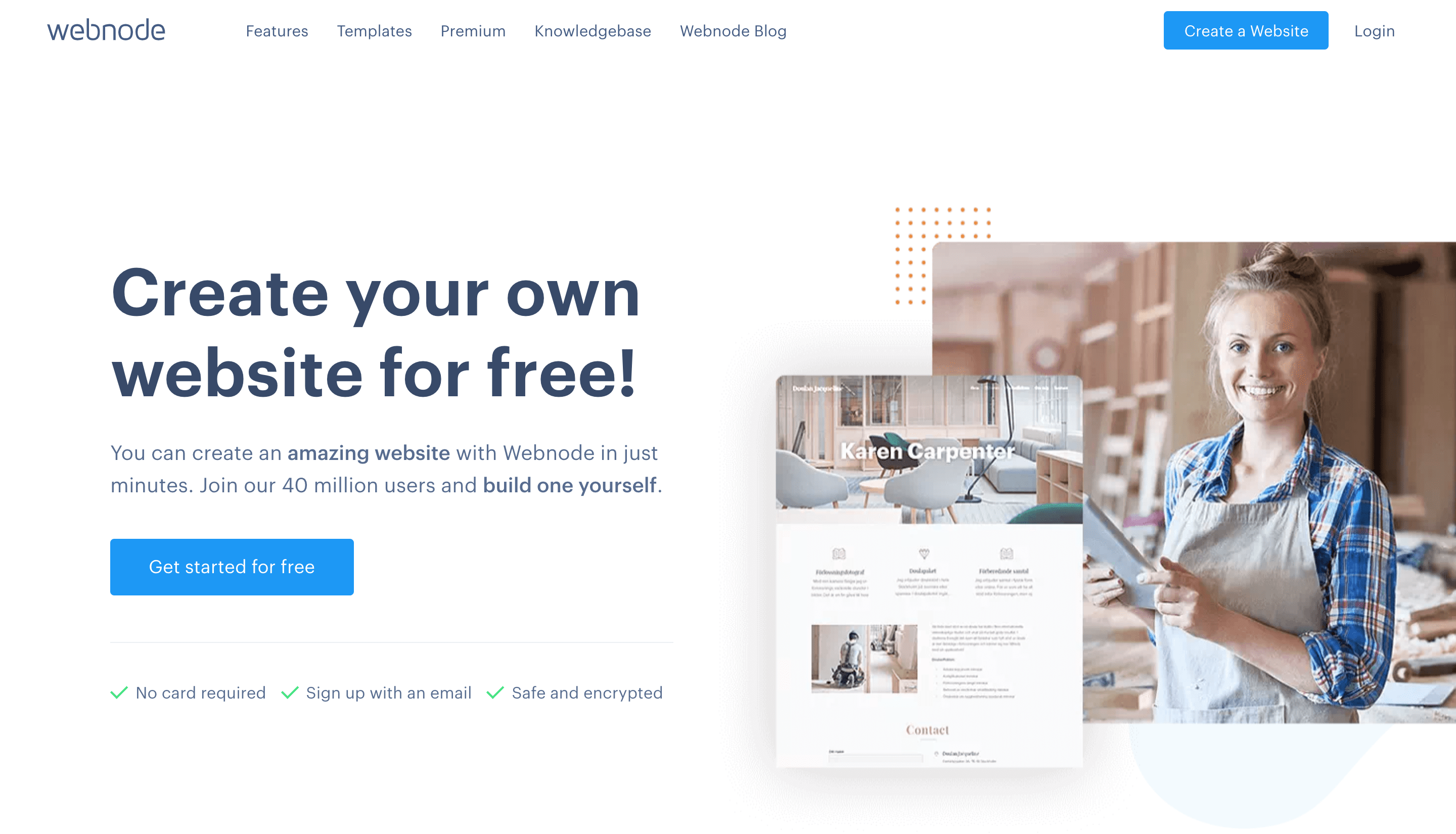 Webnode is the perfect platform for anyone looking to create a website quickly and easily. There are no restrictions on what you can do with your website, so feel free to use it for business, blogging, or personal use. You can create your site in any language, and there are millions of themes and layouts to choose from.
Features of Webnode.com:
Custom Designs– Choose from a range of pre-designed website layouts, or develop your own design from scratch.
Drag-and-Drop Editing– Elements on your web pages can be easily added, removed, and moved with a simple drag-and-drop interface.
Customizable Themes– Choose from a variety of themes to give your website a new look, or create a custom theme to make it truly your own.
Responsive Designs– Your website will appear beautifully on all devices, from desktop computers to mobile phones, thanks to responsive design.
Built-in SEO Tools– Helps your website rank higher in search engine results.
Social Media Integration– Share your content on social media with support for popular platforms like Facebook, Twitter, and LinkedIn.
What's Next
If you want to expand your reach and get your message in front of more people, you need to use the right marketing tools. Having a suite of marketing applications lets you track your results and see which ones are most effective for your company. For example, 500apps offers a website builder as part of its marketing suite. This can save you time and money, and it makes it easier to keep your website and other marketing tools organized.
With so many alternatives available, choosing the best website builder application might be difficult. However, the best website builder software is simple to use and enables you to create a website fast and easily. The finest website builder software should also offer a wide variety of features so you may design a website that is unique and precisely catered to your needs.
Conclusion
There are many website builder software programs available, so it can be difficult to choose the best one. The best website builder software is user-friendly and lets you create a website quickly and easily. It should also offer a wide variety of options so you can design a website that is specific to your needs and ideal for search engine optimization.
We believe that 500apps' Ninjasites is the best website builder software because it is user-friendly and has a wide range of features. Moreover, the support crew is always accessible to assist you if necessary.
500apps offers an All-in-one CRM Software package that includes 50 apps for only $14.99 per user. Visit 500apps today to learn more about this great deal!
Try Agile CRM for FREE!
FREE for 10 Users. No credit card required.