Push notifications software are a type of software that allows businesses and organizations to send messages or alerts to their customers or users through a variety of platforms, including web, mobile, and desktop. The evolution of push notifications has been closely tied to the development of the internet and mobile technology, and they have become an integral part of how we communicate and stay connected.
Push notifications have their roots in the early days of the internet when simple messages and alerts could be sent to users through their web browsers. As mobile devices and smartphones became more prevalent, push notifications were developed as a way to reach users on their mobile devices.
One of the key innovations in the evolution of push notifications was the development of mobile apps, which allowed businesses and organizations to send targeted and personalized messages to their users through their mobile devices. This was a significant step forward, as it allowed businesses to reach their customers in a more direct and immediate way, and it also allowed them to gather valuable data on how their customers were interacting with their products and services.
Benefits of Push Notification Software
Engagement Boost: Push notifications may boost user interaction with your app or website by alerting users to new features or content, or by providing relevant and timely information.
Higher Retention Rates: Push notifications may boost your app or website's retention rate by keeping users updated and interested. This is crucial for companies that depend on loyal clients or users.
Greater Reach: A larger audience may be reached, which will increase traffic to your website. Push notifications can be sent to users even when they are not actively using your app or website.
Better Customer Service: Push notifications may be utilized to advise customers of critical changes or information, including purchase confirmations or delivery alerts. By doing this, you can enhance the entire customer experience and increase brand trust.
Enhanced Targeting: Push notification software frequently comes with sophisticated targeting options that let you send tailored messages depending on user demographics or activity. This can boost conversion rates and increase the efficacy of your alerts.
List of 10 Best Push notification Software 
The most well-known feature of PushNinja is its straightforward text message sending through push notifications. Although it is not the only service that gives you this option, it has undoubtedly garnered a lot of attention and is still among the leaders in the field. The user experience with PushNinja is outstanding, and for the most part, it's also extremely economical. It has an intuitive interface and message scheduling tools.
Features
Web Push Notifications:- Use web push notifications to communicate with customers and develop closer relationships. To create enduring and fruitful customer relationships, use push notification on desktop and mobile browsers.
Personalized Notifications:- Utilize customized alerts to enhance engagement. generating distinctive messages based on the needs of your target audience in order to deliver highly relevant content and boost traffic to the website, sales, and revenue.
Advanced Targeting:- Utilizing sophisticated targeting, precise user targeting. Deliver push notifications based on your audience's preferences and behaviors to reach out to them in the most efficient manner possible. to increase customer interaction.
Advanced Analytics:- Utilizing cutting-edge analytics to measure consumer behaviour Track how individuals react to different messages by using user-level data to engage people. It might be useful to know which devices receive alerts in order to better understand how users engage with your content.
OneSignal is an example of a straightforward push notification. If you select OneSignal, you'll be in excellent company since it is utilized by businesses like Uber, Adobe, Conde Nast, and Skyscanner, to name a few. It's free to use and download.
On the internet and through mobile devices, you may send push notifications, email notifications, and in-app alerts. OneSignal is your best choice if you want to leverage mobile apps to provide both push alerts for mobile devices and web ones.
Features
Multi-platform support: OneSignal supports push notifications on web, mobile (iOS and Android), and desktop (Windows and Mac) platforms.
Customization: OneSignal allows you to customize the appearance and behavior of your push notifications, including the notification title, message, and icon.
Segmentation: OneSignal allows you to segment your users based on various criteria, such as location, device type, or user behavior, and send targeted push notifications to specific segments.
Moengage is one of the platforms for push notification marketing that offers a variety of notification alternatives for companies including Samsung, Hearst, Landmark, Tokopedia, Travelodge, OYO, and T-Mobile.
What distinguishes Moengage from other push notification providers is the segmentation engine they deploy. Using their behaviours as a basis, users are automatically categorized. You may send messages that are extremely tailored thanks to this.
Another unique feature is push amplification, which ensures that your messages are sent regardless of network restrictions. You may target users depending on their location by using Moengage's geofencing features.
Features
AB Testing:-  With Moengage, you can test AB tests on real users in a controlled environment without having to wait for user acquisition or manual testing. You can also test with A/B split testing, multivariate testing, and custom UI designs.
API:- Moengage provides an easy way for developers to integrate data from any source into their applications. We provide an API with built-in security measures so that you don't expose your data through third-party APIs. You can access your data using any language or framework you want.
Access Controls/Permissions:- The access control section in our platform gives you full control over what users see and do on your site or application via permissions granted to them by default or via the API endpoint we provide out-of-the-box!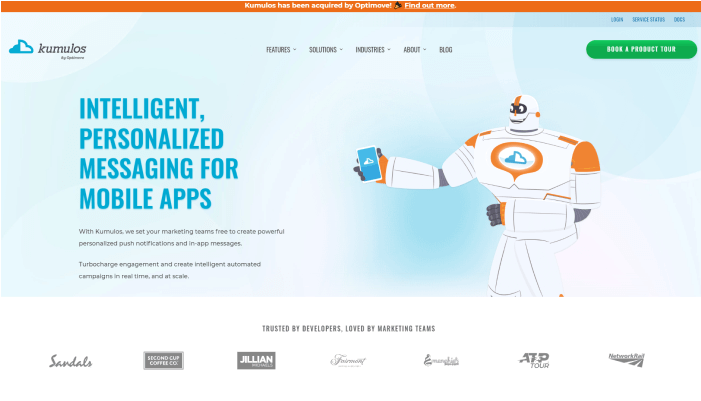 Mobile app developers may engage and involve their users thanks to Kumulos, a mobile push service provider.
You may enhance the targeting of your messaging campaigns and gain a deeper understanding of user behaviour with the aid of this tool. You may convert your audience into interested and devoted clients by utilizing Kumulos' tailored push notifications.
Features
Activity Dashboard:- The Activity Dashboard is the backbone of Kumulos. It provides an overview of all your alerts with a quick link to the details page for each alert. You can also view your history of activity and view trends over time.
Alerts/Escalation:- Kumulos allows you to create alerts that notify you when certain events happen, like a user being added to the system or their account being blocked. This can be useful for monitoring your users' behavior or for informing them about important changes in their account status.
Alerts/Notifications:-  You can also set up notifications that are sent out automatically whenever an alert is triggered. These notifications will show up on your email address specified under "Email Notifications" in your profile settings.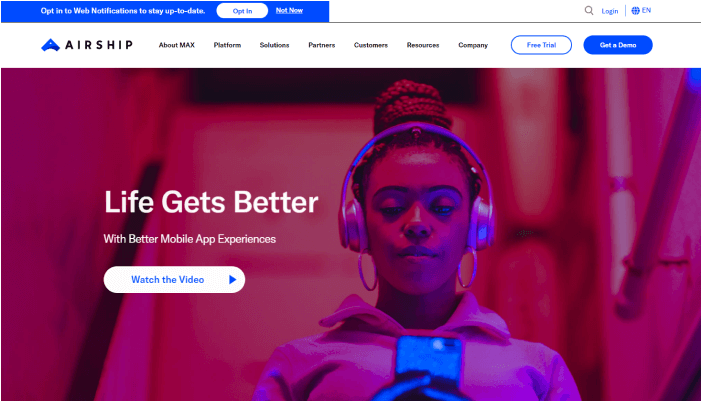 Since it exclusively supports mobile push services and focuses solely on the mobile communication experience, Airship is one of the leading suppliers of alerts.
It also includes SMS messaging, mobile wallets, and email. Although having predictive analytics and AI optimization is a great quality to have, these services are pricey. You won't ever feel limited by the options available if you choose Airship as your push notification provider because they are created for business users.
Features
A/B testing: Airship allows you to test different versions of your push notifications to see which ones are most effective at driving engagement.
Automation: Airship provides a range of automation options, including the ability to send automated push notifications based on user actions or inactivity.
Integration: Airship supports integration with a variety of platforms and tools, including CRM systems, e-commerce platforms, and marketing automation tools.
Pushnami is one of the best push notification systems that offers consumers a full messaging solution. Your subscribers can get emails, online push alerts, or push notifications for mobile applications. They also provide each client-specific integrations.
Businesses may also use Pushnami's own native push ad network to boost subscriber numbers.
One of the most crucial elements of successful push notification app campaigns is personalization, and this is what Pushnami focuses on. As a result, your app's users can successfully get your messaging. A variety of customers can use this potent tool depending on their preferred payment option.
Features
CAN SPAM Compliance:- PushNami allows you to create a list of approved email addresses, that will receive your email campaign. You can select from one of the predefined lists or create your own custom list for your campaigns.
Campaign Segmentation:- PushNami allows you to segment your campaigns based on any criteria that you want. You can segment by geography, date range or other parameters like language preferences etc.
Content Creation:- The content creation feature in PushNami lets you create content in bulk and send it as email campaigns or newsletters. You can also embed videos and images in your emails so that they can be viewed by recipients before opening them.
Pushwoosh is one of the push notification marketing tools that may be able to assist developers in increasing the lifetime value and engagement of their app users. BelkaCar, Avianca, Wetter.com, Telepizza, and Honeywell are a few of Pushwoosh's clients.
This push service app provider uses rich media to enhance the aesthetic attractiveness of alerts. Additionally, you may create the entire campaign using the user data from your alerts.
Features
Behavior Tracking – Keep an eye on your users' activity and decide on your marketing and campaigns with knowledge.
Campaign Analytics – Real-time campaign statistics let you monitor the effectiveness of your push notifications.
Campaign Management – With the PushWoosh dashboard, you can set up, manage, and optimize any element of your campaigns from beginning to end.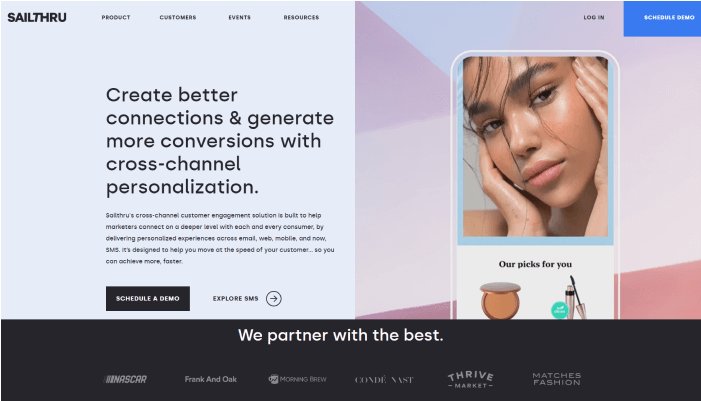 You may expand your business by using the monthly or yearly scaling options provided by Sailthru, a premium push notification provider. It enables you to manage many push notification campaigns concurrently. Some of its key features include audience segmentation, time zone setup, user behaviour analysis, in-app messaging, and message automation.
Features
Behavior Tracking – Keep track of your users' behavior and make informed decisions about your campaigns and campaigns.
Campaign Analytics – See how your push notifications are performing with real-time analytics for every campaign.
Campaign Management – Set up, manage, and optimize all aspects of your campaigns from start to finish with the PushWoosh dashboard.
Sailthru, a premium push notification service, enables you to expand your business on a monthly or quarterly basis. It enables you to manage many push notification campaigns concurrently. Some of its key features include audience segmentation, time zone setup, user behavior analysis, in-app messaging, and message automation.
Features
Chat/Messaging:- Sinch is a communication application that allows you to chat with your friends and family. You can use it as a simple messaging app or as a social network. It has all the features of Facebook, Twitter, Whatsapp and Skype in one place.
Communication Management:- The Sinch mobile application allows you to easily manage all your personal contacts, groups and events in one place. You can create custom groups for different purposes like work, school, sports etc. You can also create multiple accounts on the same device so that you can have multiple conversations with different people at the same time.
Content Management:- Groups and events in one place. You can create custom groups for different purposes like work, school, sports etc. You can also create multiple accounts on the same device so that you can have multiple conversations with different people at the same time.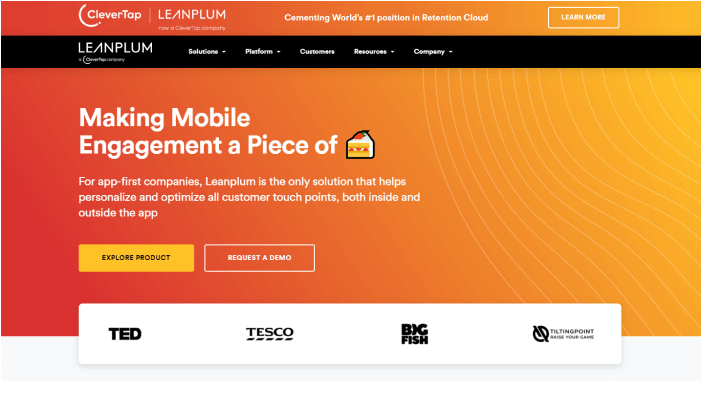 Leanplum, a push service app, features a Campaign Composer that enables users to create notifications based on recent user behavior. It features in-app messaging, push alerts, and email marketing.
Features
Push Notifications:- LeanPlum push notifications are customizable and can be used to notify users about new content, updates, and events.
Audience Segmentation:- The audience segmentation feature allows you to target your audience based on specific criteria such as location, device type, and more. This helps to increase conversions by sending the right content at the right time.
Customize: You can customize the look of your website using our drag-and-drop editor. This includes changing colors and fonts, adding images and videos, adding backgrounds or even creating custom forms.
What's Next?
Businesses might handle marketing campaigns and website traffic more effectively if several marketing tools were bundled into a suite. This would make it easier to monitor the advancement and outcomes as well as the marketing campaign's overall success.
By having a variety of business suites, including ones for sales, human resources, customer service, and other departments, you can use 500apps to make sure your company is operating as efficiently and successfully as possible.
Conclusion
Ultimately, the best push notification software is the one that enables you to effectively communicate with your intended audience and achieve your goals. Whether you are looking to promote products, send updates or alerts, or engage with customers, the right push notification software can help you achieve your objectives.
Try Agile CRM for FREE!
FREE for 10 Users. No credit card required.